Rugby World Cup Officials Sorry for Crowd Problems, Say No Variance about Head Injury Cards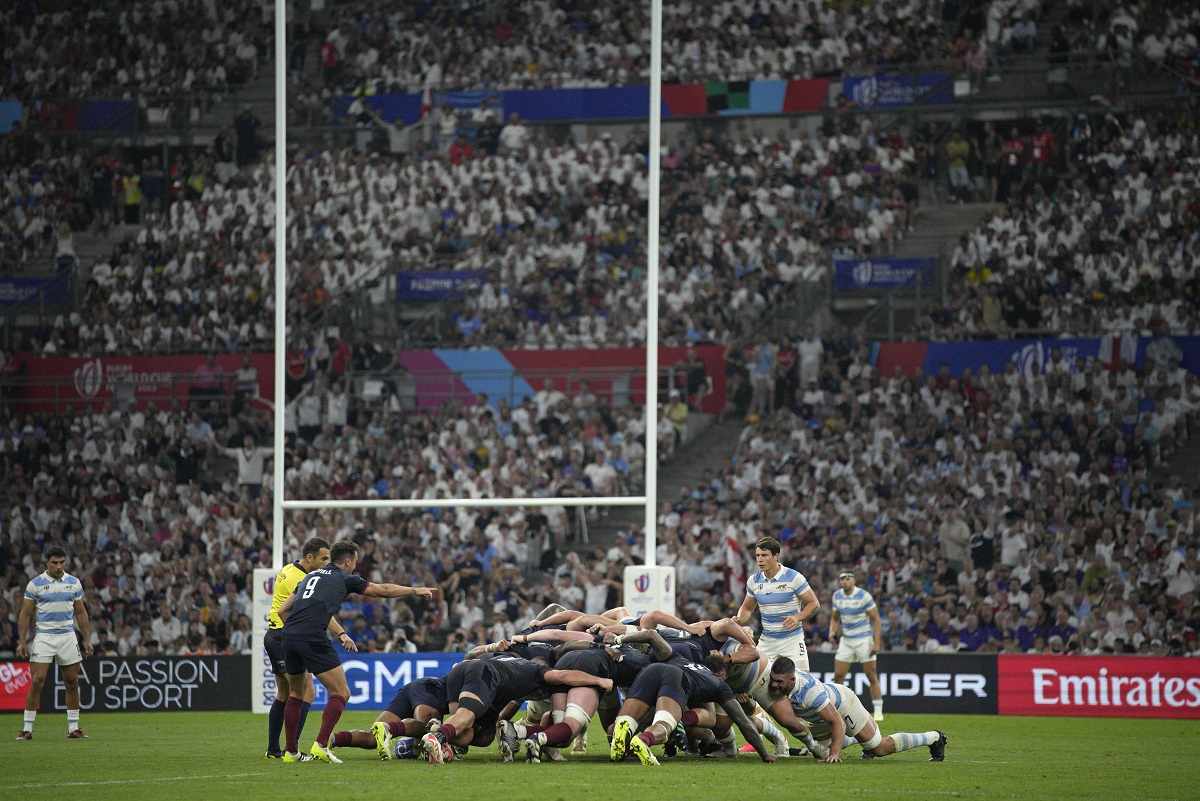 12:05 JST, September 14, 2023
PARIS (AP) — Rugby World Cup organizers apologized again on Wednesday to fans who missed the start of matches in Marseille and Bordeaux last weekend, and didn't believe the refereeing on head injuries has been inconsistent.
Meanwhile, they pointed jubilantly to the record number of fans who congregated to watch the first eight games in France.
"The eight matches have gathered 700,000 fans, 430,000 in the stadiums where the attendances have been remarkable, and the rest in rugby villages," tournament director Michel Poussau said at a news conference. "It's the largest attendance for the first weekend of a Rugby World Cup."
Not all of them, however, got to watch the whole game.
Crowd access problems in Marseille and Bordeaux were a bad look for the tournament and France a year after the Champions League final catastrophe in Paris and a year before the Olympic Games are hosted in Paris.
At Marseille's Stade Velodrome, several thousands of the 63,000 ticket-holders missed the start of the England-Argentina match on Saturday because of bottlenecks outside.
Ireland fans were held up by a lack of public transport in Bordeaux on Saturday when heading to the game against Romania, with many left waiting outside when the national anthems started.
"We're confident in our ability to resolve these problems as quickly as possible. We're listening to the fans, we understand the frustration of those who missed the start of the England-Argentina match in Marseille," Poussau said. "There were challenges in Marseille and Bordeaux but France 2023 has worked hard."
The second matches at those stadiums on Sunday reported smoother crowd access.
France 2023 CEO Julien Collette said the 300 volunteers working around Stade Velodrome will be deployed differently, with a greater concentration of them at the meeting point outside the main subway station adjacent to the stadium in order to improve the flow of fans. Marseille will host two quarterfinals next month.
Organizers are working with local transport authorities to increase the number of trams in Bordeaux, which hosts Samoa-Chile on Saturday, South Africa-Romania on Sunday and Fiji-Georgia on Sept. 30.
The opening weekend also sparked debate about the inconsistency of match officials giving cards for head contact.
England flanker Tom Curry was handed a three-game ban on Tuesday following his sending-off for a dangerous tackle against Argentina. Referee Mathieu Raynal initially yellow-carded Curry before it was upgraded to red after a bunker review.
But no action was taken against South Africa center Jesse Kriel for his head-on-head collision with Jack Dempsey in the victory against Scotland. The incident was missed by the referee and Television Match Official. Plus, Chile captain Martin Sigren was guilty of a similar tackle to Curry's during the loss against Japan but he got only a yellow card.
Dominic Rumbles, the World Rugby chief communications officer said the TMO was constantly sweeping the field for "clear and obvious head contact." If no incidents were caught then the citing window was 36 hours and the citing commissioner had access to 15 or 16 TV angles.
"If they also feel there is no clear and obvious head contact, that does not go through to the disciplinary," Rumbles said. "So instead of talking about inconsistency there is actually a lot of alignment on and off the field."
An uncommon September heatwave last weekend sent temperatures as high as 36 degrees (97 F) and contributed to longer-than-usual beer queues. A total 90,000 cups of beer were sold on Sunday at the South Africa-Scotland game in Marseille, surpassing the record of 50,000 from a match in the French Top 14 league.
Beer monsters drank Marseille dry.
"We thought we had sufficient supplies based on previous records, but those records were broken," Collette said. "The second consequence is that the barrels have been difficult to keep refrigerated. It was not so much the supplies but how cold the barrels were, which is why there were queues. We are working hard with our teams to improve the efficiency of the refrigeration and service."
Overall, the tournament was off to a great start, boosted by the high-intensity opening night clash that host France won against three-time champion New Zealand 27-13.
A total of 15.4 million fans watched it on national television, the highest viewing figures of the year for TF1.
"One in five French people watched the match. That underlines the public engagement with the event," organizing chairman Jacques Rivoal said. "For Japan vs. Chile in Toulouse, there were more than 30,000 spectators. For Italy vs. Namibia in Saint-Etienne, more than 35,000."
---
---
Add TheJapanNews to your Google News feed.