Emperor, Empress Hold 1st Imperial Garden Party since Start of Pandemic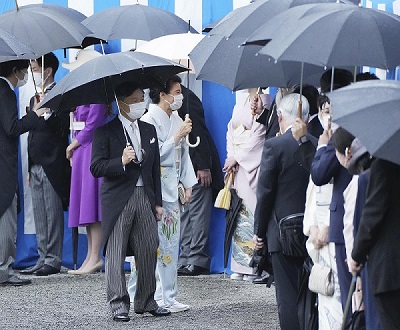 14:55 JST, May 12, 2023
An Imperial garden party hosted by the Emperor and the Empress was held Thursday in Tokyo for the first time in 4½ years due to cancellations caused by the novel coronavirus pandemic.
The spring party at the Akasaka Imperial Gardens in Minato Ward was also the first since the Emperor's accession to the throne.
Some COVID countermeasures were implemented in the first event since the autumn of 2018. The number of guests was reduced by about half of usual years, although there were still 1,032 people from all walks of life in attendance.
The Imperial couple and other members of the Imperial families wore masks because of the presence of elderly guests. Amid an occasionally hard rain, the Emperor and the Empress walked around the gardens under umbrellas to chat with their guests for about two hours.
Former world No. 1 wheelchair tennis player Shingo Kunieda, 39, a recipient of the People's Honor Award in March, discussed his retirement in January with the Emperor and the Empress.
The Emperor praised him by saying, "I feel that you conveyed to many people how wonderful a sport wheelchair tennis is."
The Emperor, a casual tennis player himself, revealed to Kunieda that about 15 years ago he had the chance to receive some tips from tennis legend Roger Federer. Kunieda looked surprised and responded, "Wow, really?"
Also among the guests was Akira Yoshino, 75, an honorary fellow of Asahi Kasei Corp. who received the Nobel Prize in chemistry in 2019 for developing the lithium-ion battery. Yoshino told the Emperor of his hope that use of the battery in electric cars will continue to progress and contribute to a solution of global environment issues.
The Emperor told him, "That would be wonderful, as global warming is a serious problem."
The guests were selected from among people who made considerable achievements over the past five years while the party was on hiatus, and as such, turned out to be a rare occasion in which there were medalists from both the Summer and Winter Olympic Games.
Standing next to each other as they greeted the Emperor and Empress were table tennis player Mima Ito, 22, who won three medals at the Tokyo Olympics in 2021, and speed skater Miho Takagi, 28, a gold medalist at the 2022 Beijing Winter Olympics.
When the Empress asked them, "Have you ever done anything together before?" they answered that this was the first time they have ever met. They then thanked the Empress for providing an opportunity for athletes in summer and winter sports to meet.
While the classification of COVID-19 under the Infectious Diseases Law was downgraded from Category II to Category V on Monday, the Imperial Household Agency noted that it did not mean that the risk of infection was over. Thus it decided not to offer food nor alcohol to guests, providing only soft drinks.
Add TheJapanNews to your Google News feed.