Japan Religious Group's Proximity to Power Controversial; Soka Gakkai Alleged to Have Obstructed Critical Books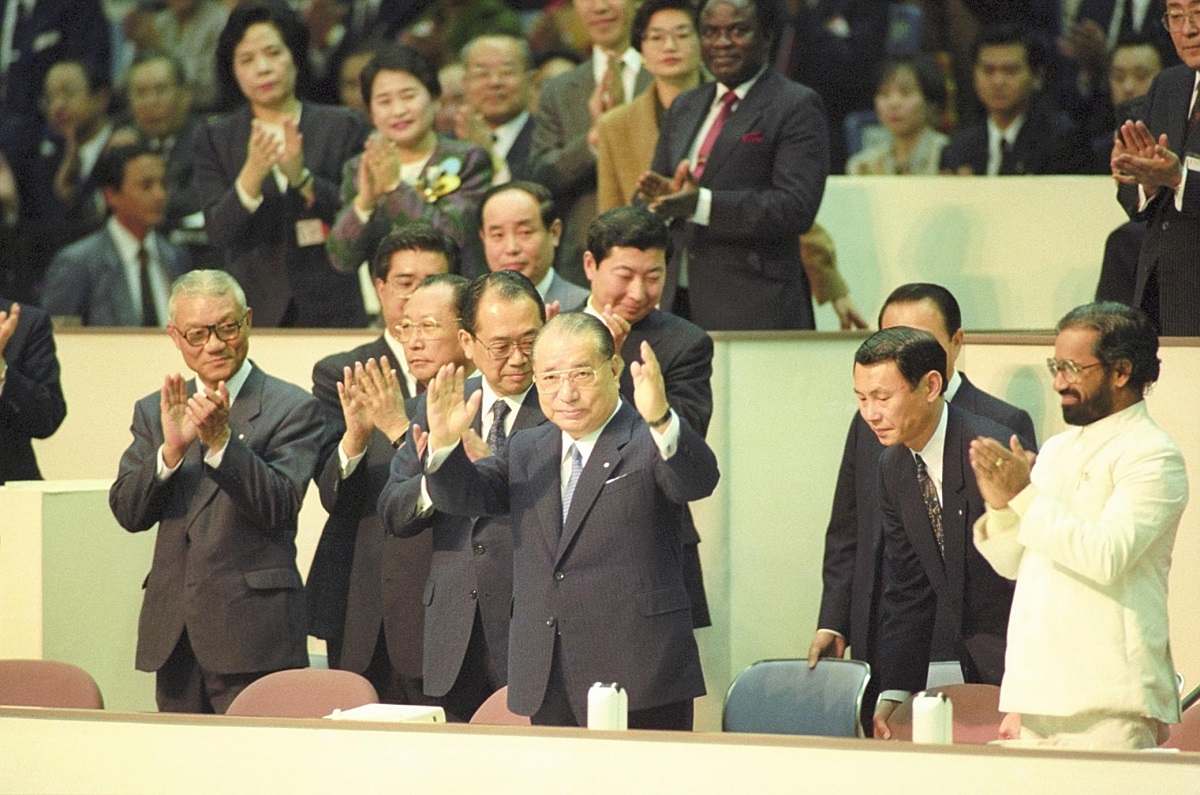 18:13 JST, November 19, 2023
Komeito — the political party established more than a half century ago by Daisaku Ikeda, who died on Wednesday — has influenced politics primarily in such fields as welfare, diplomacy and national security. It presents itself as a party dedicated to the public and to peace.
Ikeda was also the honorary president of the Soka Gakkai lay Buddhist organization, and the framework through which Soka Gakkai has influenced Japanese politics via Komeito has repeatedly stirred controversy.
Spirit of party's founding
"Honorary President Ikeda consistently watched over us as the founder of Komeito. We will maintain forever the spirit behind our party's founding, that we always stand with ordinary members of the public," Komeito Chief Representative Natsuo Yamaguchi said in a comment issued to mark Ikeda's death.
Komeito was established in 1964, by separating Soka Gakkai's political branch from the religious organization. Komeito is a centrist party, so it initially kept its distance from the Liberal Democratic Party. In 1992, however, Komeito shifted to cooperating with the LDP and the now-defunct Democratic Socialist Party over creating a new law for Japan's participation in U.N. peacekeeping operations.
In 1993, Komeito joined a non-LDP coalition led by the Cabinet of then Prime Minister Morihiro Hosokawa and became a ruling party for the first time. However, Komeito and the other ruling parties lost power after less than a year.
After Shinshinto (New Frontier Party) broke up in 1997, Komeito reestablished itself. In 1999, it joined a coalition of the LDP and the now defunct Jiyuto (Liberal Party). Since then, Komeito has remained a ruling party except for a certain period.
Emphasis on welfare, peace
Komeito has maintained principles established by Ikeda to prioritize people's welfare and peace.
For example, Komeito has been at the forefront of economic measures that distributed cash or other economic benefits to a wide range of people. In 1998, the Cabinet of then Prime Minister Keizo Obuchi decided to provide merchandise coupons to the public to revitalize local economies and thereby encourage Komeito to join hands with the LDP.
In 2020, in the midst of the novel coronavirus crisis, the administration of then Prime Minister Shinzo Abe considered a measure to support household finances. Prime Minister Fumio Kishida, who was the LDP's Policy Research Council chairman at the time, proposed giving ¥300,000 each in grants to households that saw their income fall, but Komeito asked for the scheme to be reconsidered.
As a result, the scheme changed to provide ¥100,000 to each member of the public.
In national security policies, Komeito has said it acts as a kind of brake. In the case of security-related legislation passed in 2015, Komeito had a clause included that required the Diet's prior approval, without exception, for dispatching the Self-Defense Forces overseas.
Komeito has good relations with China, and Ikeda unveiled his proposals in 1968 for normalizing diplomatic ties between Japan and China. His proposals prompted negotiations to normalize diplomatic ties.
Adhering to being ruling party
However, Komeito did not decide to form a coalition with the LDP just to realize its policy goals.
In 1995, a time when the LDP was at odds with then opposition party Komeito, the LDP considered summoning Ikeda as a unsworn witness to the Diet to rattle Komeito. Ultimately, the planned summons was abandoned and the LDP and Komeito grew closer together.
A source in Soka Gakkai said Komeito became more concerned and decided it "had to be a ruling party to prevent the recurrence of a similar situation."
Since forming the coalition, Komeito has increased its say over the LDP with its overwhelmingly strong vote-collecting power. In a House of Representatives election in 2005, Komeito secured about 8.98 million ballots in the proportional representation race.
Separation of religion, politics
Many people have expressed concern about the closeness between Komeito and Soka Gakkai.
In a lower house election in 1969, Komeito became the second most prominent opposition party. Just after that, Komeito and Soka Gakkai were alleged to have obstructed certain publishers' plans to publish books critical of Soka Gakkai.
In 1970, Ikeda announced it would reexamine its relationship with Komeito to comply with the principle of the separation of religions and politics. Such measures were taken as separating personnel affairs for Soka Gakkai and the party.
But even after that, Soka Gakkai members continued to serve as election campaign volunteers for Komeito. Soka Gakkai and Komeito have also closely communicated over decisions on important policies.
"Soka Gakkai has stronger power than Komeito and holds decision-making rights. This situation has many problems," an LDP executive member said.
Prof. Koji Nakakita of Chuo University, a researcher of political science, said: "Komeito is a political party with its origins in a religion, so it has notably close ties with that religious organization, compared with other parties that have two or more support organizations.
"It's been difficult for Komeito to expand the range of its supporters because it relies on a single specific religious organization."
---
---
---
Add TheJapanNews to your Google News feed.