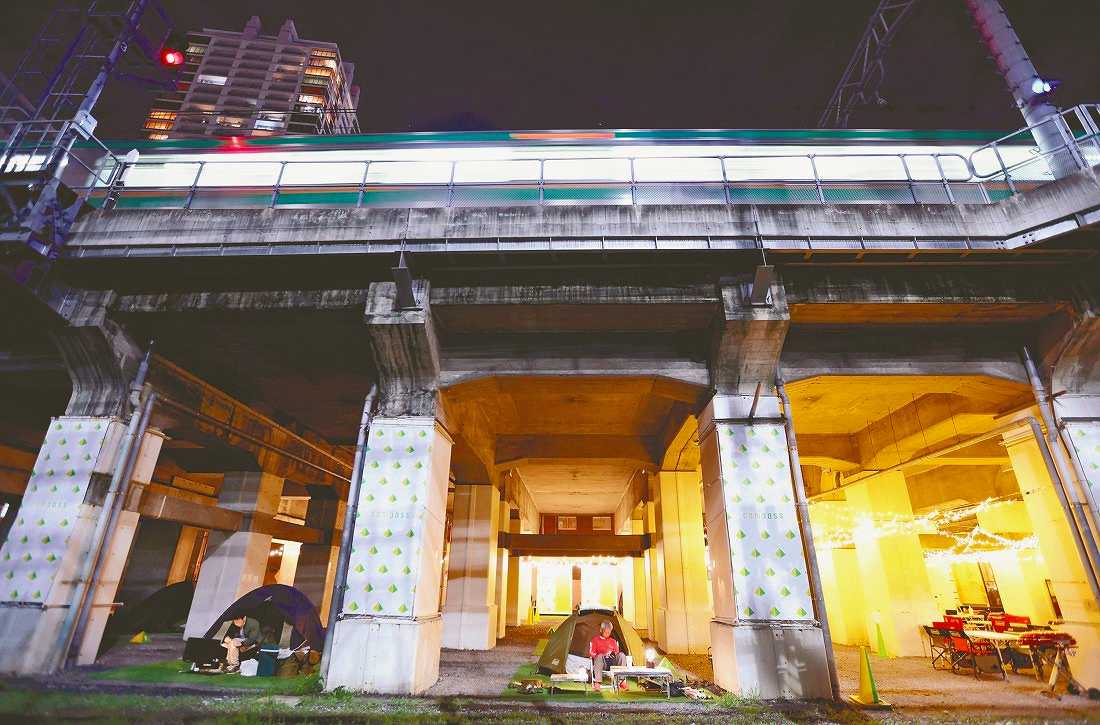 9:16 JST, July 30, 2023
Amid the bright lights, bustling crowds and roaring trains of Tokyo's Akihabara district, a campsite appears a bit out of place.
Akihabara is a popular area among residents and tourists for its many electronics and anime stores. However, tucked away under the elevated train tracks is an area lined with camping tents. The "camp practice site" utilizes an empty space in an urban location to allow people to ease themselves into the great outdoors.
Camping started becoming more popular during the pandemic as a way to avoid the "Three Cs" — closed spaces, crowded places and close-contact settings. However, it can be daunting for some as it requires a lot of preparation, cooking without access to a standard kitchen and sleeping in an unfamiliar location.
JR East Urban Development Corp., a real estate agency affiliated with East Japan Railway Co., created the camp site for those who want to enjoy being outdoors but are finding it difficult to take the first step. The campsite opened in March and is set to close in autumn this year. According to the company, many reservations have already been made.
The selling point of the site is that campers do not have to bring any equipment with them. Almost everything campers need to enjoy their time outside is provided, and staff can teach them how to pitch a tent and use the cooking equipment. Security guards are also on duty at night.
Campers seemed to enjoy the experience in their own ways, whether grilling meat on the barbecue or just sitting and relaxing. Apart from the occasional roar of the trains, it was easy to forget the site was in central Tokyo.
While some use the campsite to relax, others use it as training for a potential disaster.
"I wanted to see to what extent I could survive on my own in the event of a disaster," said Yoshitaka Takahashi, 67, a company employee from Meguro Ward, Tokyo.
An employee in charge of the facility also hopes the camping experience will lead to more people being better prepared in the event of a natural calamity.
This year marks 100 years since the 1923 Great Kanto Earthquake. Why not spend a couple of days relaxing at a campsite while also learning how to take care of yourself and others in an emergency?
Add TheJapanNews to your Google News feed.