Tokyo to introduce SpaceX satellite system to ensure internet access in disasters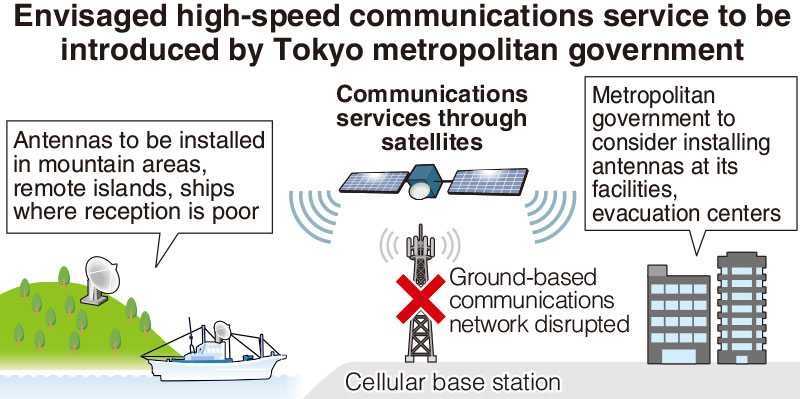 14:21 JST, January 5, 2023
The Tokyo metropolitan government intends to introduce SpaceX's Starlink, a satellite-based internet access service, in the capital from fiscal 2023 in preparation for communications disruptions caused by earthquakes and other disasters, according to sources.
By installing special antennas that receive radio waves directly from the satellites, it will be possible to provide internet access for free even if the ground-based communications network is disrupted. Through such installations, the metropolitan government aims to diversify the means of communications.
Starlink has attracted worldwide attention for its use in Ukraine, where the communications infrastructure was destroyed by Russian military attacks. It does not require large-scale equipment and can be tapped into via a small antenna. The system became available throughout Japan in December. Within a radius of 10 to 50 meters around the antenna, high-speed, wireless communication services can be accessed via WiFi, and voice calls can be also made through mobile apps such as Line.
According to the sources, the metropolitan government plans to start installing antennas at four locations in fiscal 2023. The Izu Islands and the mountainous Tama area will each receive one antenna, and the two other dishes are expected to be installed on passenger ships connecting central Tokyo to the Izu Islands, the sources said. Mobile phone reception is poor in these locations. Once the effectiveness of the system is confirmed at these sites, the metropolitan government will consider installing such antennas at evacuation centers and its facilities in the capital. It plans to allocate about ¥180 million in its draft budget for the new fiscal year to fund the initiative.
In May last year, the metropolitan government released for the first time in a decade a projection of damage that could occur if an earthquake were to strike directly under the Tokyo metropolitan area. According to the projection, power outages and damage to communications facilities could lead to disruptions in communications services for about a week, causing people in some isolated communities to be unable to make emergency calls. In such an event, those who are unable to confirm the safety of their families are also expected to rush home en masse.
In July, KDDI Corp. was hit by a large-scale communications failure. A total of more than 30.91 million users had trouble connecting to voice calls and data communications services for 86 hours until the services were fully restored. There were cases in which elderly people who had health problems and those in distress were unable to make emergency calls to police or fire departments.
Given the precarity of the current infrastructure, the metropolitan government has determined that it is necessary to provide multiple means of communications. By the 2040s, it plans to launch a system to ensure that communications services can be used in all areas of Tokyo in the event of a disaster.
Add TheJapanNews to your Google News feed.