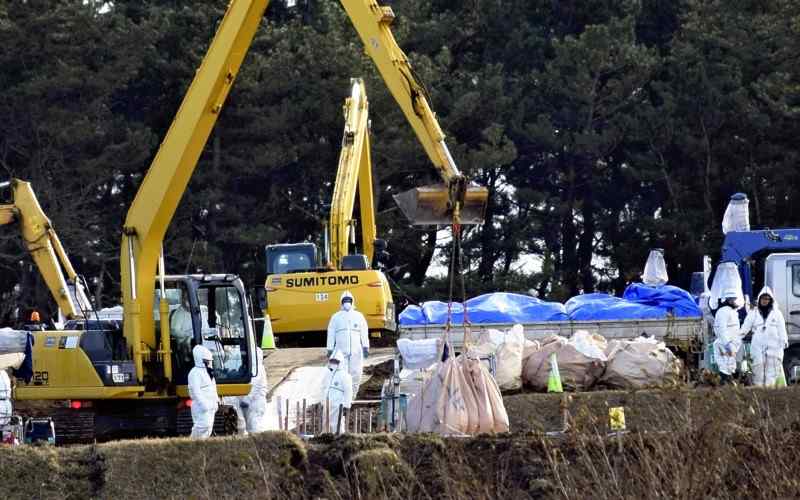 15:05 JST, January 3, 2023
Highly pathogenic avian influenza has been raging at poultry farms and facilities across Japan this season, with both the number of outbreaks and that of culled birds increasing at a record pace since late October.
Five prefectures that had never before experienced bird flu outbreaks at poultry farms have confirmed infections for the first time.
The central government has launched an emergency disinfection program nationwide. However, local governments, which are responsible for culling massive numbers of chickens, have been calling for help, saying that the number of birds is more than they can cope with. Concern is also spreading among poultry farmers.
Limitations of Response
"The current situation [surrounding the culling of domestic poultry] has reached a stage at which local governments can no longer handle it on their own. I would like you to reconsider the approach so far," Ibaraki Gov. Kazuhiko Oigawa said Dec. 21 at the Agriculture, Forestry and Fisheries Ministry in Kasumigaseki, Tokyo.
Ibaraki is the nation's largest producer of hens' eggs. On Nov. 4, an outbreak of bird flu occurred at a poultry farm in Kasumigaura in the prefecture. It took 19 days to kill 1.03 million egg-laying hens, bury and incinerate them, and disinfect the facilities.
Gov. Oigawa asked agricultural minister Tetsuro Nomura for certain requirements to be included in guidelines to be set forth by the central government for large-scale farms, conceived with poultry farms raising over 500,000 birds in mind. Specifically, secure enough workers in advance to cull their birds and prepare lime for disinfection and protective clothing at their own expense.
Nomura told a press conference after the Cabinet meeting on Dec. 27, "We must respond with a sense of urgency because the critical time is approaching."
'We can only pray'
The first cases of bird flu at poultry farms and facilities in Japan this season were confirmed in the prefectures of Okayama and Hokkaido on Oct. 28.
On Dec. 30, new outbreaks were detected in Saitama and Hiroshima prefectures, bringing the total number to 51 outbreaks in 22 prefectures as of the day. The outbreaks in Yamagata, Fukushima, Tottori, Nagasaki, and Okinawa were the first ever recorded in those prefectures.
As of the end of 2022, a total of 7.72 million birds had been culled nationwide. The current surge is likely to exceed the previous worst registered between November 2020 and March 2021, when a total of 52 outbreaks occurred in 18 prefectures and 9.87 million birds were culled.
In Aomori Prefecture, 1.39 million egg-laying hens that were being raised at a poultry farm in Misawa were killed over two weeks from Dec. 15, a record number at a single farm.
Ken Sasaki, chairman of the poultry association of Aomori Prefecture and the operator of a poultry farm in Hachinohe said, "We don't know when or where an outbreak will occur. Ultimately, we can only pray."
Earlier than usual
Avian influenza is spread by migratory birds that fly southward from their nesting grounds in Siberia, Russia. Wild birds and small animals become infected with the virus, and then bring it into poultry farms and elsewhere.
Outbreak season in Japan is therefore from late fall to spring. In Europe, however, outbreaks continued this summer, though not in large numbers, and there is no "off-season" anymore. In France, as many as 1,487 bird flu outbreaks were recorded at poultry farms in the slightly more than a year from October 2021.
"This season, infected wild birds were found in late September, the earliest time of year on record in Japan. Migratory birds have spread the virus to various regions much earlier than usual," said Hiroki Takakuwa, a professor of veterinary microbiology at Kyoto Sangyo University.
In late December, the agricultural ministry began emergency disinfection at poultry farms nationwide, including those in prefectures that had not reported infections thus far. The ministry provides poultry farmers with lime for disinfection free of charge, encouraging them to spray it themselves.
Impact on egg prices
According to JA Zen-Noh Tamago (Eggs) based in Tokyo, the wholesale price of hens' eggs has been hovering above normal since the spring of 2022, apparently affected by the soaring prices of compound feed due to Russia's invasion of Ukraine.
The average price of medium-size eggs for December was ¥284 per kilogram in the Tokyo area, the highest monthly average since wholesale prices were first released in 1993. In addition to demand reaching its peak during the Christmas and New Year holiday seasons, "the bird flu has undoubtedly pushed up prices," an industry official said.
Price increases are expected to level off later this month, when demand is expected to calm down, but the agricultural ministry official said, "We need to carefully watch the trends, based partly on the infection situation."
Add TheJapanNews to your Google News feed.