3 years after the KyoAni arson attack, NPO opens salon to prevent people feeling isolated from society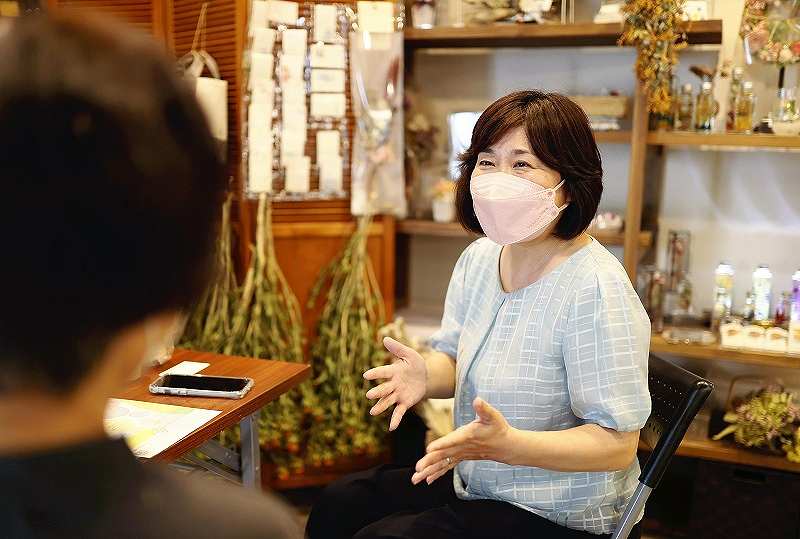 6:00 JST, July 17, 2022
KYOTO — The 2019 fatal arson attack on a Kyoto animation studio prompted a nonprofit organization in Uji, Kyoto Prefecture, to encourage people to make paper cranes to mourn the victims. The initiative also helped some people ease their worries.
In hopes of reducing the number of people who feel isolated from society and to prevent a recurrence of the tragedy, the NPO — Machizukuri Net Uji — founded in May a salon in a shopping district near JR Uji Station where people can freely express their everyday fears and concerns.
The salon opens every Wednesday and has already welcomed around 50 people from various backgrounds, including a homemaker in her 20s with a 1-year-old daughter, a nursing care worker in his 30s and another homemaker who frets over her truanting child and nursing care for her parents.
"It's crucial not to keep your concerns to yourself, even if they're trivial," said Masayo Hino, head of the NPO. "We want to tell people who feel they have nowhere to turn that there's a place for them here."
Hino said she was speechless when she saw black smoke billowing from the Kyoto Animation No. 1 studio on TV on July 18, 2019. The attack on the Fushimi Ward, Kyoto City studio claimed the lives of 36 people and injured 32 others. Shinji Aoba, 44, has been indicted for murder and other charges in connection with the incident.
"Why did innocent people have to be sacrificed," Hino, 55, recalled thinking.
Three days after the attack, she set up a booth at Keihan Electric Railway's Uji Station to make paper cranes for the victims. The initiative attracted many people, including local residents, students and fans of Kyoto Animation.
Some people visited the booth every day, saying the activity helped ease their anxieties.
Hino felt that the booth was more than just a spot to make paper cranes, and provided people with comfort, too.
Over the course of two weeks, visitors to the booth made about 80,000 cranes, which were later placed near the studio.
Hino learned that Aoba had repeatedly caused trouble for his neighbors at the apartment building where he lived alone after serving a prison term for robbing a convenience store, leading her to think, "If there had been someone around him whom he could have relied on, things might have been different."
Last December, another arson attack was carried out at a clinic in Kita-Shinchi, Osaka City, leaving 26 people dead. The 61-year-old suspect, who died in the incident, reportedly had little interaction with people around him. Hino believes isolation from society likely drove him to carry out the act.
While considering the arsonists' background, Hino hit upon the idea of creating a neutral space for people to visit, away from school, work or home.
"I want to create a society where everyone can live comfortably by using the salon to help people who feel cornered," Hino said. "And I want it to be a long-term activity."
Add TheJapanNews to your Google News feed.