Japanese in their 60s and 70s increasingly using SNS to keep in touch with family, friends
12:00 JST, May 30, 2022
Sexagenarians and septuagenarians are becoming increasingly social media-savvy.
The number of people in their 60s and 70s who use social media jumped more than 10 percentage points from last year in both age groups, according to a survey released by the Internal Affairs and Communications Ministry on Friday.
The uptick is likely due to the effects of the coronavirus pandemic, with more people opting to stay home but newly engaging with social media to stay in contact with children, grandchildren and acquaintances.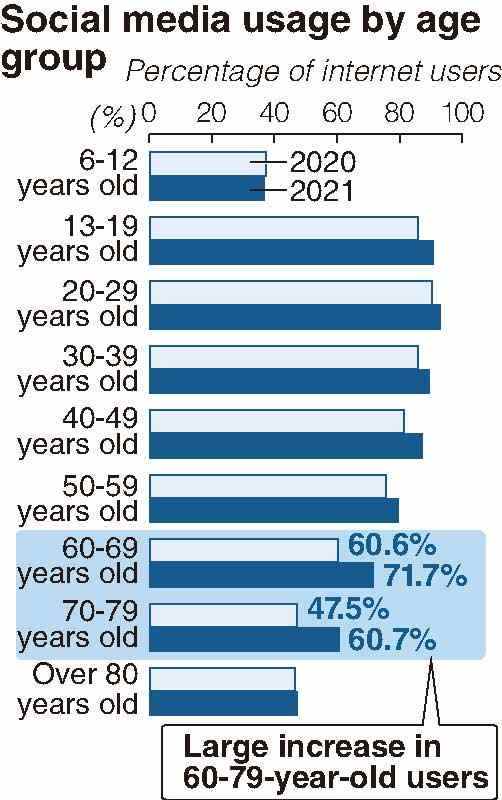 About 44,000 people took part in the survey, which asked participants with online access as of the end of August 2021 about their use of social networking services, including Facebook, Twitter and Line.
Some 71.7% of respondents in their 60s said they used social media, a rise of 11.1 percentage points from the previous year, while the figure for those in their 70s was 60.7%, a year-on-year increase of 13.2 percentage points.
The increase among these two age groups was notable compared to other age demographics.
The most commonly cited reason for using social media was "To communicate with acquaintances" at 88.6%, followed by "To obtain desired information" at 63.7%.
The percentage of people using the internet remained almost unchanged from the previous year for each age group. The figures for the five groups ranging in age from 13-59 stood at over 90% percent, while 84.4% of people in their 60s, 59.4% of those in their 70s and 27.6% of those over 80 said they regularly ventured online.
Add TheJapanNews to your Google News feed.