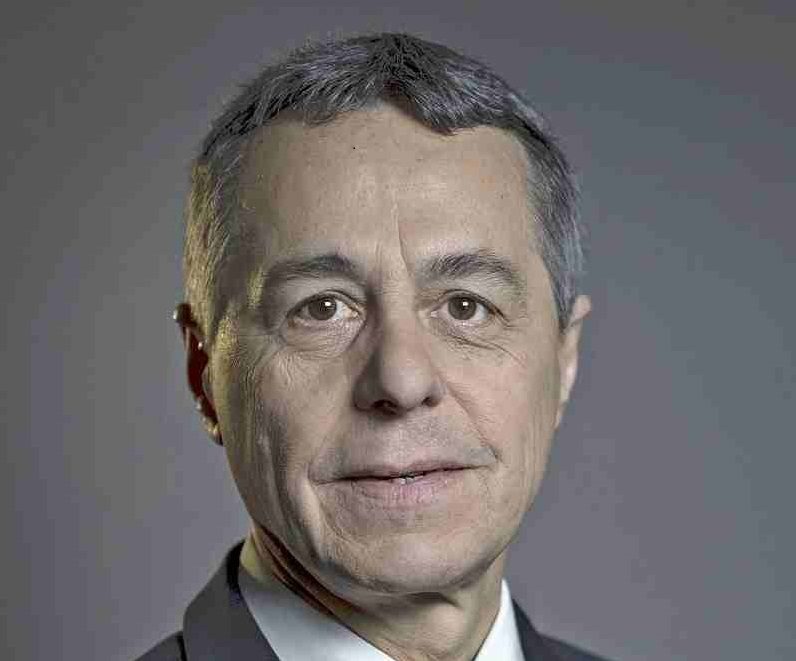 15:46 JST, April 22, 2022
GENEVA — Swiss President and Foreign Minister Ignazio Cassis has stressed that Switzerland, a country committed to permanent neutrality, imposed sanctions against Russia because of the grave violations of international law in its invasion of Ukraine, saying, "Neutrality does not mean indifference."
Cassis made the remarks in a written interview with The Yomiuri Shimbun prior to his visit to Japan that started April 18.
The president has also said that the Swiss government will consider adopting further sanctions if the European Union imposes additional sanctions in relation to Russian troops' inhumane deeds, as those acts have been uncovered.
Regarding Ukraine considering the possibility of neutrality as part of a peace deal with Russia, the Swiss leader said: "It is up to the Ukrainian government to decide whether it wants neutrality for its country. As a neutral state, we are ready to bring independent expertise to the negotiations."
During his visit to Japan, Cassis met separately with Prime Minister Fumio Kishida and Foreign Minister Yoshimasa Hayashi to discuss the two countries' relations with Russia, including the adoption of sanctions. They also discussed such matters as bilateral cooperation in the field of science and technology and strengthening trade between the two countries.
* * *
The following are excerpts from the written interview with the Swiss leader.
The Yomiuri Shimbun: Switzerland, a country committed to permanent neutrality, has imposed sanctions against Russia, joining other Western nations. What was the deciding factor to do so?
Swiss President and Foreign Minister Ignazio Cassis: The invasion of Ukraine by Russian troops was an attack on a free and sovereign country. For the first time since World War II, peace and security in Europe are in grave peril. We had to consider the compatibility of sanctions with our neutrality before adopting possible sanctions. The grave violations of international law were ultimately decisive for Switzerland's decision to adopt the EU sanctions.
Yomiuri: By participating in the sanctions, doesn't that affect neutrality? Could you explain Switzerland's position?
Cassis: Switzerland's adoption of these sanctions does not affect our neutrality. Neutrality does not mean indifference. There is a difference between neutrality law and neutrality policy. The law of neutrality is sacrosanct: we do not interfere militarily in conflicts as a belligerent state. Neither with troops nor with weapons. Neutrality policy, on the other hand, deliberately leaves some leeway for us to react to international developments and stand up for justice and against injustice. Doing so does not compromise our humanitarian tradition, our diplomatic experience in conflict resolution.
Yomiuri: The killing of civilians and inhumane deeds by Russia, such as in Bucha, have been uncovered and might be continuing. Is Switzerland prepared to impose further sanctions?
Cassis: The information we have so far on the possible war crimes in Bucha is appalling. Switzerland has condemned them in the strongest terms and called for a swift international investigation. Swiss law does not provide for unilateral sanctions. This means, in addition to the U.N. sanctions, which are adopted automatically, the Swiss government — the Federal Council — can only decide on measures in coordination with its most important trading partners such as the EU. The Federal Council will consider adopting any further sanctions imposed by the EU in connection with the war in Ukraine.
Yomiuri: What are the purposes of your trip to Japan?
Cassis: First of all, Japan and Switzerland are trusted partners: we share the same values — such as democracy, the rule of law or multilateralism. Secondly, Japan and Russia are neighbors. Both issues make our dialogue important, in order to exchange views on the war in Europe and to better understand the challenges of our relationship with Russia.
Another key objective for my trip is to boost our cooperation in science and digitalization and to strengthen bilateral trade. In Osaka, Switzerland is setting up a new Swiss Consulate with a special focus on research and development and education.
Two years from now, in 2024, we will mark 160 years of excellent diplomatic relations. We should continue to develop cooperation in fields such as basic research, technology, trade and investment.
Add TheJapanNews to your Google News feed.