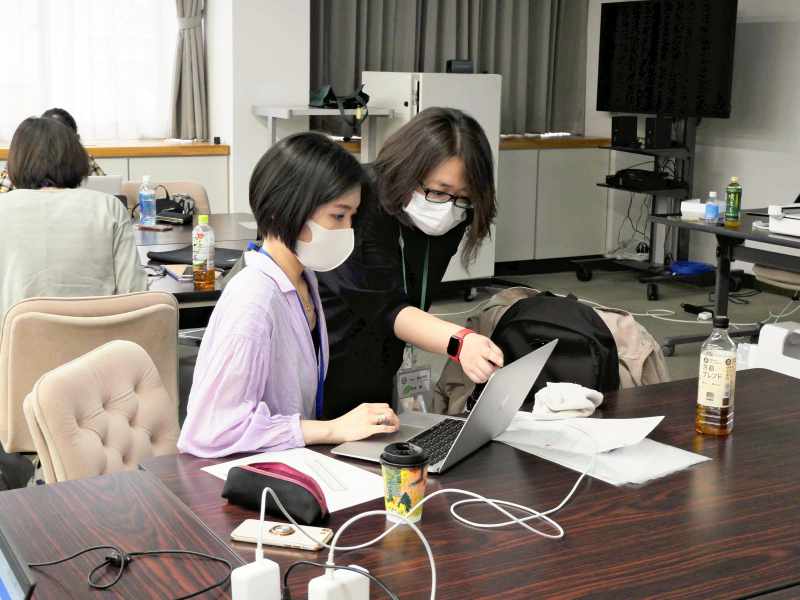 10:28 JST, April 3, 2022
Spurred by the coronavirus pandemic, a growing number of people are reassessing the way they work. According to an Internal Affairs and Communications Ministry labor force survey, one in every five workers aged 25 to 34 wants to change jobs.
Though people are increasingly switching companies, it is not necessarily because they are dissatisfied with their current work environment or workplace relationships. Rather, they are moving on after carefully considering whether their skills set will serve them in the future amid a rapidly changing economic environment.
Skills-set upgrade
Last August, Tomoe Iiyama of Yokohama quit her job at a major trading company, where she held a general position that had limited possibilities for promotion. "Society has become unstable due to the pandemic, and I really felt that I needed to acquire fundamental skills that would allow me to say with pride, 'I can do this,' even if I lost the backing of a major company," she said.
Iiyama, 33, explained that the company is well-known, and she had no problem with her salary or benefits. However, she felt compelled to make a change, saying, "I was super-frustrated because I couldn't improve the visibility of my skills, as my main assignments were coordinating with overseas subsidiaries and writing internal reports."
Last autumn, Iiyama enrolled in a course at Aoyama Gakuin University aimed at helping people with work experience acquire high-demand information technology skills. Since completing the course, Iiyama has continued to study at a programming school.
According to the labor force survey, in 2021, 8.89 million people were keen to change jobs or find additional work, a rise of 320,000 from the previous year.
In recent years, the number of people who have moved between companies has remained roughly flat at around 3 million per year, but the number of those who wish to do so continues to increase. The 25-34 age group accounted for the largest figure, at 2.27 million, meaning one in five workers in this age group is thinking about switching employers.
According to staffing agency Persol Career Co., until recently, people usually changed jobs because they were unhappy with workplace relations, citing "a bad atmosphere within the company," for example.
In the past few years, however, workplace environments have changed following the implementation of laws that regulate overtime work and require companies to prevent workplace harassment. Of late, there has been an uptick in workers moving between jobs because they felt there was little prospect of salary improvements or chances to improve their skills.
In March last year, staffing firm Recruit Co. surveyed about 1,000 people who were changing up their careers. Some 60% of respondents said the pandemic had catalyzed their respective decisions, and of these, more than half said they had become concerned about their companies' strategy and direction against the backdrop of the pandemic.
Job satisfaction
Shiho Mabuchi, 26, used to work at major travel agency H.I.S. Co., but switched in February last year to a PR firm that focuses on digital advertising. "The pandemic drastically reduced the company's operations, and I felt a strong desire to try my hand at advertising-related work, which I'd wanted to do for a long time," Mabuchi said. "I'm excited every day [in my new job] and have no regrets."
Yuiga Kitano, a writer who also works as an executive at a job-hunting website operator, said: "Young people today have grown up amid drastic economic changes and don't believe in lifetime employment. They weigh their own value in the labor market dispassionately — a tendency that has been reinforced by the pandemic."
Time with family
Others, meanwhile, began considering a career change while working from home during the pandemic. Kentaro Minamizaki, 32, worked in sales at an electronic component manufacturer, but switched jobs to tech firm Cybozu, Inc. "I wanted to spend more time with my family instead of riding the commuter train," he explained. Minamizaki subsequently moved from Yokohama to a more rural area in Fukuoka Prefecture, where he primarily works from home in a sales position.
Some companies are trying to improve their human resource operations. This month, Yahoo Japan Corp. eliminated its restrictions on where employees could live, and KDDI Corp. and other companies have adopted a "job-based hiring" system that clearly defines employees' duties and areas of responsibility.
"When the pandemic subsides and the economy improves, the structural problems that underpin Japan's labor shortage will resurface," said Takuya Hoshino of Dai-ichi Life Research Institute. "Whether things reach the same level as in the United States and Europe remains to be seen, but it's likely that job-switching will gradually increase in Japan, too."
Add TheJapanNews to your Google News feed.