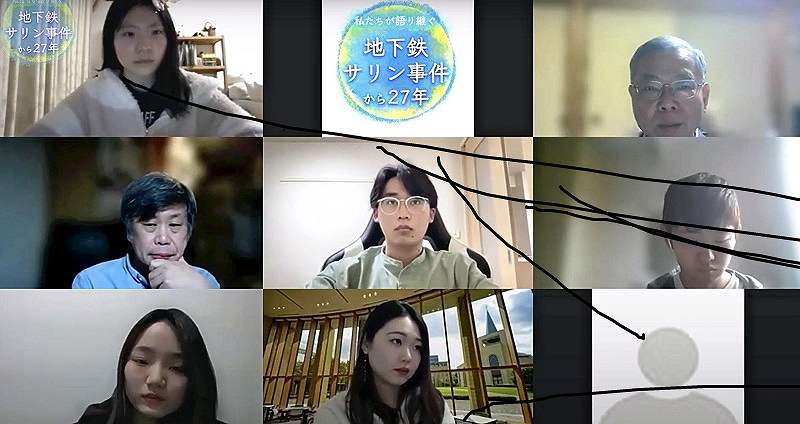 14:07 JST, March 19, 2022
For the first time since the Aum Supreme Truth cult carried out its deadly sarin gas attack in the Tokyo subway system almost 27 years ago, an online event was held to connect victims with young people born after the atrocity.
As it has become harder for those affected to directly share their experiences — a combination of their growing older and the limitations due to the pandemic — such an event held March 5 represents a new means to keep the 1995 attack from fading from public memory.
"We want many people to learn about what victims suffering from complications from the attack are still going through to this day," says the Recovery Support Center, a non-profit organization which organized the event.
On the morning of March 20, 1995, the highly toxic nerve agent sarin was released in cars on three Tokyo subway lines that all pass through Kasumigaseki Station, where many government buildings are located.
The attack left 13 dead and injured or sickened more than 6,000 others. In March 2020, a woman who for 25 years had battled an illness caused by the gas passed away. Aum cult founder Chizuo Matsumoto, then 63, and 12 of his senior henchmen were executed in July 2018.
Message from home
"A man fell to the platform, foaming at the mouth," Mitsuhiro Ayaki said as recounted the horrors of that day from his home in Kyoto during the online event. "I went above ground, and after a short while, everything in front of me turned black as if shutters were being closed."
Ayaki, now 69, was living in company housing in Saitama Prefecture and was on his way to work in Tokyo on the Hibiya Line when his life was changed forever. When the train arrived at Tsukiji Station, announcements were urging people to "immediately proceed above ground." Ayaki rushed to an exit.
He later managed to get to his office, but felt something was wrong with his eyes, and took a taxi to a hospital. One symptom of sarin poisoning is constriction of the pupils, which causes darkened vision. After being treated with an intravenous solution, his condition did not become serious. However, even today, Ayaki experiences discomfort in his eyes.
After completing a graduate program at Kyoto University, Ayaki had been engaged in the development of thermal paper and other products at a major paper manufacturing company.
Touching on the fact that highly educated young people were involved in the production of sarin for the attack, Ayaki said, "In life, the smallest thing can change one's path. I don't want [anyone] to go down the wrong path."
In an interview following the online event, Ayaki said: "As long as the internet is available, people can participate from home. I want to actively keep getting the message out."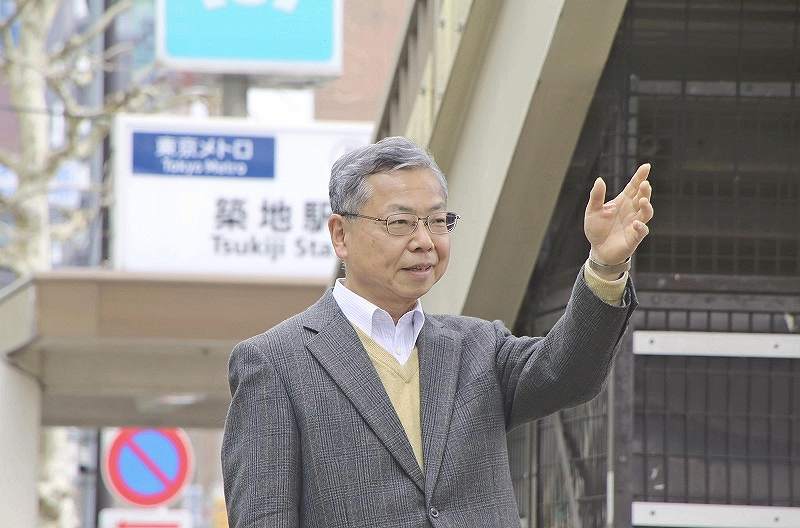 Across the sea
The Tokyo-based nonprofit Recovery Support Center includes doctors and lawyers among its members. It has continued to provide support for victims of the sarin attack through such activities as regular medical checkups.
It had planned an in-person event in March 2020 to mark the 25th year since the attack, but it was postponed due to the spread of coronavirus infections. The event was finally held this year in an online format.
Publicized on social media, 23 university students and others in their teens and 20s joined the event to hear Ayaki and other victims speak.
Sen Shiba, 19, took part from the United States, where she attends a university in Ohio. While she was in junior and senior high school, her commute took her through Kasumigaseki Station, one of the attack sites, so she said she could not consider the attack someone else's problem.
"It really hits home to learn that there are still victims traumatized by the incident," Shiba said. "I want to tell my university friends about it."
Preventing recurrence
According to the Public Security Intelligence Agency, the Aum Supreme Truth cult has split into three factions: its main successor, Aleph, as well as splinter groups Hikari no Wa and Yamada-ra no Shudan.
The groups maintain facilities at 30 locations in 15 prefectures, with a combined total of about 1,650 members. Aleph is said to be conducting a systematic campaign of luring new members by mainly targeting younger people with little knowledge of the Aum cult and its attack.
"Now we're facing the pandemic and Russia's invasion of Ukraine," said lawyer Shinsuke Kimura, 77, the director of the Recovery Support Center. "As society feels more anxiety, the danger of cult groups attracting more young people will increase.
"We want to continue to tell future generations about the incident and prevent a recurrence."
The NPO plans to post the entire video of the online event on a special website (https:/www.rsc-event.com) on Sunday. It is only in Japanese.
Add TheJapanNews to your Google News feed.