Tsunami-hit town in northern Japan embraces basketball to revitalize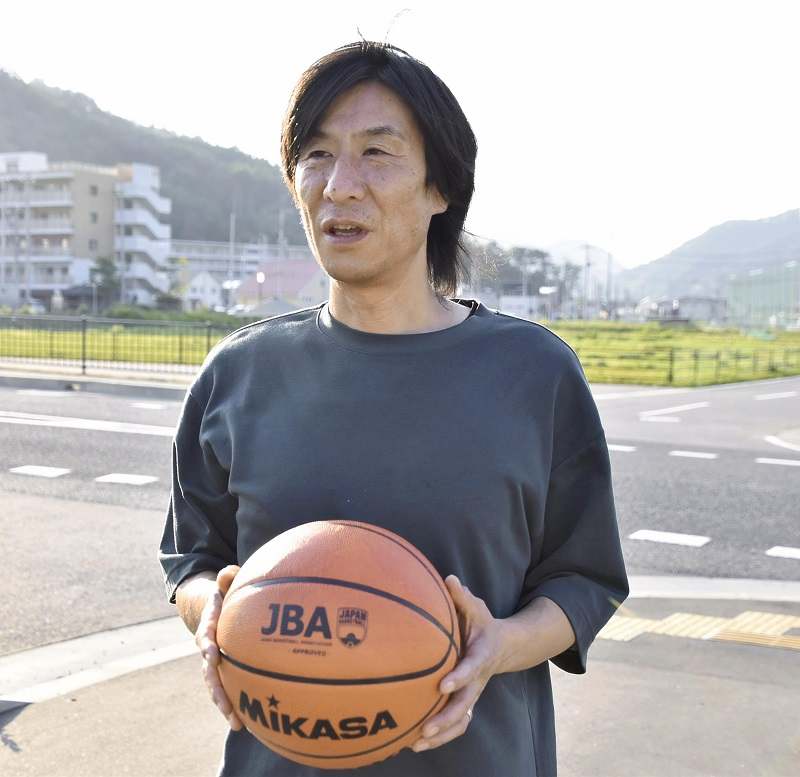 12:48 JST, September 17, 2021
OTSUCHI, Iwate — Revitalization of all the areas ravaged by the 2011 Great East Japan Earthquake is no slam dunk, but a few baller enthusiasts are running a fast break toward recovery in one tsunami-hit town.
The organizers behind the Sakuragi Cup, a 3×3 basketball tournament inspired by the "Slam Dunk" manga, have made Otsuchi, Iwate Prefecture, a favored destination among B-ball fans, and they plan to expand operations with new courts scheduled to open later this month.
The idea of the event came 10 years ago from a local resident and a volunteer to revitalize the town after it was devastated by the 2011 earthquake and tsunami. More than 2,700 people have so far attended the competition.
The key organizers are Hideyasu Kawai, 44, a fishmonger in Otsuchi, and Akiko Yano, 53, who works at a Hiroshima Prefecture-based producer of premade side dishes.
Everything began in 2011 when Yano visited the town's Sakuragicho district as a volunteer to remove debris two months after the calamity. The district's name reminded Yano of Hanamichi Sakuragi, the protagonist of her favorite basketball manga "Slam Dunk."
"It'll be fun to build a basketball court in the district and hold a tournament there," Yano said, recalling the inspiration behind the event.
Yano then distributed a questionnaire to all of the about 360 households in the district asking for their thoughts on the idea.
"I'm pretty sure the manga you're talking about is 'Slam Dunk,'" replied Kawai, the local basketball club leader. "I'd love to work with you."
Kawai had lost his home in the tsunami and could barely think about how to revitalize the town, but he was excited about Yano's idea and playing basketball again.
Soon, Yano and Kawai were kindred spirits and got to work looking for sponsors.
In May 2012, the two held a tournament they named the Sakuragi Cup at a town gymnasium.
The event has been held 26 times since then and has become so popular that the about 20 slots for teams get filled the day online invitations are sent. The tournament attracts more than 100 participants from across the country.
The organizers have saved tournament profits to build new courts and have regularly consulted with the Otsuchi municipal government since 2016. Last year, they finally managed to rent a plot of land owned by the local government near a site where a former town office building used to stand before it was destroyed in the tsunami.
The organizers also raised online more than half of the ¥10 million needed for construction.
Kawai and other organizers were intent on creating outdoor courts as there were fewer places for children to play after the disaster. Parks were built where houses used to stand, but many of them are small.
Scheduled to open on Sept. 25, the two new half courts will be free and open to the public to encourage children to play outside.
"I want to make these courts the new town center, a place where everyone can enjoy playing basketball," Kawai said. "It's thrilling to think that a future star player like Hanamichi Sakuragi may come out of these courts."