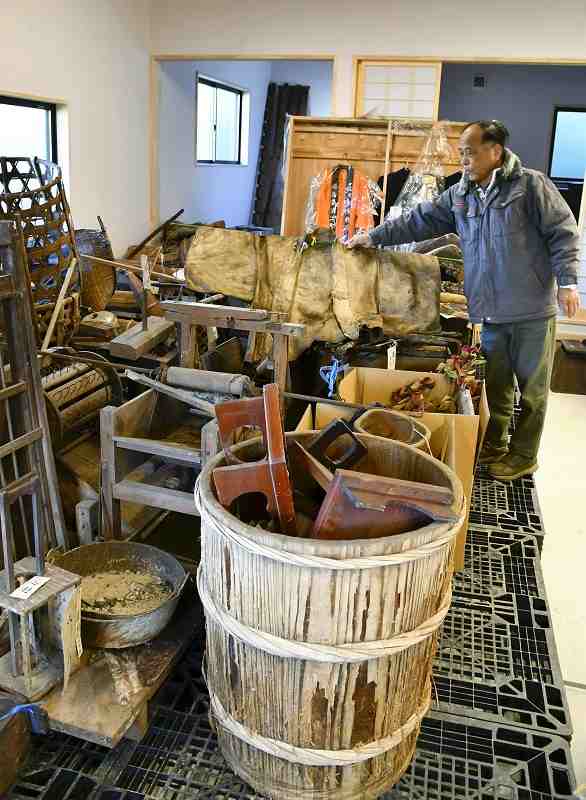 10:52 JST, March 8, 2021
FUKUSHIMA — The 66-year-old son of a woman who died while still living an evacuee from the Fukushima nuclear accident has breathed new life into her folk museum to pass down the local history she loved.
The folk museum was previously located in the Tsushima district of Namie, Fukushima Prefecture, which has been under an evacuation order since the accident triggered by the Great East Japan Earthquake in 2011. To reopen the museum, Shigeru Sasaki has built a new facility in the town's Sakata district, where the evacuation order has been lifted.
"I'll continue to protect items and materials from our hometown," he said.
The museum was opened by his mother, Yasuko, near her house in 1994 to tell more people about life in Tsushima, which is a farming village in the mountains. Yasuko owned a large area of land in the district, and had many old farming tools, festive costumes and other folk items in her house. The museum had a collection of about 600 items, some of which were gathered from other places, and featured old household items.
Yasuko also served as a storyteller, conveying the history of her hometown to local elementary school students who visited the museum.
Following the nuclear accident at the Tokyo Electric Power Company Holdings, Inc. plant, the entire town was forced to evacuate, and the Tsushima district was designated as a difficult-to-return area. Yasuko became ill while living in Koori in the prefecture and died in June 2012 at the age of 84 without being able to return home.
The museum was damaged in the earthquake, and radiation levels in the surrounding area did not drop. The museum remained covered with a blue sheet that had been placed there as a temporary measure.
Shortly before her death, Yasuko told her son, "I want you to protect the exhibits."
Until then, Shigeru had only watched what she had done from a distance, but her last words made him determined to carry on her activities.
In March 2017, the evacuation order was partially lifted for Namie. The Tsushima district is still designated as a difficult-to-return area, but in December 2020, Shigeru spent about ¥15 million to build another museum in the Sakata district, for which the order had been lifted.
About 80% of the exhibits have been relocated to the new location, but some of them were damaged in the earthquake or had deteriorated due to humidity caused by rain leaking in.
"If there are no people around, items will decay," Sasaki said, "The exhibits have also become objects that tell the story of the town after the nuclear accident."
"What my mother left behind is evidence that people lived their lives here. Especially because the area was hit by the nuclear accident, we have to preserve the items for future generations," he added.
Add TheJapanNews to your Google News feed.