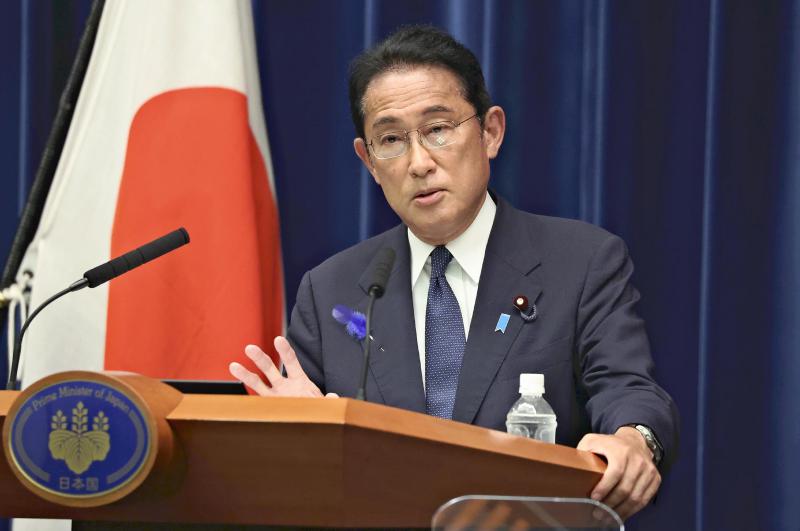 20:00 JST, July 15, 2022
The government will not call for restrictions on social activities despite the recent surge in coronavirus cases, as hospital bed occupancy rates are under control, Prime Minister Fumio Kishida said at a press conference on Thursday.
The decision to forego tough restrictions is believed to have been based on uncertainty over the effectiveness of such measures to contain the pandemic, considering the magnitude of their impact on the economy and people's lives.
"We will take firm action, paying attention to striking a balance between infection prevention and maintaining social and economic activities," Kishida said, stressing his intention to try to reduce cases, while also minimizing the impact on the economy and people's lives.
Kishida also said the booster campaign would be expanded to enable medical and nursing care workers under 60 to get a fourth shot. Currently, only people 60 and older and adults with underlying medical conditions are eligible for a fourth dose.
When cases surged in the previous infection waves, the government declared states of emergency and applied quasi-emergency measures repeatedly to mitigate the spread of the virus.
Businesses were asked to reduce their operating hours and people were urged to refrain from traveling across prefectural borders, among other requests. But it is not clear how effective these restrictions were in containing the pandemic.
On Thursday, the government's COVID-19 subcommittee compiled urgent proposals in preparation for the seventh wave of infections. The panel urged the government to implement five measures, including increasing vaccinations and issuing ventilation advice. It stopped short of proposing activity restrictions.
"Restricting activities, which would have a significant impact on economic activities, is a last resort for when the medical system is under strain," a member of the subcommittee said.
Scant scientific data
Some experts have been cautious about measures involving activity restrictions because there is a lack of scientific data that clearly demonstrates the effectiveness of such restrictions.
"Even with restrictions on restaurants, young people get infected in a wide variety of settings," said Reo Takaku, an associate professor at Hitotsubashi University who specializes in health economics.
"It would be more effective if people were asked to test before engaging in activities with a high risk of infection, with those who test positive urged to refrain from such activities."
The low risk of serious symptoms associated with the omicron variant also likely influenced the government's decision to forego activity restrictions.
According to Health, Labor and Welfare Ministry data, 2.49% of omicron patients aged 60 or older became seriously ill, more than triple the figure for seasonal flu. However, the figure was only 0.03% for people aged 59 or younger, on par with that for influenza.
In light of this, the government hopes to ride out the seventh wave by implementing basic measures, such as vaccinations, thorough testing and highlighting the importance of indoor ventilation.
The Tokyo metropolitan government has also been cautious about restrictions, such as requesting eateries to reduce their operating hours. Even though infection cases have increased rapidly, the number of seriously ill COVID-19 patients stood at 15 in Tokyo as of Thursday.
"We are at the stage of trying to control the spread of infections without stopping economic activities," said a senior metropolitan government official.
Tokyo Gov. Yuriko Koike said Thursday, "We will proceed with measures while clarifying our strategy on how to prevent [COVID-19] deaths."
The situation is similar in the United States, where infections have been rising. On Tuesday, the U.S. government announced measures against the BA.5 omicron subvariant, but the measures focused on strengthening existing efforts and tools such as vaccinations, and did not involve activity restrictions.
"We're encouraged that serious illness, hospitalizations and deaths have remained relatively low based on the level of infections," Ashish Jha, the White House COVID-19 response coordinator, said during a press briefing Tuesday. "It's in large part due to our successful vaccination program, our efforts to get people boosted and our incredibly focused effort on making sure that treatments and testing are widely available."
Add TheJapanNews to your Google News feed.