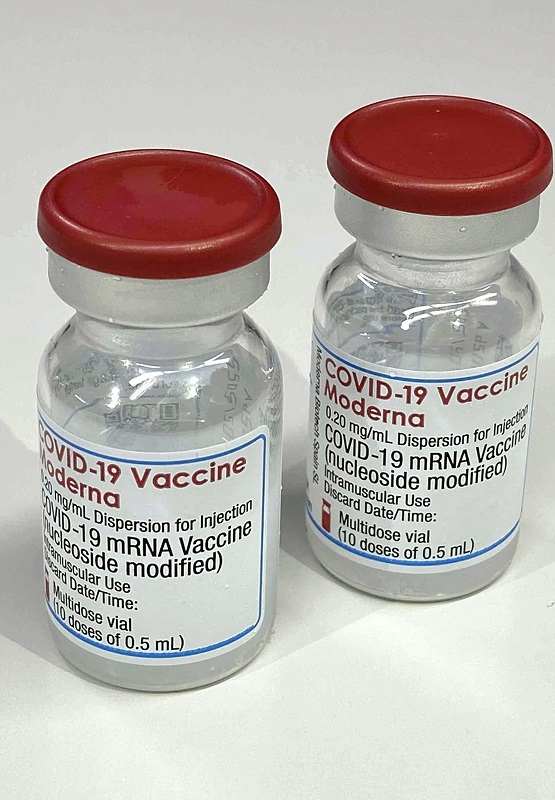 15:50 JST, May 19, 2022
YOKOHAMA — Municipalities in Kanagawa Prefecture are likely to discard a large amount of vaccine for the novel coronavirus, as the expiration date is approaching on some of their Moderna vaccine from the United States.
Thousands of doses of Moderna vaccine have been already discarded in Shizuoka Prefecture, while Okayama Prefecture and the cities of Okayama and Kurashiki were expected to dispose of about 101,000 doses combined. Similar situations are expected throughout the country.
A great deal has been left unused, partly because fewer people are getting a booster shot, especially younger people, and because many prefer the Pfizer vaccine.
"If the current inoculation rate continues, we'll have no choice but to dispose of some [of the vaccine]," an official of the Yokohama city government said.
As of Monday, Yokohama had about 6,700 doses of the Moderna vaccine with a use-by-date of May 28. Due to the unstable supply for first and second doses, the city had asked the government to provide as much as possible for booster shots.
The Moderna vaccine expires nine months from the date of production, but the expiration date for about 123,000 doses that Yokohama received in early February was already about three months away.
In an effort to avoid discarding the vaccine, the city has prioritized the use of vaccine whose expiration date is close, and with the cooperation of other municipalities in Kanagawa, has exchanged it for supplies that will not expire for some months yet.
In April, Yokohama exchanged 4,500 doses with Sagamihara City and 4,350 doses with Kanagawa Prefecture. "Even so, it was difficult to use up all the vaccine," a city official said with frustration.
According to the Kanagawa prefectural government, more than 90% of residents aged 65 and over had received a booster shot as of Sunday, but fewer than 50% of those in their 20s had gotten a third inoculation.
Men aged from 10 through 29 have avoided getting a Moderna shot, partly due to the fact that data shows this group has a higher risk of developing myocarditis and pericarditis after a Moderna inoculation compared to the Pfizer vaccine, the prefectural government said.
Increasing stocks of the Moderna vaccine also make it difficult to distribute it among municipalities. Sagamihara has no plans to dispose of vaccine in the near future, but a city official said, "Vaccinations have declined in the city, and the number of mass vaccination sites has also been reduced."
"We're no longer able to exchange vaccines," the official added.
Yokosuka is trying to prevent about 19,000 doses that will expire on May 28 from going to waste. According to a city government official, however, "All municipalities are in the same situation, and no one else wants to take the vaccine we have."
Odawara is expected to dispose of 13,305 doses, including some that expired on Sunday and others that will expire on Monday. Also, Kawasaki may dispose of about 27,000 doses with an expiration date of June 10.
"We want people who are considering having a booster shot to make a reservation as soon as possible," a Kawasaki city official said.
The prefectural government said disposal was "unavoidable," as there is more than enough vaccine to meet demand. However, it is also requesting that local governments devise ways to reduce the amount of vaccine to be thrown away, such as using the vaccine for fourth doses.
Add TheJapanNews to your Google News feed.