Kishida Cabinet Reshuffle Brings In 11 New Members, with Record Share of Women(Update 1)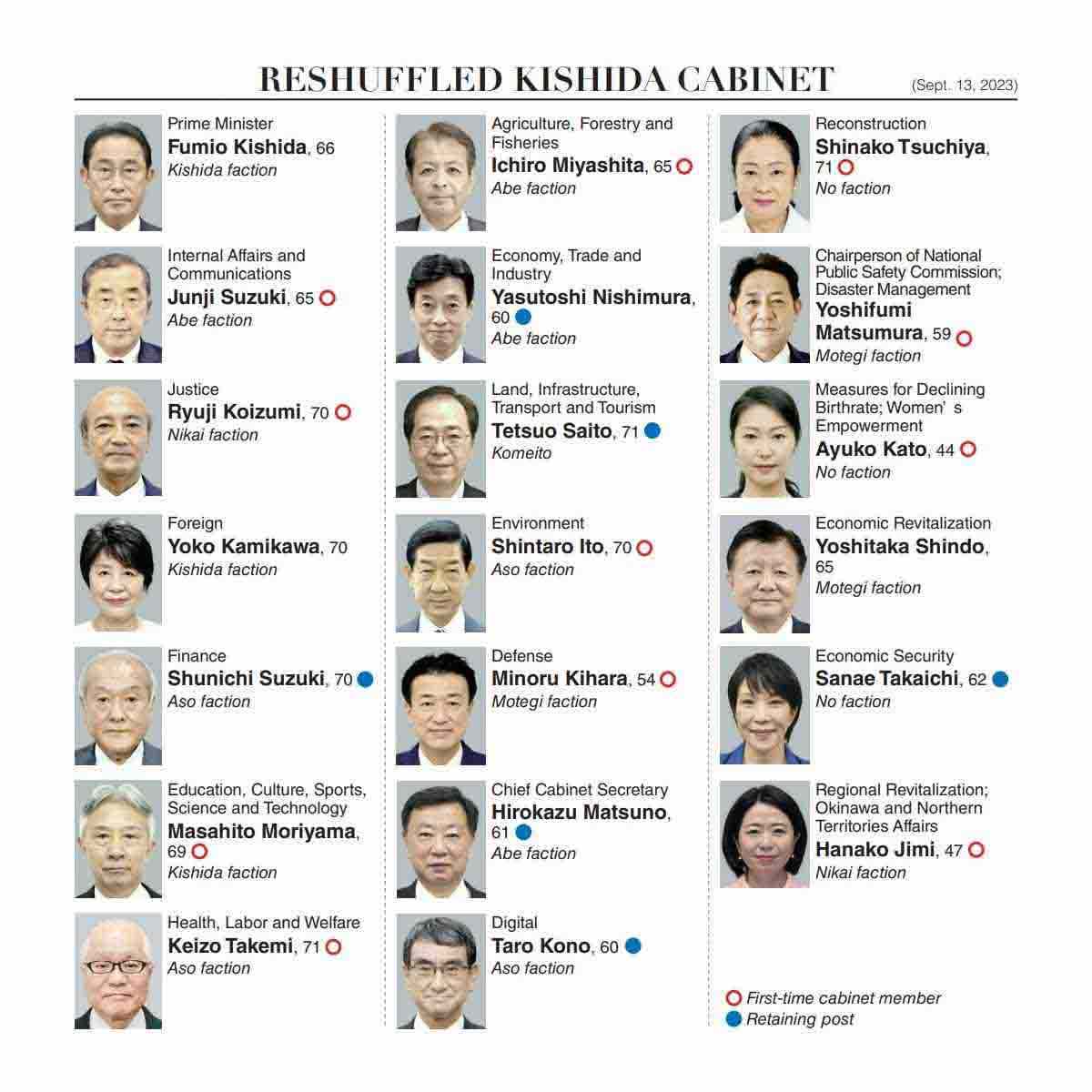 15:06 JST, September 13, 2023 (updated at 18:10 JST)
Prime Minister Fumio Kishida's reshuffled Cabinet was inaugurated Wednesday, with 11 new members added and key members such as Chief Cabinet Secretary Hirokazu Matsuno and Finance Minister Shunichi Suzuki kept on for stability.
By raising the number of female ministers from two to a record five, Kishida is seeking to bring a sense of freshness to the new Cabinet. This is the second time Kishida has reshuffled his Cabinet since the general election in November 2021.
The Liberal Democratic Party also held an extraordinary general meeting at party headquarters Wednesday morning to decide on its main party executives.
"Japan is at a critical point facing major challenges both at home and abroad," Kishida, who also is LDP president, said at the meeting. "The party and the government will work together to overcome this difficult situation and open the way for the future."
By keeping Matsuno, 61, and Suzuki, 70, in their posts, the Kishida administration will maintain its core. Other members staying in their posts include Economy, Trade and Industry Minister Yasutoshi Nishimura, 60, who is in charge of the Fukushima No. 1 nuclear power plant treated water discharge; digital minister Taro Kono, 60, who is resolving a series of problems involving the My Number identification card system; and Land, Infrastructure, Transport and Tourism Minister Tetsuo Saito, 71, from the LDP's coalition partner, Komeito.
Newcomers include former Internal Affairs and Communications State Minister Junji Suzuki, 65, who has been made head of the ministry, and former Finance State Minister Minoru Kihara, 54, who is now defense minister.
As for female members, former Justice Minister Yoko Kamikawa, 70, has been appointed foreign minister. Sanae Takaichi, 62, is staying on as minister in charge of economic security. Former Health, Labor and Welfare State Minister Shinako Tsuchiya, 71, is now reconstruction minister. Former Land, Infrastructure, Transport and Tourism Parliamentary Vice Minister Ayuko Kato, 44, has been made state minister for measures for the declining birthrate. And Hanako Jimi, 47, has moved from Cabinet Office parliamentary vice minister to state minister for regional revitalization.
LDP leadership reshuffle
The LDP's party executives were approved at the extraordinary meeting. Vice President Taro Aso, 82, Secretary General Toshimitsu Motegi, 67, and Policy Research Council Chairman Koichi Hagiuda, 60, stay in their posts. Election Strategy Committee Chairman Hiroshi Moriyama, 78, is now general council chairman, and Party Organization and Campaign Headquarters Chairperson Yuko Obuchi, 49, has been changed to election strategy committee chairperson.
Diet Affairs Committee Chairman Tsuyoshi Takagi, 67, and Executive Acting Secretary General Hiroshi Kajiyama, 67, were reappointed to their positions. Obuchi's post was taken by former internal affairs minister Yasushi Kaneko, 62. And former digital minister Takuya Hirai was appointed to head the Public Relations Headquarters.
Deputy Chief Cabinet Secretary Seiji Kihara, 53, a close aide to the prime minister, was appointed acting secretary general, and is expected to bring stronger government-party cooperation.
Add TheJapanNews to your Google News feed.