Embassy of Japan in China Turns to Popular Chinese Social Media App to Counter Fukushima Treated-Water Misinformation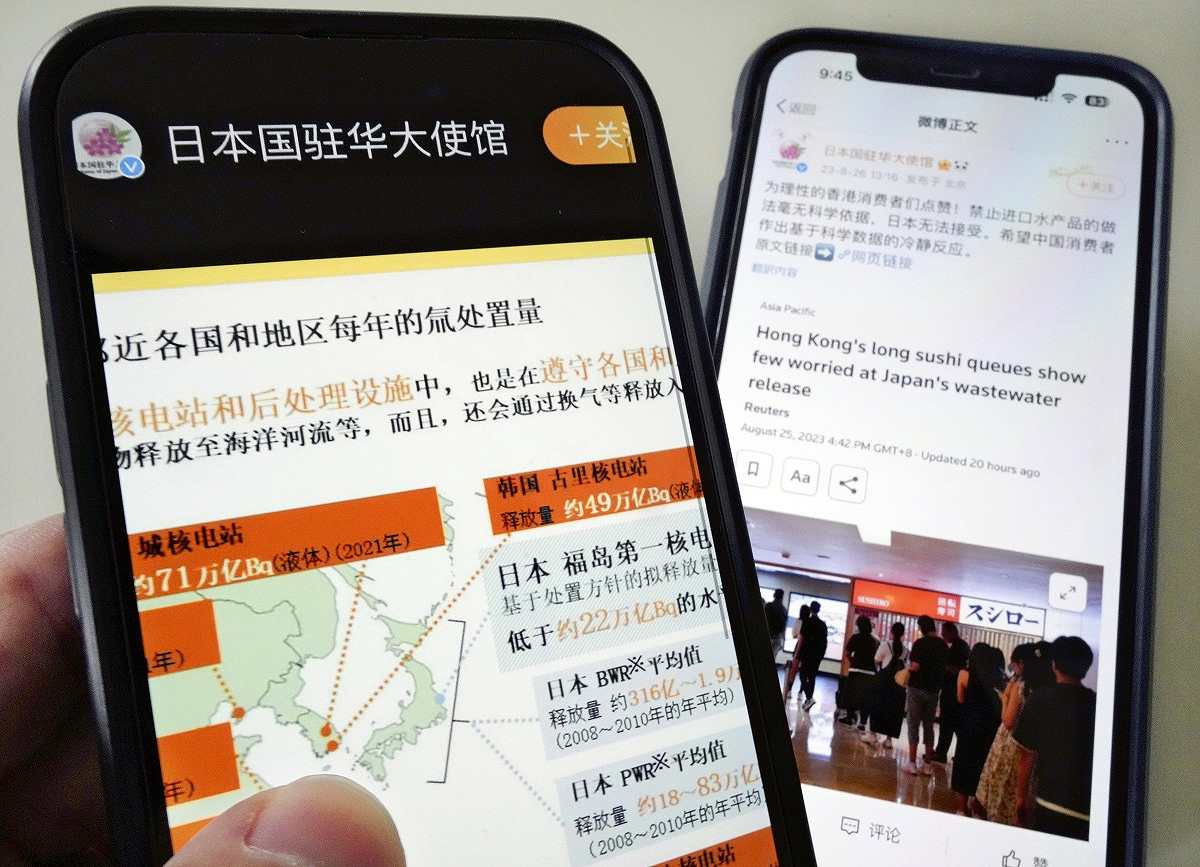 15:20 JST, September 1, 2023
BEIJING — The Embassy of Japan in China is leveraging a popular Chinese social media app to counter Beijing-issued misinformation on the ocean release of treated water from the Fukushima No. 1 nuclear power plant.
In a bid to quell China's scientifically groundless propaganda, the embassy has turned to the popular Weibo app to disseminate — in Chinese — Tokyo's stance on the water-release issue.
The Chinese government and its state media have repeatedly made false claims on the water release, including that Japan's discharge of "nuclear contaminated water" is "self-centered behavior" that will negatively impact the marine ecosystem.
Until recently, the Japanese embassy had primarily used its Weibo account to announce cultural activities and introduce the nation's various charms, including sightseeing destinations and gourmet food.
However, since Aug. 23 — the day before the treated water release began — the embassy has been focusing on posting objective information related to the matter, including statements issued by the International Atomic Energy Agency, and data on post-discharge seawater samples taken around the plant owned by Tokyo Electric Power Company Holdings, Inc.
One such post explains that in 2021, several Chinese nuclear power plants had discharged up to 10 times more radioactive tritium than the amount contained in Japan's planned annual release of treated water. This post attracted much attention, and, as of Wednesday, had garnered 8.64 million views — about 80 times more than the embassy's usual posts.
After regularly posting such information for about a week, the embassy has received such comments as, "I support Japan." Nevertheless, Beijing continues to use its official media to disseminate its spurious claims.
"We intend to persistently communicate that the release of the treated water complies with the standards of international organizations," a Japanese government source said.
Add TheJapanNews to your Google News feed.