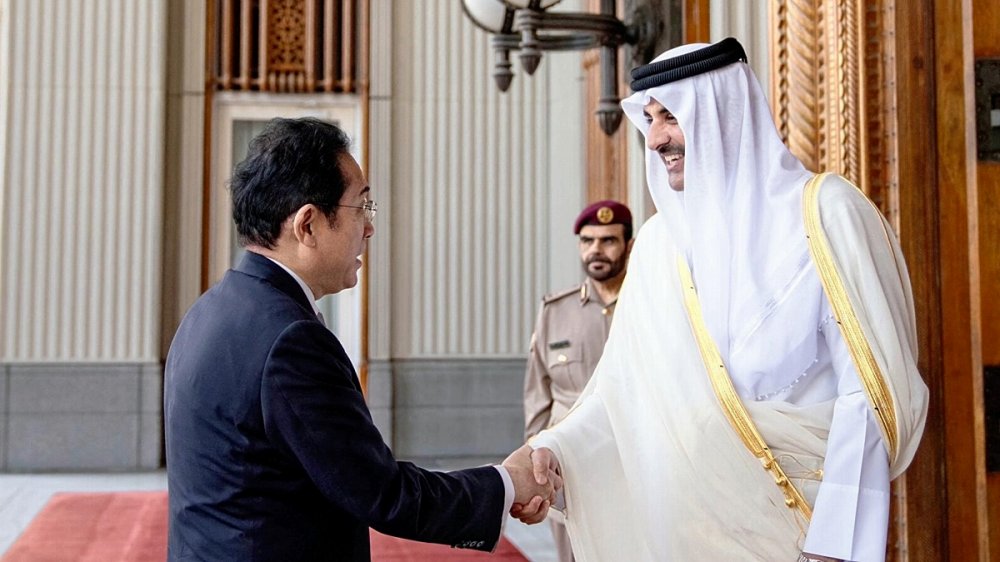 18:03 JST, July 19, 2023
DOHA — Prime Minister Fumio Kishida's trip to the Middle East not only focused on cooperation in the energy sector, but also on forging closer ties with the region.
As China has been rapidly increasing its presence in the Middle East, Kishida emphasized the maintenance of a free and open international order based on the rule of law, a value that he said was shared by the three states he visited: Saudi Arabia, the United Arab Emirates and Qatar.
"This fundamental principle has been definitively confirmed with the leaders of the Gulf countries," Kishida said during a press conference in Doha on Tuesday afternoon.
Earlier this week the Foreign Ministry said Kishida and Saudi Arabia's Crown Prince Mohammed bin Salman confirmed that they will never tolerate unilateral attempts to change the status quo by force anywhere in the world.
Kishida then met UAE President Sheikh Mohamed bin Zayed and Qatar's emir, Sheikh Tamim bin Hamad Al Thani, to confirm that they would work closely with Japan for peace and the stability of the international community.
Apparently with China in mind, the prime minister took pains to point to the value of the "rule of law" in addition to energy-related topics.
More than 80% of Japan's crude oil imports are from these three Mideast states. A senior government official pointed out that China's increasingly hegemonic moves in the East and South China Seas and its ability to influence the policy decisions of some Middle Eastern states "pose a threat from the perspective of energy security."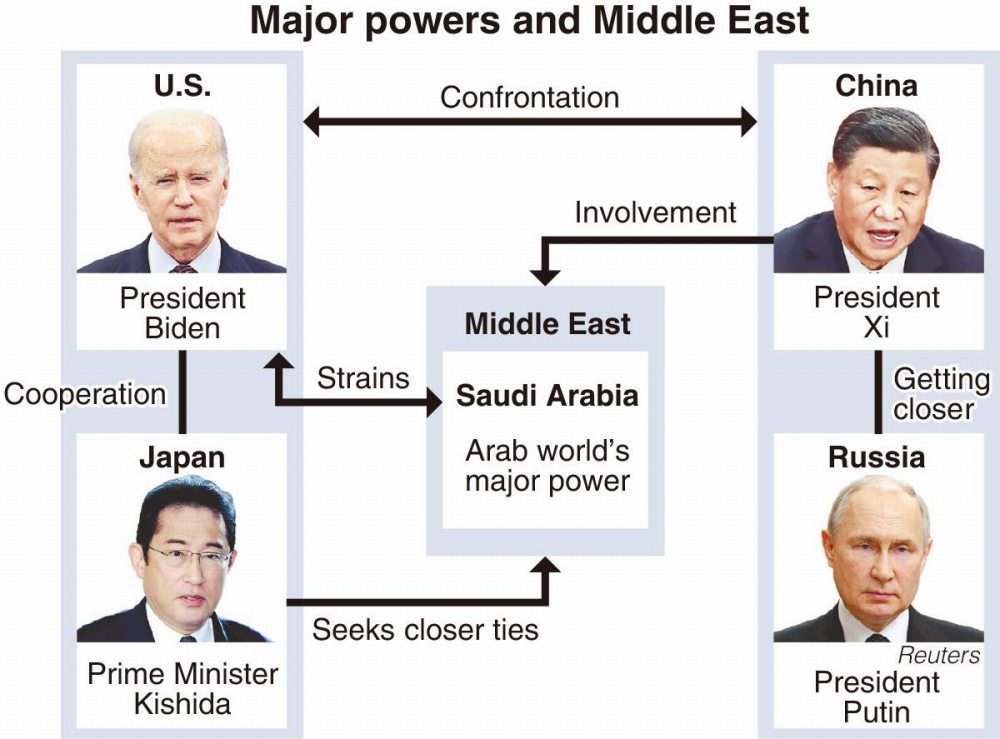 Lagging behind
China has been conspicuously making approaches to the Middle East. Chinese President Xi Jinping visited Saudi Arabia in December, then in March he played a role in mediating the normalization of diplomatic relations between Saudi Arabia and Iran, Sunni and Shiite Islam rivals.
Saudi Arabia has a cooperative relationship with the United States, but there have been some strains between the two. U.S. President Joe Biden's administration condemned Riyadh for suspected human rights abuses such as the 2018 murder of a Saudi journalist. In recent years, the level of U.S. involvement in the Middle East has been declining, leading some to believe that China is trying to take advantage of the situation and disrupt the international order.
It is believed that Middle Eastern countries are giving consideration to China to a certain degree. Although Crown Prince Mohammed bin Salman expressed support for Japan on the North Korean issue during their summit, regarding China, neither Riyadh nor Tokyo went further than reportedly explaining their respective position toward Beijing.
Furthermore, Tokyo lags behind Beijing in terms of economic cooperation, which is supposed to be one of Japan's strengths. Kishida agreed to resume negotiations on a free trade agreement with the six-member Gulf Cooperation Council. But China had already resumed FTA negotiations with the GCC in 2016 and issued a joint statement in January 2022 aiming for an early conclusion of the agreement.
Commitment
This was the first visit to the Middle East by prime minister from Japan in 3½ years. Then Prime Minister Shinzo Abe was the last to visit in January 2020. Kishida originally was scheduled to visit the Middle East in summer 2022, but the pandemic cancelled the plans.
During Kishida's trip, he pledged to provide Japan's cutting-edge technologies for decarbonization to the Middle East and proposed a grand vision of turning the region into a supply base for next-generation energy. Apparently, Kishida wanted Middle Eastern states to pay attention to Japan amid China's increasing forays into the region.
Crown Prince Mohammed bin Salman is 37 and expected to oversee Saudi Arabia for a long time. To secure a stable energy supply system for Japan over the medium to long term, it is essential for Japan to build a multilayered relationship with Middle Eastern states not only in that field. According to a source close to the prime minister, it is important to foster personal relationships of trust among leaders, with Kishida's visit the first step toward that end.
Add TheJapanNews to your Google News feed.