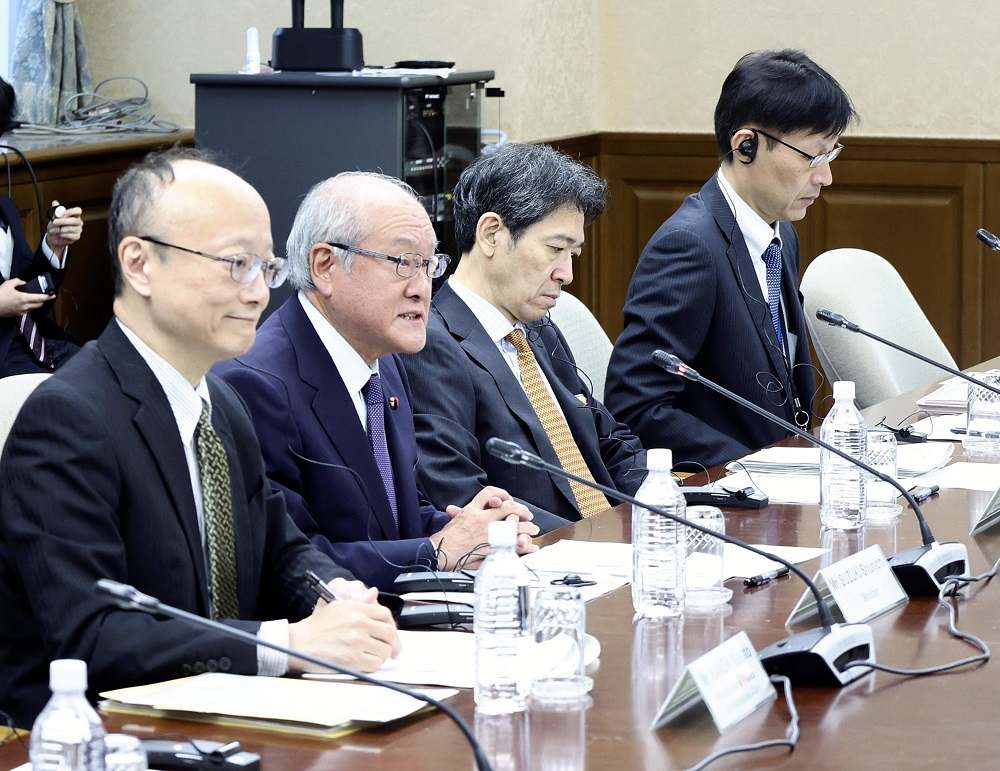 1:00 JST, July 1, 2023
Japan and South Korea have agreed to fortify financial ties, but this latest step in warming bilateral relations was spurred partly by joint concerns over China.
The Japanese and South Korean finance ministers agreed in Tokyo on Thursday to "enhance cooperation in developing quality infrastructure projects" in Asia, as China expands its influence in the region under its massive Belt and Road Initiative.
Amid unease triggered by Beijing's expanding presence and increasingly hegemonistic actions, Tokyo and Seoul aim to boost their presence and lead Asia's economy in the aftermath of the coronavirus pandemic.
South Korean finance minister Choo Kyung-ho praised the thaw in ties with Japan at the start of the Japan-Korea Finance Ministerial Dialogue, which was held for the first time in seven years.
Choo, who also serves as deputy prime minister, said the normalization of bilateral relations had expanded as far as economic policy and financial cooperation.
A spokesperson for the South Korean presidential office welcomed the decision to restore a foreign currency swap deal, which had been the most closely watched item on the meeting agenda, on the heels of increased cooperation in security and other fields. "This is a meaningful step and indicates that our relations are being restored in the field of finance, too," the spokesperson said.
Japan-South Korea ties have quickly improved in a range of areas since the administration of President Yoon Suk Yeol came to power. The currency swap deal "will fill the missing link in the economic sphere," a senior Japanese Finance Ministry official told The Yomiuri Shimbun.
Daito Bunka University Prof. Yuichi Takayasu, an expert on South Korea's economy, also applauded the agreement. "Resurrecting the deal is a symbol of friendship that will return Japan-South Korea relations to where they were before ties deteriorated. This also will encourage private investment," Takayasu said.
Support for developing nations
China's presence has formed a backdrop to the ongoing rapprochement between Tokyo and Seoul.
Beijing has been criticized for nudging developing countries deep into debt through loans extended for massive infrastructure projects such as the construction of ports and harbors. Nations who cannot repay their debts end up ceding control of infrastructure facilities long-term to China.
According to reports by the World Bank and other institutions, China has extended a total of $240 billion (about ¥34.6 trillion) in emergency loans to at least 20 developing countries since 2000. China's rescue loans are "opaque," have "relatively high interest rates" and are "almost exclusively targeted to debtors of China's Belt and Road Initiative," according to one report.
At the latest Japan-South Korea finance minister meeting, the Japan Bank for International Cooperation and the Export-Import Bank of Korea decided to strengthen cooperation and promote investment in "quality infrastructure" projects in third nations, including in the Asia-Pacific region.
Providing highly transparent financing and other steps will build trust and hopefully lead to economic growth amid the recovery from the COVID-19 pandemic.
Japan and South Korea also agreed to support developing nations struggling with huge debts.
However, South Korea's largest opposition party has stepped up its criticism of the Yoon administration's efforts to improve ties with Japan, and public approval ratings for Yoon's government have stayed low.
Given that several bilateral issues remain unresolved, it remains unclear whether the Japan-South Korea detente will continue amid instability in the South Korean government.
Add TheJapanNews to your Google News feed.