Japanese Politicians Brace for a Snap Election as Speculation About Lower House Dissolution Mounts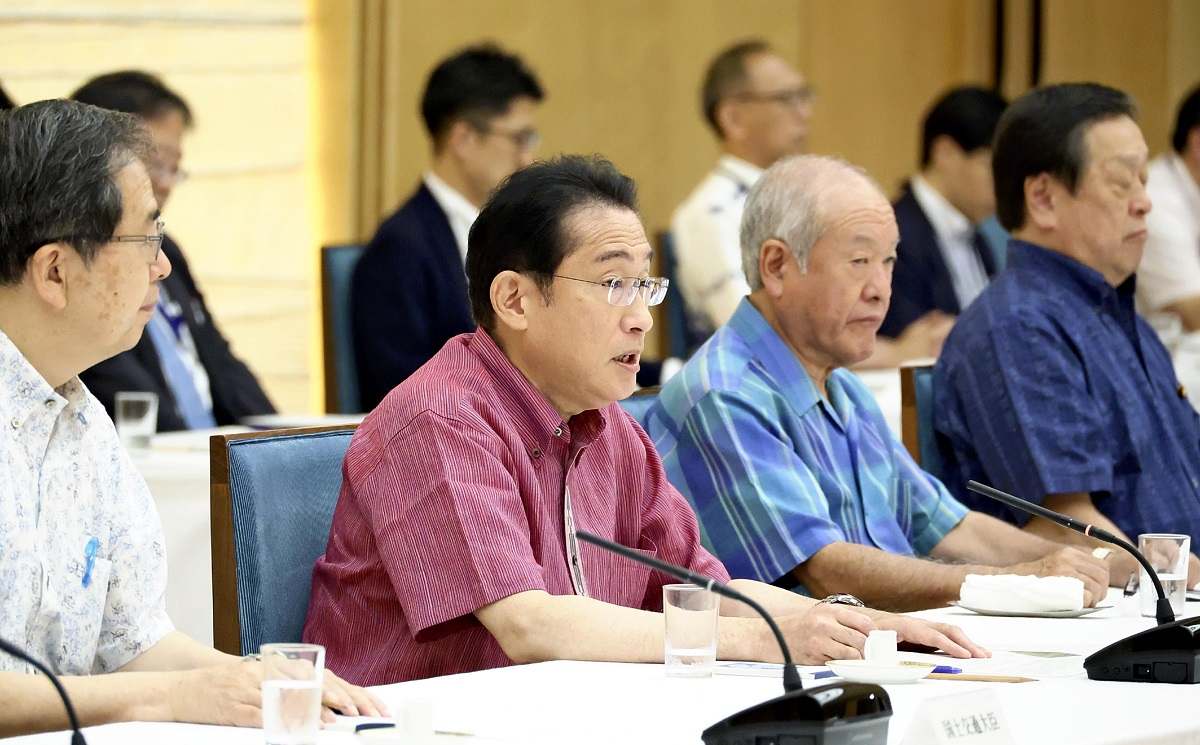 1:00 JST, June 8, 2023
Politicians are bracing themselves for the possibility of a snap election, with dissolution of the House of Representatives on the lips of lawmakers in the ruling Liberal Democratic Party and Komeito coalition in the run-up to the close of the current Diet session on June 21.
Meanwhile, the ruling and opposition parties are preparing for a clash on legislation to secure financial resources to increase defense spending, which the House of Councillors might vote on next week.
"The whole government will tackle Diet deliberations with a sense of urgency in order to move our policies forward, with solid cooperation in the ruling LDP and Komeito coalition," Prime Minister Fumio Kishida said during a liaison meeting of the ruling parties on Tuesday.
The Diet "is expected to become more tense in the final stages" of the current session, Kishida said at a meeting of LDP executives on Monday.
While Kishida has been adopting a cautious approach to Diet affairs, LDP lawmakers have been talking up the possibility of lower house dissolution before the current session ends.
LDP Secretary General Toshimitsu Motegi said in a speech on Saturday that the party should be always ready for dissolution with lower house terms reaching the halfway point this autumn.
On the same day, the LDP's Election Strategy Committee chairperson Hiroshi Moriyama said lower house "dissolution could happen at any time."
Speculation about the possibility of a general election is growing largely because the approval rating of the Kishida Cabinet has increased in the wake of the Group of Seven summit in Hiroshima and other factors.
Meanwhile, the main opposition Constitutional Democratic Party of Japan and Nippon Ishin (Japan Innovation Party), which made a significant leap in local elections in April, appear to be lagging behind in their preparations for a general election.
"There is no reason to postpone. Dissolution should happen immediately," a senior LDP official said.
Opposition parties are currently considering submitting a no-confidence motion against the Cabinet.
Yoichi Miyazawa, chairperson of the LDP Research Commission on the Tax System, said, "If a no-confidence motion is submitted, there will be a strong possibility that the prime minister, given his personality, will take on the challenge" by dissolving the lower house.
However, some LDP members remain cautious about seeking a mandate from the public without sufficient cause. "If the lower house is dissolved simply because it seems we could win [an election], it would provoke a backlash from voters," a longtime LDP lawmaker said.
LDP Vice President Taro Aso is said to be reluctant about an early dissolution. Komeito has also expressed opposition. On Tuesday, Komeito leader Natsuo Yamaguchi said the possibility of a political vacuum emerging in the wake of dissolution must be avoided.
"It is important to take a firm stance to deal with the challenges we face and achieve results," he told reporters.
If a general election is held shortly after local polls in April, Komeito is worried that voters might suffer from election fatigue. "I believe that [dissolution] won't be carried out without prior notice," Yamaguchi said in a speech on Monday.
Add TheJapanNews to your Google News feed.