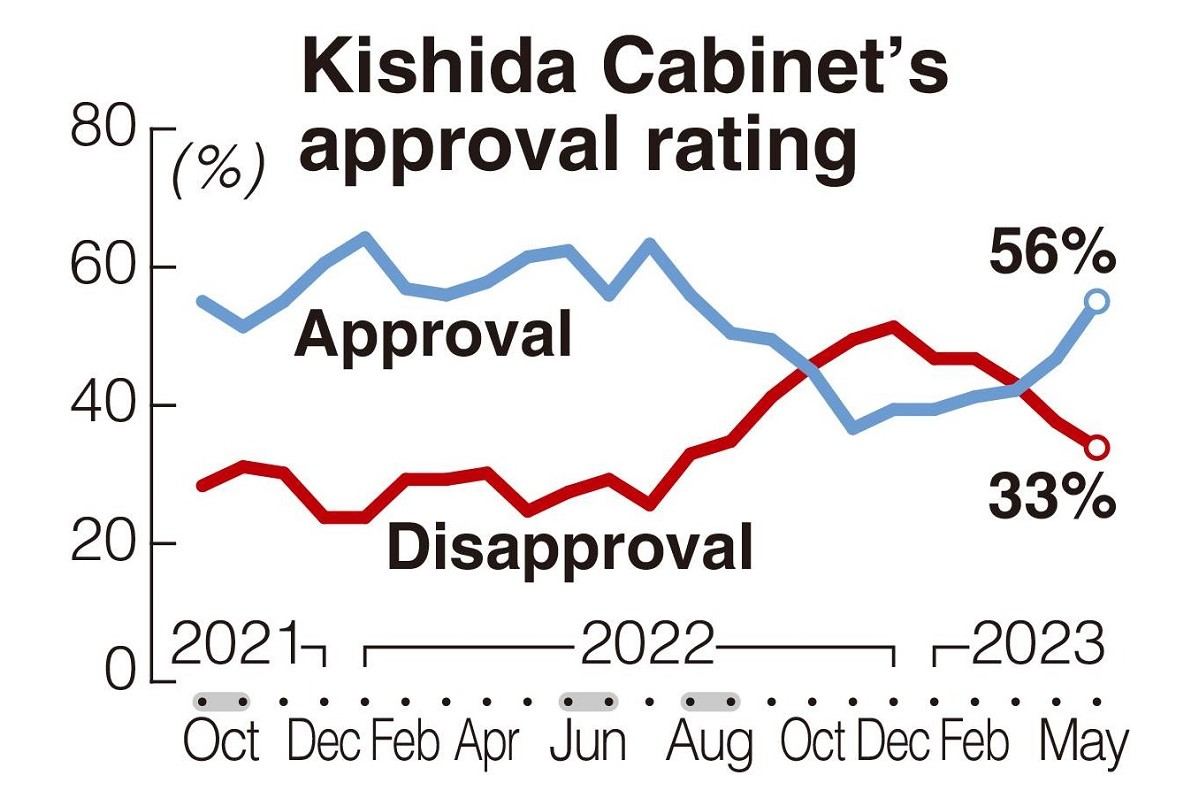 16:05 JST, May 22, 2023
Prime Minister Fumio Kishida's Cabinet approval rating has recovered to the 50% level for the first time in eight months.
A Yomiuri Shimbun survey conducted on Saturday and Sunday showed support rising by 9 percentage points to 56% over the past five weeks. Disapproval stood at 33% compared with 37% in the previous survey on April 14-16.
The rise is likely linked to the government's diplomatic achievements at the G7 Hiroshima Summit held Friday to Sunday and the downgrading of COVID-19 to Category V, the same level as seasonal influenza.
On the subject of generative AI, which uses data culled from the internet to create text and other materials, 86% of respondents agreed on the need for laws and other regulations to prevent AI from using personal information and copyrighted material without permission. Some 75% of respondents also agreed that G7 member countries should cooperate to establish international rules on generative AI.
More than half of respondents, 53%, agreed that Kishida was showing leadership at the G7 summit, while 57% agreed that international momentum was building toward a "world without nuclear weapons," a goal that Kishida has declared as his lifework.
Regarding political party support, the Liberal Democratic Party garnered 38% (34% in the previous poll), Nippon Ishin logged 7% (6%), and the Constitutional Democratic Party of Japan registered 5% (4%).
Meanwhile, 37% (41%) of respondents said they did not support any particular party.
On the next dissolution and general election of the House of Representatives, 43% said this does not need to occur until lawmakers' terms expire in the fall of 2025; 20% said it should happen next year or thereafter; 19% said it should happen this year; and 11% said it should happen as soon as possible. The combined total of those who answered "this year" and "as soon as possible" totaled 30%, indicating a lack of widespread desire for an early dissolution.
When asked which party they intended to vote for in the proportional representation segment of the next lower house election, 41% of respondents plumped for the LDP, 13% chose Ishin, and 8% opted for the CDPJ. Of those who disapproved of the Cabinet, **Ishin supporters represented the largest percentage at 19%, while proponents of the CDPJ accounted for 15%.**
Among those with no particular party affiliation — a demographic that plays a key role in determining election outcomes — the LDP grabbed the largest slice of the pie at 21%, while Ishin and the CDPJ notched 12% and 9%, respectively. Ishin — which significantly increased its seats in last year's upper house election and recent local polls — maintained its momentum, being seen as a party that appeals to those critical of the government and overshadowing the CDPJ, the largest opposition party.
On the issue of how long respondents wanted Kishida to remain in office, 56% thought he should stay on until next September, when his term as LDP president expires. This was followed by 26% of people who thought he should stay on as long as possible, while 15% believed he should be replaced immediately.
The survey was conducted by dialing randomly selected landline and mobile phones in Japan, with 1,061 people ages 18 and older giving valid answers.
Add TheJapanNews to your Google News feed.