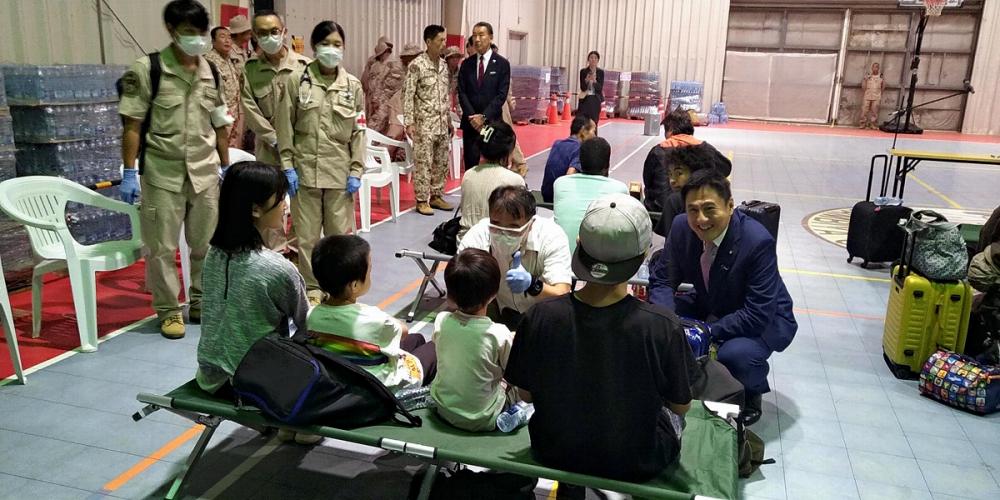 15:40 JST, April 25, 2023 (updated at 16:30 JST)
The last eight Japanese nationals, comprising embassy staff and family members, who were still in Sudan's capital of Khartoum have been taken out of the country, Prime Minister Fumio Kishida told reporters at the Prime Minister's Office on Tuesday morning.
The latest evacuation brings to 58 the total number of people, including non-Japanese, who have been evacuated from the northeastern Africa country where fierce fighting continues. Of the total, 45 were evacuated by Self-Defense Force transport aircraft.
Only one Japanese national who has expressed a desire to leave the country remains in Sudan, although that person is in the relatively safer south.
"The embassy staff [in Khartoum] deserves praise for their courageous and responsible actions in completing the evacuation of Japanese nationals and their families who were isolated and faced difficulties leaving under dangerous and challenging conditions," Kishida said.
The last eight evacuees left from a military airbase on the outskirts of Khartoum with the help of France, and arrived in Djibouti before dawn Tuesday Japan time.
Earlier, an SDF C-2 transport plane carrying 45 Japanese nationals and family members took off from Port Sudan on the Red Sea coast and arrived in Djibouti on Monday night local time.
The 45 evacuees, who had traveled the 670 kilometers from the capital to Port Sudan in groups by several land routes, were met in Djibouti by State Foreign Minister Shunsuke Takei.
"They looked very tired, but didn't seem to have any serious health problems," Takei told reporters, and indicated that the government will support their return to Japan. Of the 45 evacuees, 12 are minors.
According to the Foreign Ministry, four Japanese nationals and a family member of foreign nationality had been evacuated earlier with help from France and others.
Prior to the evacuation, there were about 60 Japanese nationals residing in Sudan. Some still remain, and one living near the southern border where the situation is relatively stable wishes to leave the country.
The Foreign Ministry announced Tuesday that the Japanese Embassy in Sudan has been temporarily closed, and its operations will continue at an interim office set up in Djibouti.
Add TheJapanNews to your Google News feed.