Japan Hopes Foreign Minister's China Visit Will Lead to Reciprocal Visits by Leaders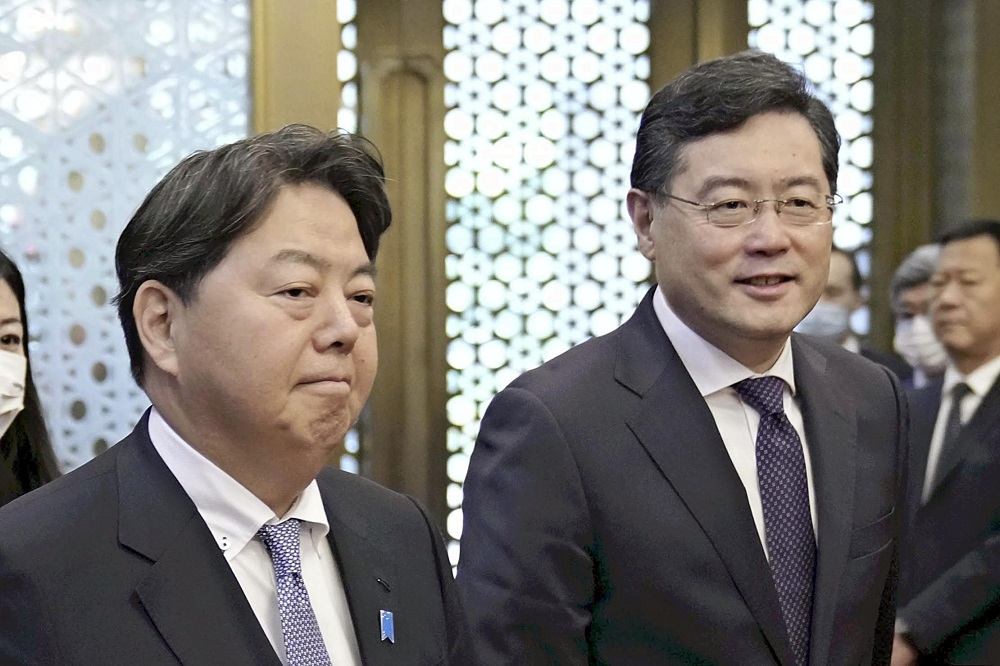 6:00 JST, April 4, 2023
BEIJING — Japan and China made no clear progress Sunday in talks between Foreign Minister Yoshimasa Hayashi and his Chinese counterpart, Qin Gang. Nevertheless, the two foreign chiefs agreed on the need to continue dialogue with the aim of improving bilateral ties.
The two sides are expected to continue exchanging views on how to improve and manage various outstanding issues, while exploring possible areas of cooperation.
At the start of the meeting, Hayashi touched upon last November's Japan-China summit meeting between Prime Minister Fumio Kishida and Chinese President Xi Jinping, saying, "[The leaders of our two countries] agreed on a broad direction for building constructive and stable relations."
This remark was likely meant to serve as a reminder that Xi — who has increasingly been amassing power — is supposed to be placing importance on dialogue between Japan and China.
In light of the many pending issues between the two nations, the Japanese government believes that dialogue is essential from a crisis-management viewpoint.
"It's vital for the two leaders to build a relationship so Kishida can quickly communicate with Xi in the event of a major crisis," a Kishida aide said.
Hayashi's visit to China was originally slated for the end of last year, but at the last minute, the Chinese side requested a postponement. Sources say Hayashi should leverage his visit to facilitate dialogue between Tokyo and Beijing, paving the way for reciprocal visits between the leaders of the two countries.
Then Prime Minister Shinzo Abe's visit to China in December 2019 was the last previous China visit by a Japanese prime minister.
Following his talks with Qin, Hayashi met with Chinese Premier Li Qiang, Xi's closest aide. Li, who assumed office last month, is the Chinese Communist Party's second-in-command. Hayashi and Li, too, agreed on the need for continued close communications between the two countries, including at the top-leader level.
The two governments had worked to arrange a Japan state visit for Xi in around spring 2020, but the idea was abandoned due to such factors as the COVID-19 pandemic. Tokyo believes that a near-future visit by Xi would be difficult under the current circumstances, but is potentially open to hosting Li. If Li were to visit, it would potentially open the way for Kishida to visit China.
Japan is poised to use its warming ties with South Korea as a tailwind to promote dialogue between Tokyo and Beijing: Japan believes China is well aware of the narrowing distance between Tokyo and Seoul. In this regard, Hayashi and Qin agreed to work toward realizing a Japan-China-South Korea summit meeting.
"It was significant to have long and frank face-to-face discussions about various issues and concerns," Hayashi said after his meeting with Qin.
However, the Hayashi-Qin talks also highlighted the wide gaps that remain on a number of issues. For example, Hayashi urged the early release of a Japan national detained by the Chinese authorities in Beijing, but Qin did not provide any concrete responses.
Hayashi also expressed grave concerns over numerous China Coast Guard intrusions into Japanese territorial waters around the Senkaku Islands in Ishigaki, Okinawa Prefecture — the incursions continued even while Hayashi was in China. One recent incident marked the longest period in which at least one China Coast Guard vessel has spent time in Japanese waters since the islands were nationalized in 2012.
Meanwhile, the easing of COVID-19-related border controls between Japan and China is expected to lead to an increase in inbound visits, including tourism. With the exception of crucial technology sectors such as semiconductors, the rejuvenation of economic activity could benefit both nations.
The Japanese government hopes to make the most of the current momentum for dialogue and find a way to stabilize relations between the two countries. "As major powers, Japan and China have important responsibilities regarding peace and prosperity in the region, and [key roles] in the international community," Hayashi said during the talks.
Add TheJapanNews to your Google News feed.