Japan's Foreign Minister Hayashi to Skip G20 for Diet Budget Deliberation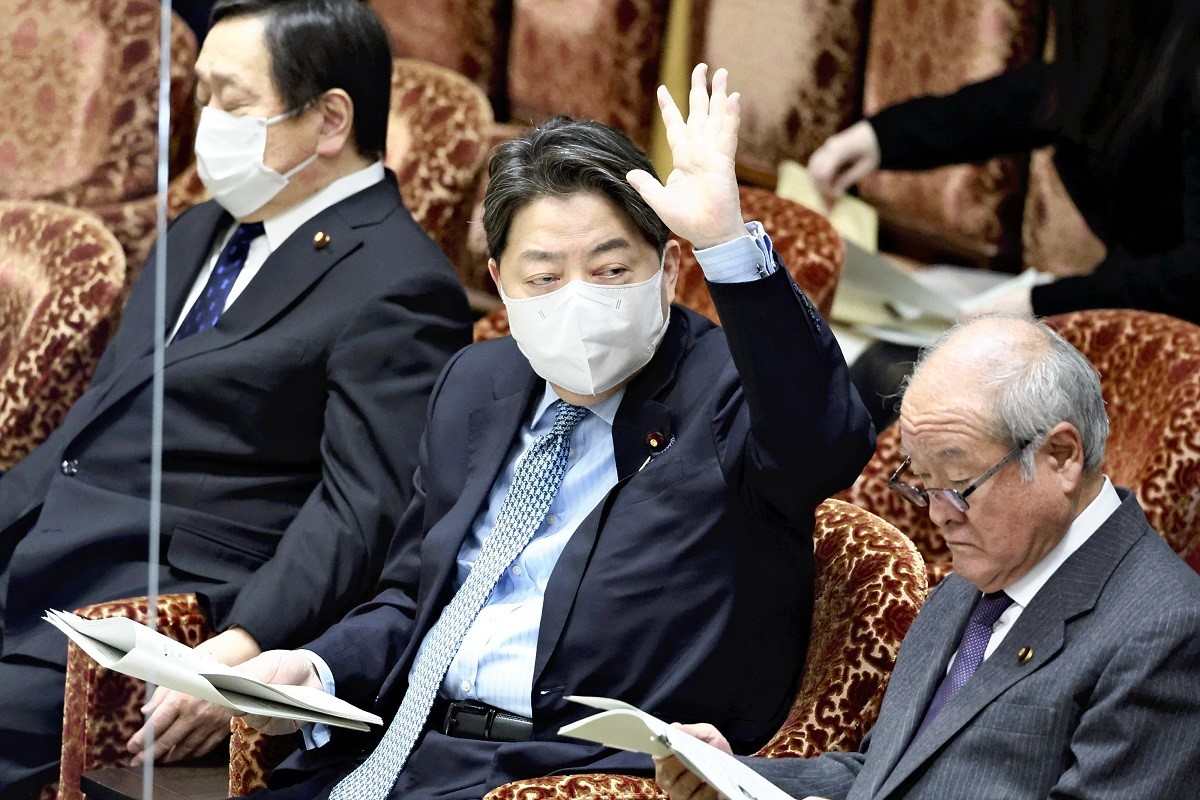 15:41 JST, March 1, 2023
Foreign Minister Yoshimasa Hayashi will not attend the foreign ministers' meeting of the Group of 20 leading economies to be held in India on Wednesday and Thursday in order to participate in the fiscal 2023 budget proposal deliberations at the House of Councillors Budget Committee.
The budget committee's board meeting Tuesday decided to hold "basic questioning" sessions on Wednesday and Thursday with the attendance of Prime Minister Fumio Kishida and all Cabinet ministers including Hayashi. It was also broadly agreed at the meeting to hold a "general questioning" session on Friday, which will be attended by Kishida, Finance Minister Shunichi Suzuki, and other ministers who are requested to attend the session.
Coordination is underway to hold a foreign ministers' meeting of the Quad — a cooperative framework of Japan, the United States, Australia and India — in India on Friday. If the opposition parties ask to question Hayashi at Friday's Budget Committee session, he will not be able to attend the Quad foreign ministers' meeting either.
"Basic questioning is extremely important," said Hiroshige Seko, secretary general for the Liberal Democratic Party in the House of Councillors, at a press conference. As for the Quad foreign ministers' meeting, Seko expressed his intention to coordinate with the opposition parties to enable Hayashi's attendance, saying, "[Friday's session is] questioning of ministers upon request, so there is a possibility that he could make it just in time."
Prioritizing Diet sessions damages national interests
The upper house Budget Committee's decision that effectively prevented Foreign Minister Yoshimasa Hayashi from attending the G20 foreign ministers' meeting in India could call into question Japan's determination and resolve to uphold a free and open international order.
The G20 members include Russia and China, which have been shaking up the international order and asserting their own interests. It also includes countries that maintain a wait-and-see attitude on their policies toward Russia. While Japan has been stressing the importance of the rule of law and calling for unity to counter China and Russia, the absence of Japan's top diplomat will diminish its persuasiveness.
As the chair of the Group of Seven industrialized nations, Japan is expected to play a leading role in discussions on sanctions against Russia and support for Ukraine.
Close cooperation with India, which holds the G20 presidency, is essential to form a broad coalition to counter Russia, but such efforts could also be dampened. Indian media have published commentaries stating that Hayashi's absence due to a domestic situation would irritate the G20 host.
The importance of budget deliberations in the Diet goes without saying. Nevertheless, both the ruling and opposition parties, which customarily require ministers to attend the Budget Committee sessions, simply stated that the Diet comes first. There is no indication that they have seriously considered the responsibilities and priorities of a foreign minister. The deputy ministers and parliamentary secretaries can also answer questions at the Budget Committee.
Diplomatic activities of prime ministers and cabinet ministers being hindered by them being excessively bound to the Diet is a long-standing issue. "It leads to a serious diplomatic loss," said a senior Foreign Ministry official. A loss in diplomacy means a loss of national interests. The ruling and opposition parties as well as the government need to rethink the way Diet deliberations are conducted.
Add TheJapanNews to your Google News feed.