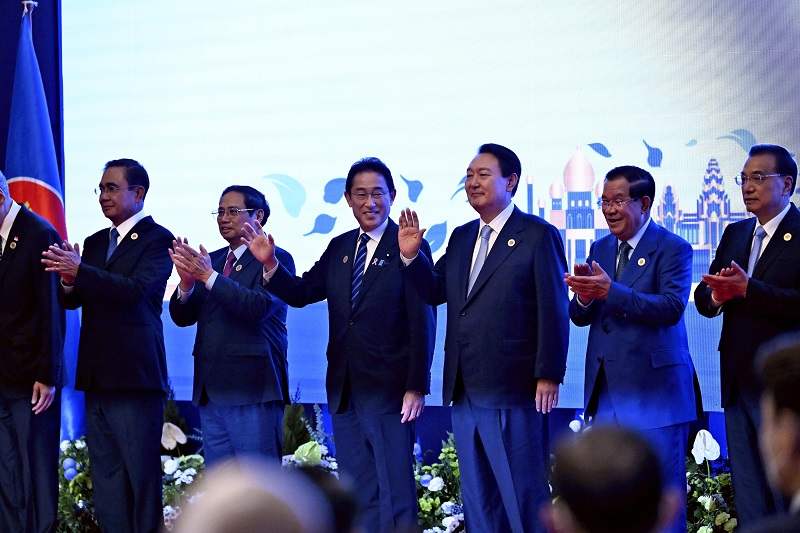 2:00 JST, January 8, 2023
The government is considering inviting South Korean President Yoon Suk-yeol to the Group of Seven summit meeting in Hiroshima after observing Seoul's response to an issue related to former wartime requisitioned workers, according to government sources.
The leaders of Australia and India are also likely to be invited to the G7 summit meeting to be held from May 19-21.
Japan plans to forge unity with like-minded countries that share values with G7 nations toward the realization of a free and open Indo-Pacific, the sources said.
There have been growing calls to tackle such issues as China's increasingly hegemonic activities, North Korea's continued development of nuclear weapons and missiles, and Russia's invasion of Ukraine.
Under such circumstances, cooperation between Japan and South Korea, and among Japan, South Korea and the United States has become increasingly important as the nations share values such as democracy and the rule of law.
It is believed that South Korea hopes to participate in the summit.
If South Korea does participate, the meeting would be a good opportunity to demonstrate both domestically and internationally the strengthening of cooperation.
Diplomatic talks are ongoing to resolve the biggest outstanding issue between Japan and South Korea — lawsuits against former requisitioned workers.
The Japanese government has maintained its stance that a South Korean Supreme Court ruling that finalized an order for Japanese companies to pay compensation is unacceptable, and has urged Seoul to resolve the issue.
Japan is poised to make a final decision on the invitation after observing how South Korea deals with the issue.
The Yoon administration inaugurated in May last year has changed course from that of the previous administration under Moon Jae-in, which paid excessive consideration to China and North Korea. The Yoon administration has been promoting improved relations with Japan and security cooperation between Japan, South Korea and the United States.
Regarding the possibility of invitations for Canberra and New Delhi, which are part of the Quad framework with Tokyo and Washington, Australia is a country with which Japan is deepening security cooperation and India is this year's chair of the Group of 20 major economies.
G7 host nations call the shots
When chairing a Group of Seven summit meeting, the host country gets to decide agenda items and which countries to invite.
When Japan has held the G7 presidency in the past, its choices have strongly reflected the then prevailing international situation.
The Kyushu-Okinawa Summit in 2000 and the Hokkaido Toyako Summit in 2008 were held as Group of Eight summits, which included Russia. Russia joined the group in 1997 but was excluded in 2014 following its unilateral annexation of Crimea in southern Ukraine.
For the Toyako summit — organized by the administration of then Prime Minister Yasuo Fukuda — Japan invited China, South Korea and other countries with which it had cordial ties at the time. India and other emerging countries, such as those from Africa, also participated, and the summit registered a record-high 22 attending heads of state. The Toyako meeting primarily focused on measures to combat global warming, with the G8 nations agreeing to set a common long-term global goal of halving greenhouse gas emissions by 2050.
At the Ise-Shima Summit in 2016 — chaired by then Prime Minister Shinzo Abe — the member countries agreed to implement economic measures, including fiscal stimulus steps, against a backdrop of slowdowns in emerging economies and other elements. While visiting Japan for the summit, Barack Obama became the first sitting U.S. president to visit Hiroshima, which was devastated by an atomic bomb in 1945, marking a historic milestone that symbolized the reconciliation between the United States and Japan.
Add TheJapanNews to your Google News feed.