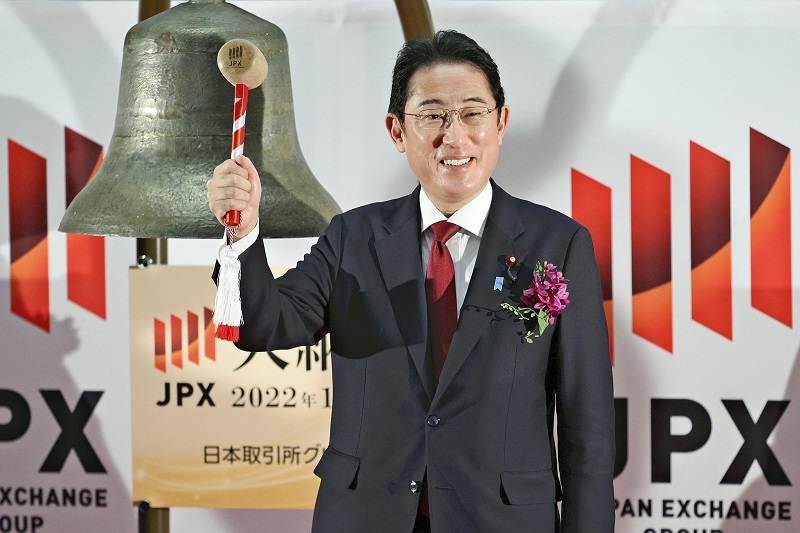 12:12 JST, January 3, 2023
The government and the ruling parties are likely to come up against some challenges in the upcoming ordinary Diet session, which is expected to kick off late this month.
The ruling parties are at odds with the opposition camp over many issues, including the fiscal 2023 budget plan, which included record-high defense spending, and legislation to extend the operation of nuclear reactors beyond 60 years.
"I'll do my utmost to tackle policy so that the New Year will be a good year for the Japanese economy and people," Prime Minister Fumio Kishida said at a year-end ceremony at the Tokyo Stock Exchange on Friday.
According to sources/It is likely that Kishida wants to get the budget resolved swiftly and work on key policy issues, but a tough ride awaits the prime minister.
First of all, the Constitutional Democratic Party of Japan and other opposition parties are expected to target the planned revision of the Nuclear Reactor Regulation Law to extend the operating period of reactors beyond 60 years in response to high energy prices and the global trend for decarbonization.
The government also plans to submit a bill to establish legislation to secure defense spending by selling state properties and other means. However, the opposition is against the ruling parties' plan to enhance the nation's defense capabilities.
The appropriateness of securing a defense budget equivalent to 2% of the gross domestic product is expected to trigger heated debates in the Diet.
The government and the ruling camp might scale-back bills during the ordinary Diet session to prevent the schedule from getting congested, bearing in mind campaigning for unified local elections will take place from late March to late April.
The government withheld submission of a bill to revise the Immigration Control and Refugee Recognition Law in the last Diet session after the opposition camp criticized the Immigration Services Agency of Japan for its handling of the death of a Sri Lankan woman at an immigration facility.
"The submission of the bill may again be postponed depending on the situation in the Diet," a senior Liberal Democratic Party member said.
Meanwhile, the opposition is gearing up to pounce following the resignations in a span of about two months of four LDP Cabinet ministers, including reconstruction minister Kenya Akiba.
"The prime minister must be held to account regarding the [departures of] four ministers," CDPJ Diet affair chief Jun Azumi said on Dec. 26. "The conversation should be about whether they [the Cabinet] should resign en masse."
Add TheJapanNews to your Google News feed.