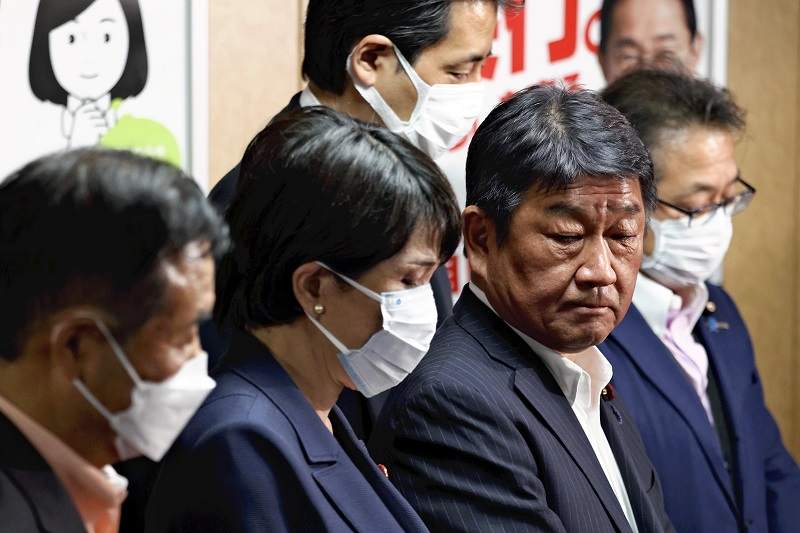 15:39 JST, July 9, 2022
Ruling and opposition party heavyweights mourned Friday the death of former Prime Minister Shinzo Abe, reflecting on his accomplishments during his long period in power. They also voiced criticism of the brutality, which obstructed free speech during the House of Councillors election campaign.
Liberal Democratic Party Secretary General Toshimitsu Motegi condemned the incident at a press conference at the party's headquarters, calling it a "challenge to democracy."
When he called Abe the night before the incident, the former prime minister was concerned about the LDP's situation in the upper house election, Motegi said. "I hope we can overcome our grief, fight the battle well and present a good report to him."
Former Prime Minister Yoshihide Suga, who had supported Abe as chief cabinet secretary, posted on Twitter, "This brutal act is an extremely despicable one that denies the very foundation of the democratic process of electioneering, which is absolutely unforgivable."
Abe's younger brother, Defense Minister Nobuo Kishi, told reporters: "It is truly regrettable. My brother devoted his life to politics. I am so disappointed."
Economy, Trade, and Industry Minister Koichi Hagiuda who served as deputy chief cabinet secretary in the Abe Cabinet said: "He was a mentor, a comrade and a kind older brother. He was an irreplaceable figure."
Toshihiro Nikai, who was LDP secretary general when Abe was prime minister, said: "He was like the captain of our team. I always wanted to entrust him with the future of the country. I regret that he is no longer with us."
Shigeru Ishiba, another LDP heavyweight who had competed against Abe in the LDP presidential election, said, "Although our basic stances as politicians were different, we shared a common desire that 'the LDP must take charge of this country.'"
Natsuo Yamaguchi, junior coalition partner Komeito leader, said he had often exchanged views with Abe. "In some respects, the direction he was heading and my and our party's views did not necessarily coincide. However, through such thorough discussions, we shared a common goal of achieving a result that would be understood by the public," Yamaguchi said.
Former Prime Minister Yoshihiko Noda of the Constitutional Democratic Party of Japan commented: "One of a handful of incumbent Diet members with prime ministerial experience was shot in the back as he was looking forward to the future of Japan. I can hardly express my shock in words."
Ichiro Matsui, the leader of Nippon Ishin no Kai (Japan Innovation Party) said he regularly met with Abe in the closing days of last year.
"I deeply sympathized with his desire to 'make Japan a better country.' I had a close personal relationship with him and respected him very much as a politician," Matsui said.
Yuichiro Tamaki, leader of the Democratic Party for the People said: "A great presence has been lost from the Japanese political world."
Japanese Communist Party leader Kazuo Shii said, "Although he and I had different political stances, I feel extremely sad and lonely when considering that we were born in the same year and were elected in the same year, and lived in the same era."
Add TheJapanNews to your Google News feed.