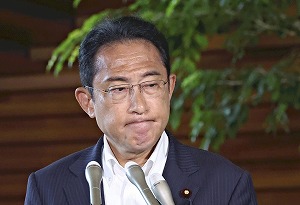 15:22 JST, July 8, 2022
Following a gun attack against former Prime Minister Shinzo Abe in Nara on Friday, Prime Minister Fumio Kishida said: "It was a cowardly act conducted during a campaign period for an election, which is a foundation of democracy. It is totally unacceptable. I condemn the brutal act in the strongest possible terms."
Speaking at the Prime Minister's Office in Tokyo, Kishida told reporters that Abe is in a critical condition. "Emergency treatment is currently being carried out and I sincerely pray that former Prime Minister Abe will survive," he said.
Kishida added that he intended to convene with all his ministers in Tokyo to determine the government's response to the incident.
Regarding the security measures provided to Abe, Kishida said, "I believe [the security personnel] were doing their best, but we will review the situation."
Upon hearing of the attack, Kishida, who was delivering a campaign speech in Yamagata Prefecture, immediately flew to Tokyo by helicopter and arrived at the Prime Minister's Office at around 2:30 p.m. on the day.
Add TheJapanNews to your Google News feed.