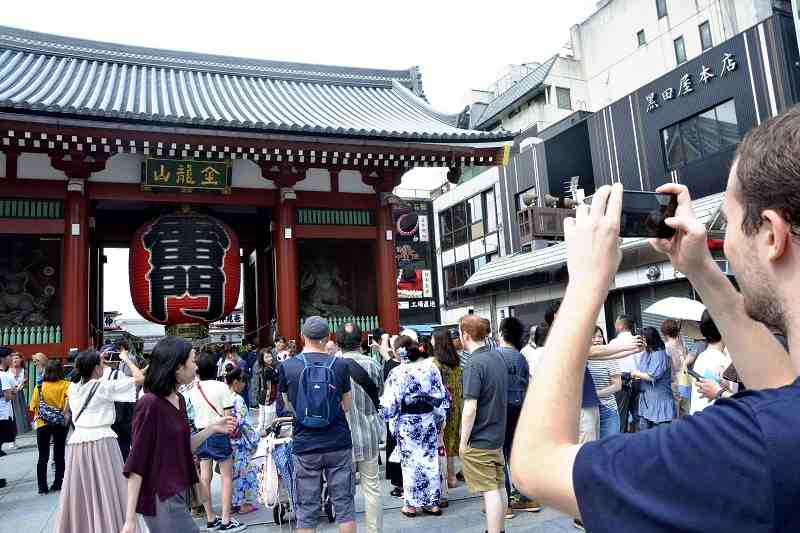 13:34 JST, May 7, 2022
The government is considering lifting in June restrictions banning foreign tourists from visiting Japan, and raising the cap on international arrivals from the current limit of 10,000 people per day, according to sources.
A final decision will be made after evaluating the COVID pandemic status after the Golden Week holiday period, among other factors.
Foreign tourists are currently banned from entering Japan due to the coronavirus pandemic. Non-resident foreigners are allowed to enter the country for such purposes as business, employment and study, provided hosts are responsible for them during their stay, in principle.
The government intends to start accepting group tourists whose activities in the country can be easily ascertained by travel agencies.
Airport quarantine arrangements will also be expanded to handle the increase in international arrivals after the daily cap has been raised. The government is mulling raising the cap to about 20,000 arrivals per day, according to the sources.
Arrivals currently have to take virus tests after they land. A proposal has been mooted to exempt people arriving from countries with few infection cases.
A pilot program will be conducted this month to confirm the feasibility of checking tourist itineraries and exempting arrivals from virus tests.
Pandemic restrictions have been gradually eased because the risk of becoming severely ill tends to be low for patients infected with the dominant omicron coronavirus variant.
The government has reviewed the border control measures amid criticism from overseas that Japan's rules are too strict. The review is also aimed at supporting the tourism industry, which has been hit hard by the pandemic.
During a visit to London on Thursday, Prime Minister Fumio Kishida said Japan will ease its border control measures in June to the same level as those in the United States and European countries such as Britain, which has scrapped its border restrictions.
Add TheJapanNews to your Google News feed.