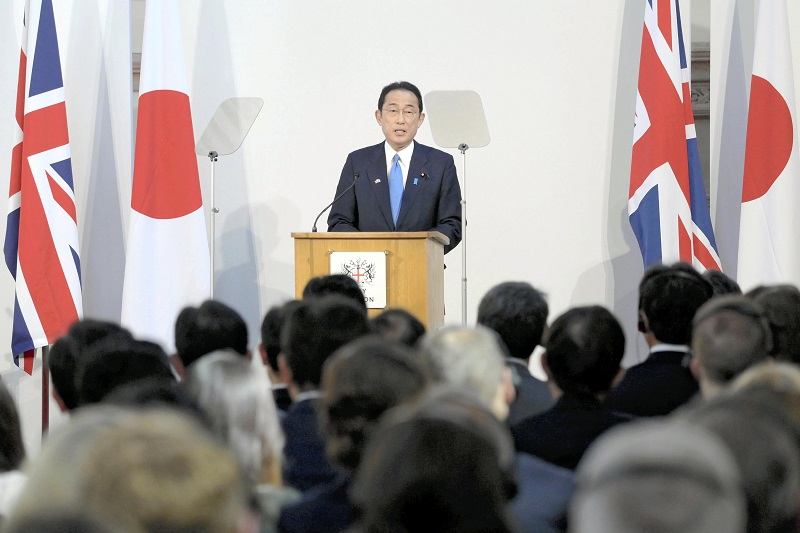 13:16 JST, May 6, 2022
LONDON — Prime Minister Fumio Kishida said Thursday that Japan will impose additional sanctions on Russia, with the primary aim of expanding the freeze on Moscow's assets.
Speaking at a press conference in London, Kishida said the new sanctions would add a further 140 people to the list of individuals subject to an asset freeze, append 70 military organizations to the list of entities subject to an export ban, bar exports of quantum computers and other high-tech products and freeze the assets of yet more Russian banks.
After returning to Japan, Kishida will meet with Finnish Prime Minister Sanna Marin on Wednesday and hold talks with European Council President Charles Michel and European Commission President Ursula von der Leyen on Thursday.
Prior to his press conference, Kishida gave a keynote speech at the Guildhall in the City of London, where he said Japan intended to ease its coronavirus-related border controls from June, bringing the country into line with Europe and the United States. "Japan will grow by being connected to the rest of the world through free movement of people, goods, money and digital technologies across borders," Kishida said.
Japan currently limits visitors to 10,000 per day and does not allow tourists to enter the country — some overseas observers have said the entry restrictions are overly tight.
'Invest in Kishida'
During his Guildhall speech, Kishida explained his "new form of capitalism" economic policy, saying he planned to double Japan's income from assets by shifting about ¥2,000 trillion in personal capital — more than half in cash and savings — to investments.
To achieve this goal, Kishida stressed that his government would "mobilize all policy measures" such as by increasing the number of people who utilize the tax exemption scheme for individual investors, known as NISA (Nippon Individual Savings Account), among other steps.
"The Japanese economy will continue to see robust growth" he said. "You can invest in Japan with confidence. Invest in Kishida."
He also outlined plans for the government to invest ¥150 trillion in the public and private sectors over the next 10 years to achieve its target of net-zero carbon dioxide emissions by 2050.
Add TheJapanNews to your Google News feed.