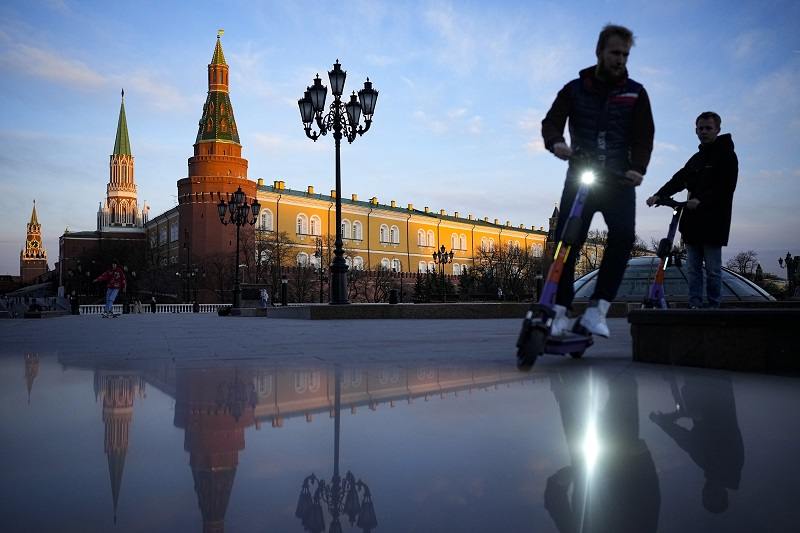 9:23 JST, April 28, 2022
Tokyo (Jiji Press) — The Russian Foreign Ministry on Wednesday announced the expulsion of eight Japanese diplomats in retaliation for a similar measure taken by Tokyo over Russia's invasion of Ukraine.
It is very unusual for Japanese diplomats to be expelled from a foreign country. The Tokyo-Moscow relations are expected to deteriorate further.
The Russian ministry summoned staff of the Japanese Embassy in Moscow to demand that the eight diplomats leave Russia by May 10.
In a statement, the ministry said that Japan openly takes a hostile anti-Russian line after Moscow started its military operation in Ukraine.
Japanese Prime Minister Fumio Kishida's administration has joined the United States, European countries and others in defaming Russia, the ministry argued.
The administration has thus destructed the outcomes of the long-standing mutually beneficial bilateral cooperation, an unprecedented act between the two countries in the present age, the ministry added.
The ministry also criticized Tokyo for providing assistance to Ukraine.
All blame falls on the Japanese government, which has rejected friendly and constructive relations with Russia, the ministry said.
On April 8, Japanese Vice Foreign Minister Takeo Mori summoned Russian Ambassador to Japan Mikhail Galuzin to declare the expulsion of eight officials at the Russian Embassy in Tokyo in response to alleged mass killing of civilians in Ukraine by Russian forces.
The Japanese Embassy in Moscow confirmed Russia's announcement of the expulsion of eight Japanese diplomats.
Russia's aggression against Ukraine "is a clear violation of international law and totally unacceptable," the Japanese government said, demanding that Russia halt its military attacks and withdraw its troops immediately.
Moscow caused the current situation by resorting to military means, the government also said, adding that "it is absolutely unacceptable to make a claim aimed at shifting the responsibility to the Japanese side."
Add TheJapanNews to your Google News feed.