Japan govt to compile supplementary budget to combat soaring oil prices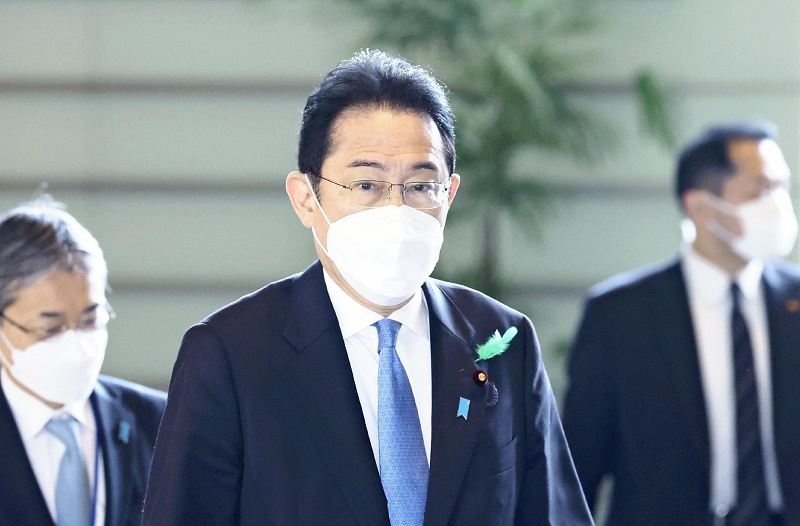 17:15 JST, April 22, 2022
The government and the ruling parties have decided to compile a supplementary budget, which includes emergency economic stimulus measures, for the current fiscal year in response to soaring crude oil prices, among other issues. They are aiming to pass the draft in the current Diet session.
The package will include raising a subsidy cap for oil wholesalers to curb gasoline prices and providing ¥50,000 per child for low-income families.
The two ruling parties' secretaries general — the Liberal Democratic Party's Toshimitsu Motegi and Komeito's Keiichi Ishii — met Thursday to discuss the matter at the Diet Building and agreed to ask the government to compile a supplementary budget. Later in the day, after speaking to Motegi and Ishii, Prime Minister Fumio Kishida indicated that he would instruct the government to compile a draft budget. The economic package, which will likely be slightly over ¥2.5 trillion, is expected to be submitted to the Diet in late May.
Kishida also told Motegi and Ishii that he plans to announce his economic stimulus measures as early as Tuesday. A portion of the ¥5.5 trillion fiscal 2022 budget reserve funds will be used to finance the measures.
The two parties estimated that about ¥1.5 trillion will be necessary for the package. About ¥300 billion will be used to deal with the surge in crude oil prices in May, about ¥100 billion will be used to support small and midsize companies and about ¥1 trillion will be used to provide assistance for those in need.
Regarding measures to combat soaring crude oil prices, the government will raise the current cap of ¥25 per liter to ¥35 to keep the national average price at around ¥168 per liter, as part of its subsidy program for oil wholesalers. Currently, the benchmark price is ¥172 per liter.
In addition to the ¥1.5 trillion from the reserve funds, about ¥1 trillion will be earmarked in the draft budget as subsidies to oil wholesalers for the period from June to September.
Komeito in particular has been urging for the government and the LDP to compile the supplementary draft budget. They had initially planned to do so after the House of Councillors election this summer but accepted Komeito's request.
Add TheJapanNews to your Google News feed.