Japan's Kishida uses weekends, holidays for decision-making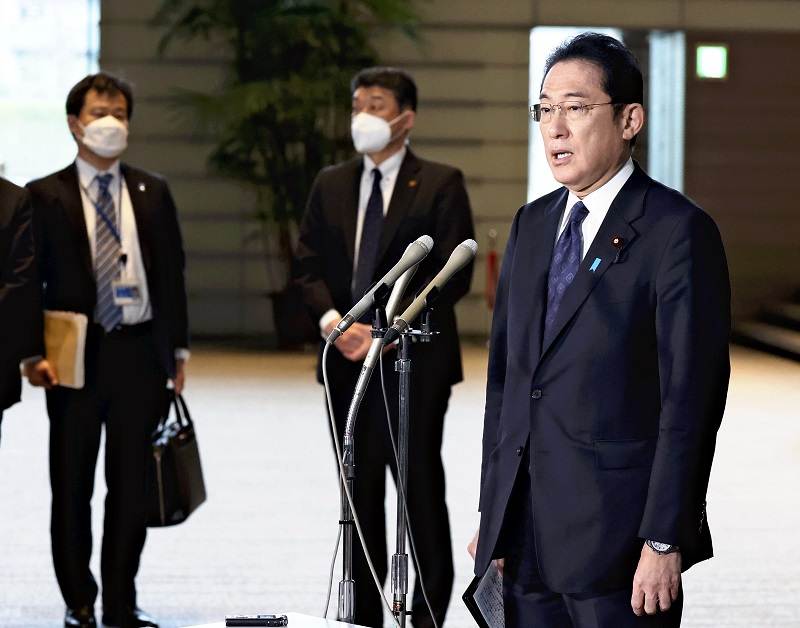 14:57 JST, April 5, 2022
Monday marked six months since the launch of Prime Minister Fumio Kishida's Cabinet, and over that time, the prime minister has often used weekends and holidays to make important policy adjustments and decisions.
His Cabinet has focused on two main themes — dealing with the novel coronavirus and Russia's invasion of Ukraine. "It was a half year during which I couldn't relax. There have been a series of very difficult judgments and decisions," Kishida said Monday. "There are many issues to deal with, so I want to continue to work with a sense of tension and crisis."
Consultations between Kishida and his Cabinet ministers and senior ministry officials are usually held at the prime minister's official residence on weekends or holidays.
Kishida held talks, for example, with Daishiro Yamagiwa, the minister in charge of economic revitalization, and other officials on Jan. 10, a national holiday. They decided to extend border control measures against the coronavirus until the end of February.
On Sunday, Feb. 6, Kishida called in Health, Labor and Welfare Minister Shigeyuki Goto and others and decided to announce a target of 1 million doses per day for COVID-19 booster shots. It was also decided on Sunday, Feb. 27, that the Cabinet would support efforts to remove Russian financial institutions from the Society for Worldwide Interbank Financial Telecommunication (SWIFT).
An aide to Kishida said his use of holidays has the advantage of "letting him discuss issues with the people concerned and make decisions in a relaxed manner." However, some senior ministry officials and others have complained that Kishida's style goes against the work style reforms that the Cabinet has been promoting.
According to a Yomiuri Shimbun survey, Kishida met with a total of 2,362 people from Oct. 4, when he took office, through April 3.
Takeo Akiba, the secretary general of Japan's National Security Secretariat, topped the list at 120 times. They met on 16 consecutive days from Feb. 24, when Russia invaded Ukraine. Deputy Chief Cabinet Secretary Seiji Kihara ranked second with 100. Kihara is the closest aide to Kishida, and has also had the most dinner meetings — 10, specifically — with the prime minister.
Kishida has gone many times to the headquarters of the ruling Liberal Democratic Party, of which he is the president. Former Prime Minister Yoshihide Suga entered LDP headquarters 17 times during his first six months in office, compared to 41 visits by Kishida during the same period.
The prime minister has met regularly with LDP Vice President Taro Aso and LDP Secretary General Toshimitsu Motegi at the party headquarters. He is apparently seeking to change the approach to policy decision-making that was seen under the most recent cabinets of prime ministers Shinzo Abe and Suga, in which the Prime Minister's Office took the lead.
Add TheJapanNews to your Google News feed.