Japanese government speeds preparations to accept Ukrainian evacuees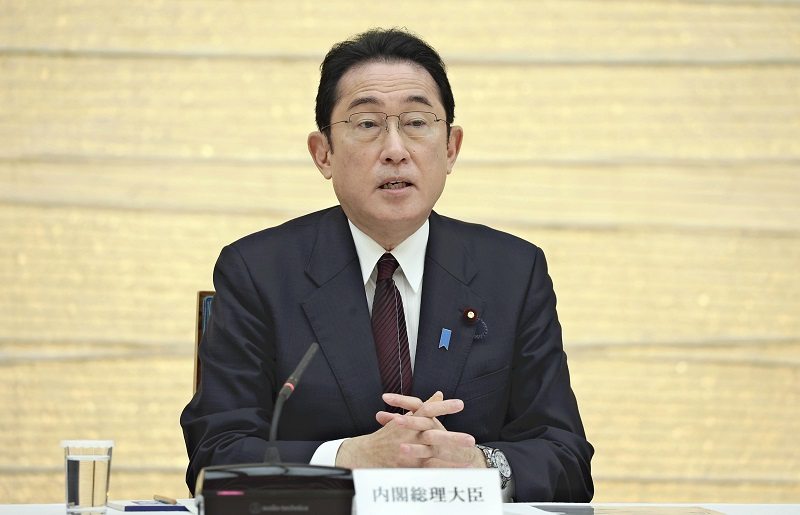 15:20 JST, March 16, 2022
The government is accelerating its preparations to accept evacuees from Ukraine following Russia's invasion of that country, working to develop a comprehensive framework that will allow prolonged stays.
Prime Minister Fumio Kishida on Tuesday told Foreign Minister Yoshimasa Hayashi and Justice Minister Yoshihisa Furukawa to "create a solid framework" for evacuees from Ukraine.
At a press conference on the same day, Furukawa said Ukrainian evacuees entering Japan on a 90-day short-term visa could be granted residency status for "designated activities" for one year. People with this status can work in Japan if they wish.
The government decided on these measures because evacuees will need to work if they decide to stay in Japan for a long period of time. If an evacuee requests it, the government will consider extending their one-year residency status.
The Cabinet Secretariat is acting as the government's command post in drawing up policies on accepting Ukrainian evacuees, and the justice, foreign and education ministries and other government bodies are also working together.
The Education, Culture, Sports, Science and Technology Ministry is working to provide the accommodation facilities of ministry-affiliated independent administrative agencies, and to offer support for education in the Japanese language.
Local governments and companies have also said they will provide support, and the Justice Ministry on Monday began consolidating related information. The Tokyo metropolitan government said it has so far secured 100 units of metropolitan housing and could provide a maximum of 700, and some companies have said they could offer employment support.
The government has yet to ascertain the number of Ukrainians who wish to come to Japan. It is currently expecting to accept relatives and acquaintances of about 1,900 Ukrainians who have Japanese residency status.
According to the U.N. High Commissioner for Refugees, over 2.95 million Ukrainians had left the country as of Monday. However, only 47 had entered Japan as of Sunday.
During a meeting with the justice minister on March 11, Ukrainian Ambassador to Japan Sergiy Korsunsky said 200 to 300 evacuees may wish to come to Japan. If the figure increases significantly due to the situation in Ukraine, the envisaged framework may be insufficient.
"If a large number of evacuees come to Japan, the central government may ask local authorities to take in a certain number," a government official said.
Add TheJapanNews to your Google News feed.