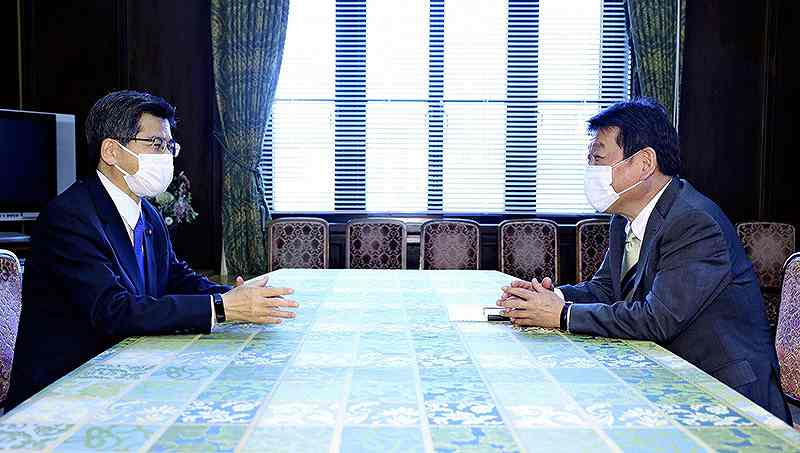 November 9, 2021
TOKYO (Jiji Press) — Japan's ruling Liberal Democratic Party and its coalition partner, Komeito, at a meeting of their secretaries-general Tuesday broadly agreed to grant ¥50,000 in cash each for people aged 18 or under by the end of the year.
The LDP's Toshimitsu Motegi and Komeito's Keiichi Ishii also agreed to provide by next spring shopping vouchers worth ¥50,000 each for people of that age group that can be used for limited purposes.
The ¥100,000 benefit program, aimed at helping mitigate the impact of the novel coronavirus crisis, will be a major item in a planned economic stimulus package.
Motegi called for setting an annual income cap of ¥9.6 million for receiving the benefits. Ishii stopped short of giving an immediate response, saying that the proposal will be discussed by members of his party.
In addition, they agreed to distribute ¥100,000 to needy households that are exempted from residential tax.
Motegi and Ishii also confirmed a plan to implement a program to offer reward points to holders of the My Number social security and taxation identification card, a measure included in Komeito's manifesto for the Oct. 31 general election for the House of Representatives, the lower chamber of the Diet, Japan's parliament. The amount of points to be given will be fixed later.
In its Lower House election campaigning, the LDP vowed to provide aid to people in need, but refrained from clarifying a specific amount.
Komeito's manifesto called for providing 100,000-yen benefits for all people aged up to 18 and distributing reward points worth ¥30,000 to My Number card holders.
"It's not a matter of choosing between the two," Motegi told a press conference before his meeting with Ishii. "The two parties understand the importance of each other's policy proposals, so we'll combine our ideas and iron out differences," Motegi said.
On the LDP's call for setting an income cap for the 100,000-yen benefit program, Komeito leader Natsuo Yamaguchi told reporters that giving the benefits in a uniform way would enable a speedy distribution.
Add TheJapanNews to your Google News feed.