Women in local assemblies seek protection from online harassment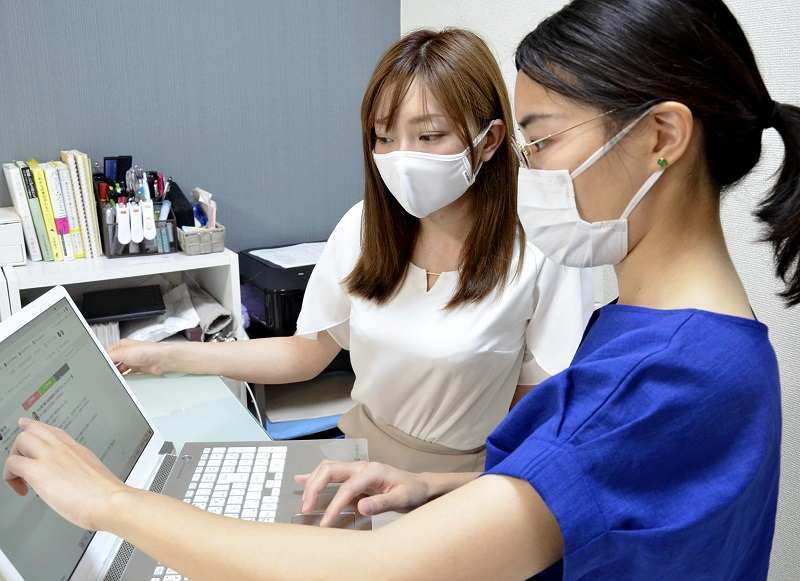 10:15 JST, October 13, 2021
Online harassment of female local assembly members is becoming increasingly serious, with younger members who are active on social media more likely to be victims.
Support from private organizations and proposals for countermeasures from assembly members have been spreading amid fears that online harassment will prevent the diversification of local assemblies.
Mari Hamada, a coresearcher at the Institute for Gender Studies at Ochanomizu University, established a support group called Stand by Women in May. The group aims to come up with measures to counter online harassment of women who are members of local assemblies or running as candidates.
The group has a way of blocking abusive messages and comments of an inappropriate nature targeting assembly members on social media, which reduces the chances of assembly members viewing such posts.
Three local assembly members are currently receiving support from the group, including Aiko Usui, a member of the Kita Ward Assembly in Tokyo.
Usui, 31, has been promoting her policies online and posting other kinds of information on social media since she was first elected in 2019. However, she frequently received messages asking if she has a boyfriend and saw online comments containing unfounded information such as one that read: "She caused trouble during street campaigning. You shouldn't vote for her."
"It was so stressful that I couldn't read the comments without summoning up all my mental strength. Now that I don't see any malicious messages, I feel at peace," Usui said.
"Unlike national assembly members, who are provided with government-paid secretaries, local assembly members have to deal with such matters single-handedly," Hamada noted. "This is one of the reasons why they suffer."
Unmarried women with less experience as assembly members are the ones who are usually worst affected, and some have quit after just one term.
"To create an assembly that reflects diverse opinions, it is urgent to develop a working environment where female assembly members can work without anxiety," said Hamada.
In April, the Cabinet Office released a report on its survey of 5,513 local assembly members about the participation of women in politics. Fifty-eight percent of female assembly members said they had been harassed by voters, supporters or assembly members. The third most common form of abuse was harassment via social media or email, with 23% of assembly members saying they have been victims.
For local assembly members who often use their home as the base for their political activities, securing their privacy is also a challenge.
Woman Shift, a nonpartisan network of female assembly members, asked the Internal Affairs and Communications Ministry in July last year to restrict the disclosure of the addresses of candidates who run for local assemblies.
In its notice to prefectures, the ministry said it would be desirable for the addresses of candidates not to be published online. However, some websites related to local assemblies still include the addresses and photos of incumbents.
Sayo Honme, a representative of Woman Shift and a member of the Taito Ward Assembly in Tokyo, said: "Some male assembly members also feel uneasy about the fact that their home address can be easily discovered. It should not be assumed that the disclosure of such information is acceptable. The practice must be reexamined."
Honme said she will submit a proposal to the ministry to adopt such measures as allowing members to use the address of their assemblies if required.
The revised law on gender equality in politics, which calls on the national and local governments and political parties to take measures against sexual and maternity harassment, came into force in June.
However, it has been said that it would be difficult to take measures against harassment committed by a large number of unspecified people via social media.
Polilion, an association that offers counseling services for assembly members, investigates harassment against male and female local assembly members.
"As the slanderous remarks directed at assembly members via social media have become ever more malicious, the reality is that, as public figures, assembly members are reluctant to disclose information [about their address]," said Polilion representative Keisuke Ota, who is a member of the town assembly of Tarui, Gifu Prefecture. "Assembly members have human rights, too. The issue should be considered a social problem."
Add TheJapanNews to your Google News feed.