3 LDP presidential candidates agree on early start of new agency for children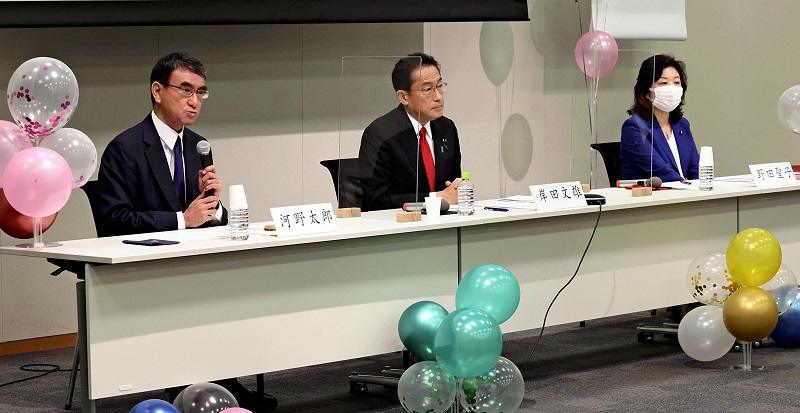 15:07 JST, September 23, 2021
Three of the four candidates in the Liberal Democratic Party's presidential election agreed on an early start of a new agency for children during a discussion of their policies on children held at the Diet on Wednesday.
The three candidates who spoke in favor of the move are Taro Kono, the administrative and regulatory reform minister; Fumio Kishida, former LDP Policy Research Council chairperson; and Seiko Noda, the LDP executive acting secretary general.
Only candidate Sanae Takaichi, former internal affairs and communications minister, refrained from referring to the new agency currently being prepared by the Cabinet of Prime Minister Yoshihide Suga.
The election is scheduled for Sept. 29.
The discussion was organized by a voluntary study group of selected party lawmakers. Takaichi, who was not present, submitted her answers in the form of a video recording. The four candidates agreed on the need for a minister in charge of policies on children and for a bigger related budget.
***
"If we are to start the children's agency, we need to make it clear what we are going to achieve," Kono said. "I would like to raise [banners] for no children dying from suicide or abuse and no children in poverty, and achieve the goals."


He also said, "We need to absolutely eradicate online bullying and slander."
***
Kishida stressed that the agency for children should be established with a minister in charge, and the agency should check that households with children have access to sufficient financial support for education and housing.

"We have to streamline policies, budgets and laws, and break down barriers between ministries and agencies that vertically sectionalize them," he said.
***
Noda made it clear that she will aim to submit bills for starting the agency to the ordinary session of the Diet next year.


"It is my wish to make society and the country a place where the weakest members of society can keep on smiling," she said.
***
Takaichi, for her part, proposed a plan to offer child allowance money to low-income households until their children reach the age of 18.

She did not clearly speak about whether to start the agency but just said,
"I will consider what kind of organization is the most efficient and effective."
Add TheJapanNews to your Google News feed.