Suga to replace LDP secretary general in party shakeup in September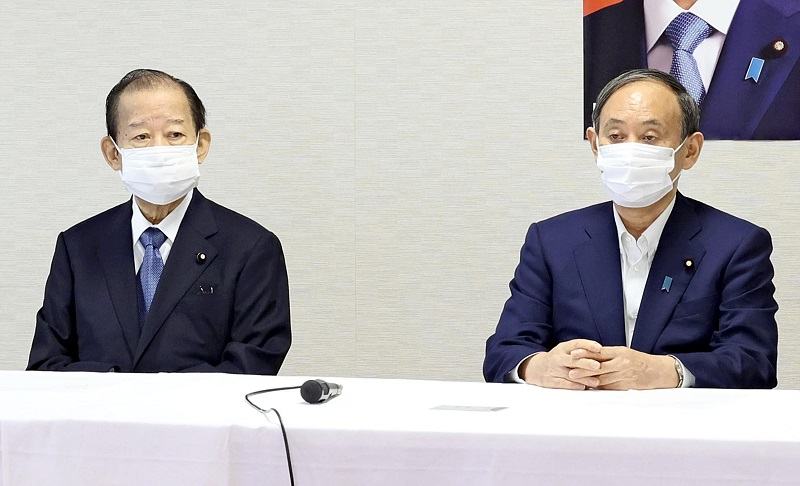 16:39 JST, August 31, 2021
Prime Minister Yoshihide Suga plans to replace Liberal Democratic Party Secretary General Toshihiro Nikai and other senior party officials in September at the earliest, according to sources.
Suga has begun to consider giving up exercising the right to dissolve the House of Representatives. In that case, a lower house election will be held on Oct. 17, before the lower house members' term of office expires on Oct. 21.
Suga, who is also president of the LDP, informed Nikai of his intention to carry out a party shakeup at the Prime Minister's Office on Monday. According to a senior party official, Nikai told Suga that he would accept his replacement.
Nikai is the LDP's longest-serving secretary general, having taken up the post in August 2016 under the administration of then Prime Minister Shinzo Abe. In last year's LDP presidential election, Nikai was quick to announce his support for Suga and took control of the party.
However, Nikai's hard-line approach has drawn criticism, especially from young lawmakers.
Former LDP Policy Research Council Chairman Fumio Kishida, who announced his candidacy for the upcoming LDP presidential election in September, proposed a party reform plan that would limit a party executive to "a maximum of three consecutive one-year terms." The proposal is believed to be aimed at Nikai, and has been praised by many LDP members.
Abe is said to be calling for Nikai's replacement, as is Deputy Prime Minister and Finance Minister Taro Aso. Both Abe and Aso support Suga's reelection as prime minister.
Suga is believed to be trying to restore his intraparty power by renewing the party leadership. It is also rumored that some Cabinet members will be replaced.
To avoid creating a political vacuum amid the pandemic, Suga is considering the option of not dissolving the lower house and instead holding an election in accordance with the expiration of the lower house members' term, as stipulated by law. The Public Offices Election Law says voting must take place within 30 days before the end of the lawmakers' term. Oct. 17 will be the last Sunday before the term ends.
The government and the LDP are considering a scenario in which Suga announces at a press conference not to exercise the right to dissolve the lower house, and the Cabinet makes the decision on Sept. 21.
"The prime minister is leaning toward the idea that holding an election during his term is the proper course for constitutional politics," a key Cabinet member said.
If a new party president is elected in September, however, Suga's plan could restrict the new leader from exercising the right to dissolve the lower house. Some LDP members therefore say the presidential election should be postponed until after the lower house election. Suga is expected to decide carefully.
Add TheJapanNews to your Google News feed.