Evacuees must get to Kabul's airport on their own before SDF can help
16:30 JST, August 25, 2021
Many issues remain to be addressed as the Self-Defense Forces mission to evacuate Japanese nationals and local Afghan employees from Afghanistan gets underway.
The government has dispatched three Air Self-Defense Force transport aircraft to a country neighboring Afghanistan, where the Taliban have seized control, and two of these, the C-130Hs, will be at Kabul's airport to shuttle people to that neighboring country.
How to guarantee the safety of Japanese nationals while they travel to the international airport in Kabul is one issue, while another is how to support the livelihoods of the Afghan employees after they leave Afghanistan.
"The U.S. military has secured the safety of the airport, and aircraft are taking off and landing as usual," said Chief Cabinet Secretary Katsunobu Kato during a Tuesday press conference. He said the government had sent an advance team of Foreign Ministry and other officials to Kabul and they had confirmed the safety of the airport.
The evacuation support operation is mainly being conducted by about 260 SDF personnel in a joint task force.
At the airport in Kabul, they will protect Japanese nationals and local staff working for the Japanese Embassy and their families, among others.
The activities of the SDF are limited to the airport, however.
Japanese nationals and local Afghan employees "have no option but to travel to the airport on their own," said a senior Foreign Ministry official.
The Taliban have set up checkpoints along the roads to the airport, so the Japanese government is calling on the Taliban to allow safe passage for Japanese nationals and relevant Afghan residents. Even if they successfully reach the airport, it may take some time for the evacuation task force to identify local Afghan employees and their families.
Transport from Kabul's international airport to a neighboring country will be carried out by the two ASDF C-130H planes that departed from Japan on Tuesday. Each of the planes can carry about 90 people. Chartered planes will transport the evacuees from the neighboring countries to Japan.
The government will temporarily allow the local Afghan employees and their families to enter Japan if they wish.
A cross-ministerial team has been set up to secure places for the Afghan evacuees to stay and to support them in their daily lives. The evacuees will also receive temporary visitor visas or other similar status to enter Japan.
Depending on the evacuees' wishes, the government intends to support them to find a job in Japan or move to another country.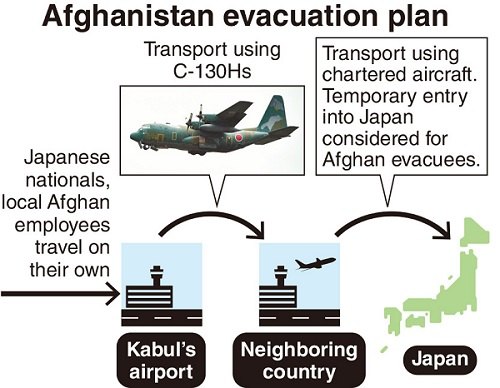 Add TheJapanNews to your Google News feed.