Suga-Biden joint statement required careful adjusting of expressions on Taiwan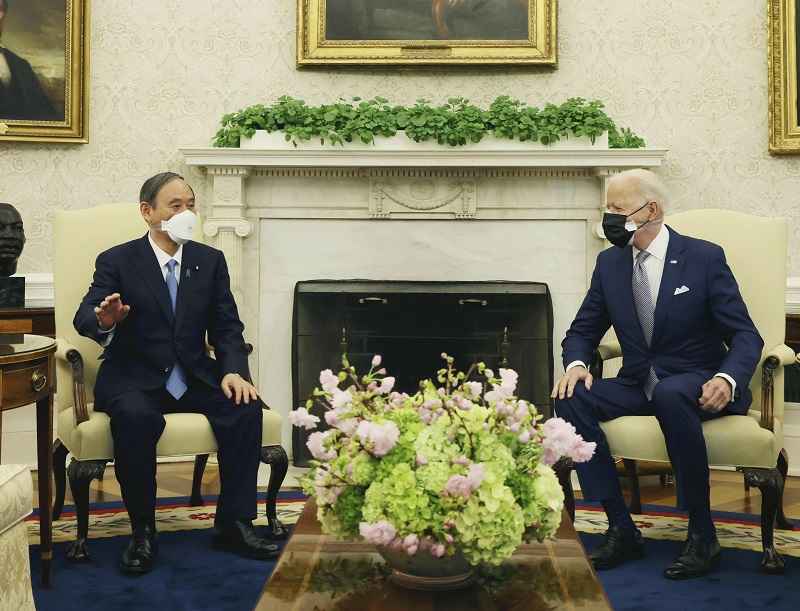 15:45 JST, April 18, 2021
WASHINGTON — While Prime Minister Yoshihide Suga and U.S. President Joe Biden have affirmed their commitment to strengthen bilateral cooperation in a wide range of areas such as security, economy and climate change, the two sides have slightly differing stances over Taiwan and human rights issues in particular.
The joint statement released Friday, after the leaders' first in-person meeting in their current capacities, involved both governments making several adjustments to the wording up to the last minute.
Expressions regarding Taiwan issues were the most difficult for Tokyo and Washington to resolve.
Just last month, the Japan-U.S. Security Consultative Committee, or 2-plus-2 meeting of each country's foreign and defense chiefs, was held in Tokyo. The statement the two sides agreed upon "underscored the importance of peace and stability in the Taiwan Strait."
For Friday's joint statement, however, Washington called for using stronger expressions, considering the increasing military pressure from China.
On the other hand, Tokyo insisted on using similar expressions to those used in the 2-plus-2 statement out of concerns of a possible backlash from Beijing.
Prior to the summit, Kurt Campbell, coordinator for Indo-Pacific affairs at the National Security Council, visited Japan to make some arrangements, which turned out to be unsuccessful. In the end, it was left up to the leaders how to describe the Taiwan issue in their joint statement.
A senior Japanese government official had said on Friday before the summit that "Japan and the U.S. are engaging a battle of nerves over how to describe the Taiwan issue."
Suga and Biden reached a consensus in the joint statement to "encourage the peaceful resolution of cross-Strait issues," in addition to repeating the same phrase used during the 2-plus-2 meeting.
The joint statement went further than the 2-plus-2 talks by specifying the involvement of Japan and the United States in the Taiwan issue, but the compromise was including the word "peaceful" as Japan wanted.
"We wanted to avoid expressions that sound as if we were raising our fist up in the air," a key Cabinet member said.
The Biden administration has been stepping up its involvement in the Taiwan issue. Earlier this month, it compiled new guidelines to boost exchanges between the two sides, under which U.S. and Taiwan officials are allowed to meet at U.S. government buildings or at facilities of the Taipei Economic and Cultural Representative Office, Taiwan's de facto embassy.
In Taipei on Thursday, Richard Armitage, a former U.S. deputy secretary of state under President George W. Bush, met with Taiwan President Tsai Ing-wen as a member of an unofficial U.S. delegation sent by Biden.
Japan, however, aimed to avoid making the Japan-U.S. joint statement sound too provocative to China, lest it encourages Beijing to harden its stance, thereby increasing regional tensions.
In a bid to gain China's understanding, Tokyo briefed Beijing in advance on the joint statement through diplomatic channels, according to a Japanese government source.
Following the summit with Biden, Suga said Japan "will give top priority to resolving the Taiwan issue in a peaceful manner."
Even so, in anticipation of the worst-case scenario, Tokyo has begun to consider ways to strengthen its alliance with Washington.
"Japan resolved to bolster its own national defense capabilities to further strengthen the Alliance and regional security," the joint statement said.
It is unusual for Tokyo to make such a declaration on defense in a joint statement with Washington. Japan took the initiative in including this sentence considering the rising sense of alarm in the United States regarding the region, according to a source.
At Tokyo's request, the sentence on bolstering defense capabilities came prior to a sentence referring to U.S. support for Japan's defense.
"This order was aimed at emphasizing above all else Japan's proactive stance on its own defense," said a Defense Ministry source.
Defense Minister Nobuo Kishi, known as a pro-Taiwan politician, visited Yonagunijima island in Okinawa Prefecture, just about 110 kilometers from Taiwan, on Saturday afternoon. His purpose was to inspect a Self-Defense Forces unit stationed on the island, though the timing coincided with the summit in Washington.
"Taiwan is an important friend with whom we share fundamental values," Kishi said to reporters. "Peace and stability in Taiwan are also linked to peace and prosperity in the region and the international community."
Views on human rights issues differ
Differing perspectives were also apparent on China's human rights situation in Hong Kong and the Xinjiang Uyghur Autonomous Region.
The 2-plus-2 statement "shared serious concerns" regarding the human rights situation in the two regions.
In the Suga-Biden joint statement, the United States had aimed to employ a stronger expression to condemn China's suppression of human rights. However, Washington eventually relented as Tokyo would not agree.
"Each of our countries has slightly different perspectives," a senior official of the Biden administration, who engaged in negotiations with Japan on the joint statement, said ahead of the summit.
The United States won't "insist on Japan somehow signing on to every dimension of our approach," the official continued, adding: "At our core, though, we share a strategic purpose. And I think we want to reaffirm that at the summit."
The Biden administration emphasizes human rights in its diplomacy, with an eye on countering China, so it cooperates in various fields with nations that share common values such as freedom and human rights. The U.S. alliance with Japan is especially central to this strategy.
Japan has historically been cautious when it comes to human rights issues in Asian nations, with Tokyo pursuing an engagement policy through dialogue with these countries, drawing a line between Western nations that are quick to impose sanctions.
The U.S. and the European Union are among those imposing sanctions on China in protest against the human rights oppression of the Uighur minority in Xinjiang, but Japan has only expressed its concern. This is partly because it is difficult to confirm Beijing's suppression of human rights, and Tokyo has yet to establish a legal system that allows for imposing sanctions on senior government officials and others in another country over human rights violations.
If the human rights situation worsens in China, criticism of Beijing is likely to escalate further, such as at the summit of the Group of Seven leading industrial nations to be held in England in June.
"Japan may be isolated at the summit if it keeps to its current stance," a former Cabinet member said.
Add TheJapanNews to your Google News feed.