Fierce competition in Japan's satellite broadcasting industry to win ministry's approval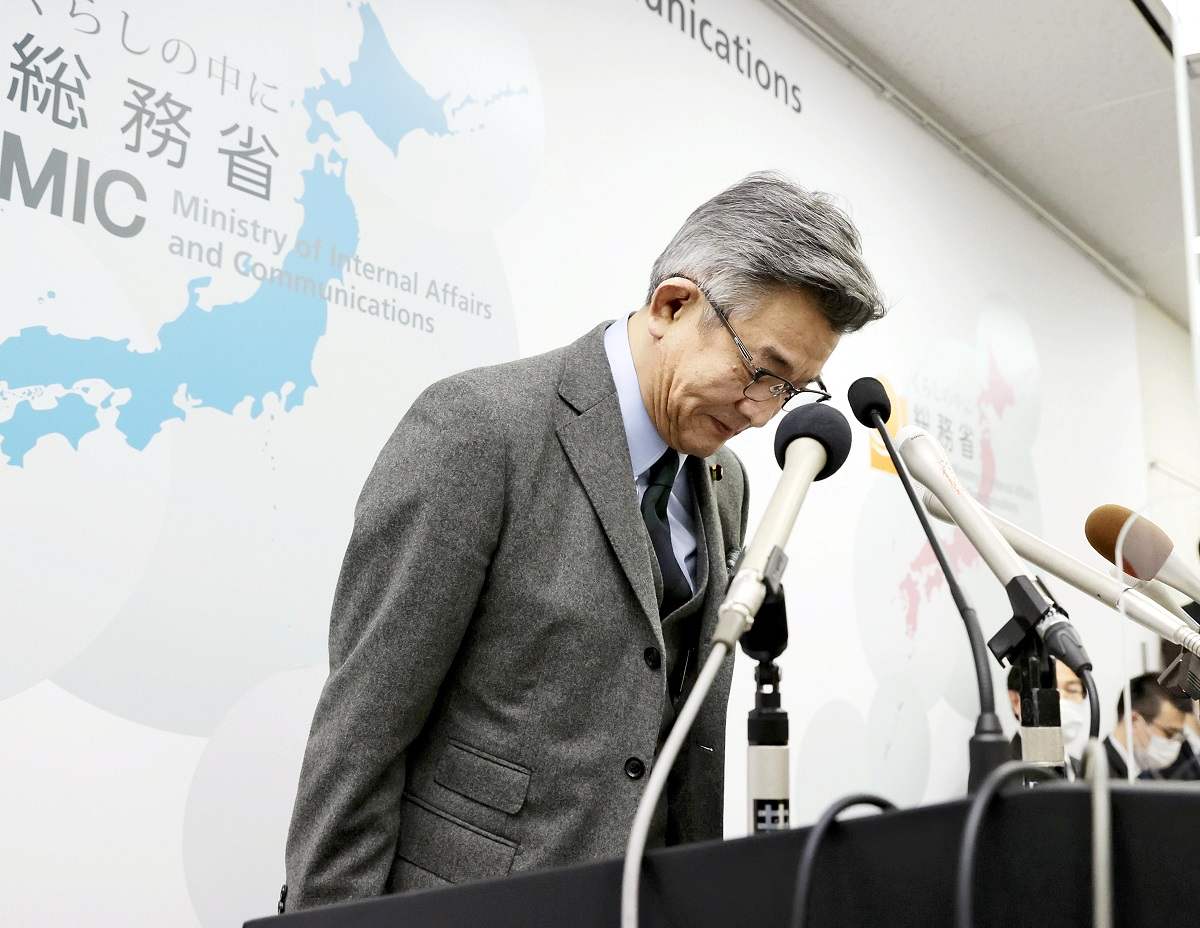 16:26 JST, February 25, 2021
The scandal over senior officials of the Internal Affairs and Communications Ministry being wined and dined by the broadcasting-related company that employs Prime Minister Yoshihide Suga's eldest son has developed into an unusual situation, in which 11 ministry officials were subject to disciplinary action or other punishment.
The focus from now on will be whether the approaches made to these ministry officials by the company, Tohokushinsha Film Corp., had any influence on the ministry's approval and authorizations related to the company's satellite broadcasting business.
Preventing a recurrence
Internal Affairs and Communications Minister Ryota Takeda said at a press conference Wednesday, "We will swiftly establish a commission to investigate the matter, headed by a vice minister, to respond to suspicions that the administration may have been tampered with."
Takeda also announced measures to prevent a recurrence, including a system making it obligatory for ministry officials to report in advance any eating or drinking to be done with stakeholders.
Also among the preventive measures was a system that will require ministry officials to submit documents proving they paid for the food and drink they consumed with stakeholders. Also touched on were thorough in-service training for senior ministry officials, and the strengthening of an internal supervisory system, but no concrete measures were specified.
Industry's woes
Some have pointed to the particular circumstances involving the satellite broadcasting industry, such as ever-intensifying competition with new entrants and the financial burden stemming from heavy fixed costs.
The frequencies that can be used in satellite broadcasting are limited. The government has been reallocating frequencies to satellite broadcasting businesses and promoting the entry of new service providers to the sector. Last November, existing business operators reduced some of their frequency ranges.
Businesses in this sector have also struggled as a result of the equipment usage fees they pay to satellite operating companies. The Japan Satellite Broadcasting Association, whose chairman is also an outside director of Tohokushinsha Film, asked the ministry to alleviate their burdens last September.
Tohokushinsha Film has as its subsidiaries such satellite broadcasting companies as Star Channel, Inc. and Igo and Shogi Channel, Inc. The ministry's investigation has revealed that questionable wining and dining occurred from 2016 onward, and the entry into the field of Igo and Shogi Channel was approved in May 2018.
Star Channel's business authorization was renewed last December. All the ministry officials who were recently punished have said they did not think the Tohokushinsha Film executives were stakeholders, but a high-ranking government official said flatly, "They were naive."
Influence of eldest son
Some have said the senior ministry officials' dining with Tohokushinsha Film executives was connected to the presence of the eldest son of Prime Minister Suga. Suga's eldest son acted as his secretary when Suga was the internal affairs and communications minister, and he is now an executive manager at Tohokushinsha Film and a director for Igo and Shogi Channel.
The ministry's report said the connection could not be confirmed, but some in the ministry have said that no one could turn down an invitation from the eldest son of the prime minister.
According to the ministry, Suga's eldest son said in response to the invesigation: "We talked about the present situation of the industry as a whole, and as part of that, I suppose, a topic related to a group company [of Tohokushinsha Film] was touched upon. But I have not made any inappropriate approaches [to the ministry], nor taken any action that would tamper with the administration."
Tohokushinsha Film on Wednesday issued a comment saying, "We take seriously the fact that the conduct of some of our executives has caused a serious situation and turmoil in Diet deliberations, and we apologize."
Add TheJapanNews to your Google News feed.