Political Rivalries Revived amid Nikai Faction's Ascendency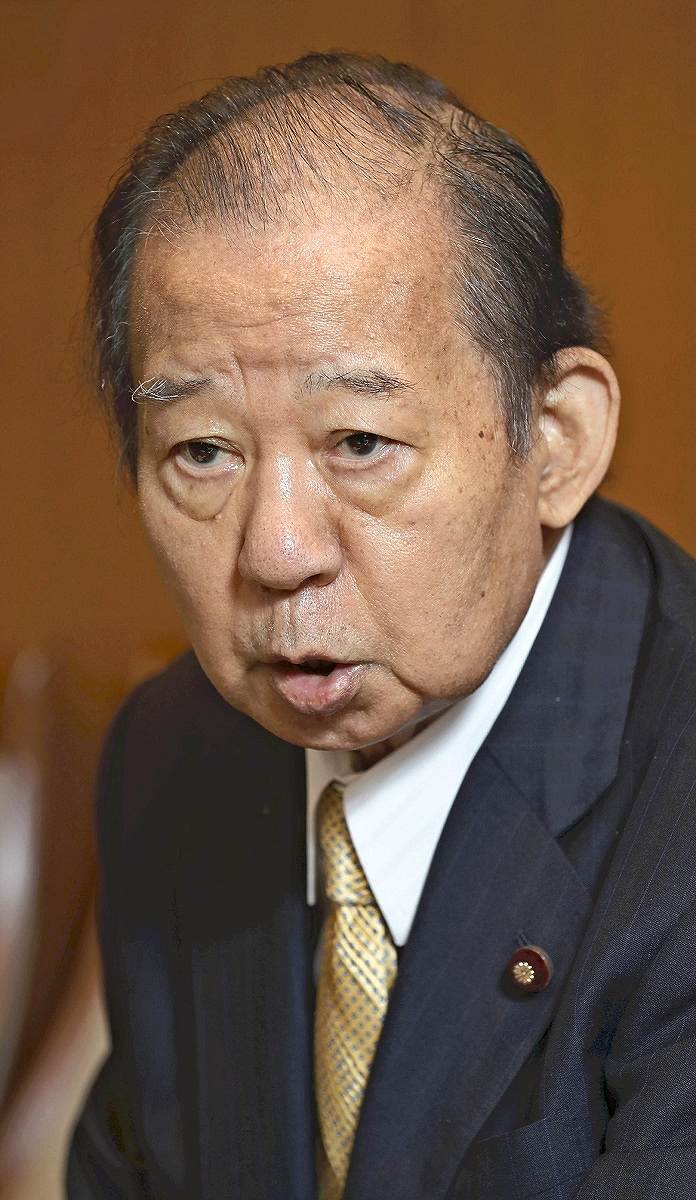 11:10 JST, January 2, 2021
The term of office for current members of the House of Representatives is slated to expire in October this year. This is the second installment of a series that looks at strategies implemented by political parties as they prepare for the next lower house election.
***
It was a de-facto declaration of war.
"I've been traveling around the district to whip up support over the past three years. I'll work hard so that I can stand before you as a second-term lawmaker next year," Liberal Democratic Party member Yasutaka Nakasone vowed at his fund-raising event at the Parliamentary Museum in Tokyo on Dec. 4.
Nakasone was elected from the Kita-Kanto bloc in the proportional representation segment, so he does not have his own constituency.
The "district" he was referring to is Gunma Constituency No. 1, which includes Maebashi, the capital of Gunma Prefecture. Asako Omi, an incumbent LDP lawmaker who won in the previous 2017 House of Representatives election, has a solid support base in the constituency and the two lawmakers are competing over party endorsement.
In the previous lower house election, Nakasone sought to run in Gunma Constituency No. 1. However, partly because he was a first-time candidate, he ran in the proportional representation segment as a result of arrangements by party headquarters. But now Nakasone is an incumbent lawmaker.
Over the past three years, he has created a 2,000-member supporter's association in the constituency.
LDP Secretary General Toshihiro Nikai, who is the head of the Nikai faction to which Nakasone belongs, encouraged him saying, "The more worn out your soles are, the more chance you have to be elected. Do the rounds in the district."
Nakasone's grandfather, former Prime Minister Yasuhiro Nakasone, engaged in a fierce political tug-of-war with Takeo Fukuda, Keizo Obuchi, both former prime ministers, and others in Gunma Prefecture that was dubbed the "Joshu War." Senior Nikai faction members are now enthusiastically talking about, "the second Joshu War."
Nakasone's fund-raising party was attended by many people from the political community in Gunma Prefecture, but Omi was nowhere to be seen.
On Dec. 1, Omi also held a political fund-raising event in Tokyo. Many lawmakers from the LDP's largest Hosoda faction, to which Omi belongs, attended the party. "I want her to do her best as a representative of Gunma Constituency No. 1," former Defense Minister Tomomi Inada said,
In the 2017 election, Omi's victory was so overwhelming that no opposition candidates in the constituency won in the proportional representation segment. "It is natural that I receive the endorsement from the party and run in the next election," Omi said, showing no intention of standing aside.
Such competition over party endorsement is coming to the surface in six constituencies. What is striking is that the Nikai faction is involved in all of these battles.
Behind this lies the expansion policy of the faction, which has actively accepted members from other LDP factions and also from opposition parties.
In Shizuoka Constituency No. 5, Goshi Hosono, former Democratic Party of Japan secretary general, became a special member of the faction as an independent. He will go head-to-head against Takeru Yoshikawa, a member of the Kishida faction who was defeated by Hosono and later won in the Tokai bloc in the proportional representation segment.
Hosono has been elected for the sixth consecutive time in Shizuoka Constituency No. 5. "We should endorse candidates who can win," a senior Nikai faction member said.
In contrast, Yoshikawa held a debriefing session on national politics in Gotemba, Shizuoka Prefecture, on Dec. 5, where he emphasized that he was the only LDP candidate. On weekends, he visits houses door to door with a map in his hand and marks the houses he has visited with a black ballpoint pen. The map is now completely black.
"We are the official forces," a senior member of the Kishida faction said defiantly.
At a public forum on Dec. 12 in Fuji, in the same prefecture, Yoshikawa criticized Hosono saying, "To conduct politics, your convictions must be unwavering." Hosono replied, "I changed my position without changing my policies or principles. I will take a realistic approach to national security issues to protect people's future."
When giving endorsements to candidates in constituencies, the LDP has a principle of prioritizing incumbent lawmakers.
In October, it was rumored that Yoshimasa Hayashi, a House of Councillors member in the Kishida faction, might aim to be elected from Yamaguchi Constituency No. 3, which is the home of Takeo Kawamura, a heavyweight in the Nikai faction.
Nikai, accompanied by 19 faction members, went to a Kawamura rally and said, "We have only one endorsed candidate. We would like to move forward while giving priority to incumbents."
The Nikai faction does not always have an edge in endorsement competition in constituencies where LDP candidates are competing. However, having set the stage for the launch of Prime Minister Yoshihide Suga's Cabinet in September's LDP presidential election and retained his post as LDP secretary general, Nikai is gaining even more influence.
"His presence is incomparable with that of the time of Abe's administration. We don't know what he will do next," said a senior member of the Hosoda faction, which no longer has an incumbent prime minister in its ranks after the resignation of former Prime Minister Shinzo Abe.
Suga, who is also LDP president, leaves the management of the party to Nikai. When the LDP selects candidates, Nikai has a strong influence on endorsement decisions.
If Nikai favors his faction members, it will create conflict within the party. Unless the conflict among factions is resolved, it could benefit opposition parties.
■ Revival of faction politics
LDP factions were created when lower house elections were held under the multiple-seat constituency system, with small constituencies of three or four seats in principle. The more members a faction has, the greater influence the faction head has in the LDP presidential election and Cabinet member appointments. So, respective factions competed to expand their influence, intensifying rivalries.
The presence of the factions diminished in 1996, after the introduction of a single-seat constituency system. However, in September's LDP election, five LDP factions supported Suga, who does not belong to any faction and has a weak support base within the party, paving the way for his victory, and indicating signs of a resurgence in factional politics.
Add TheJapanNews to your Google News feed.