Zelenskyy Arrives in Japan to Attend G7 Hiroshima Summit In Person on Sunday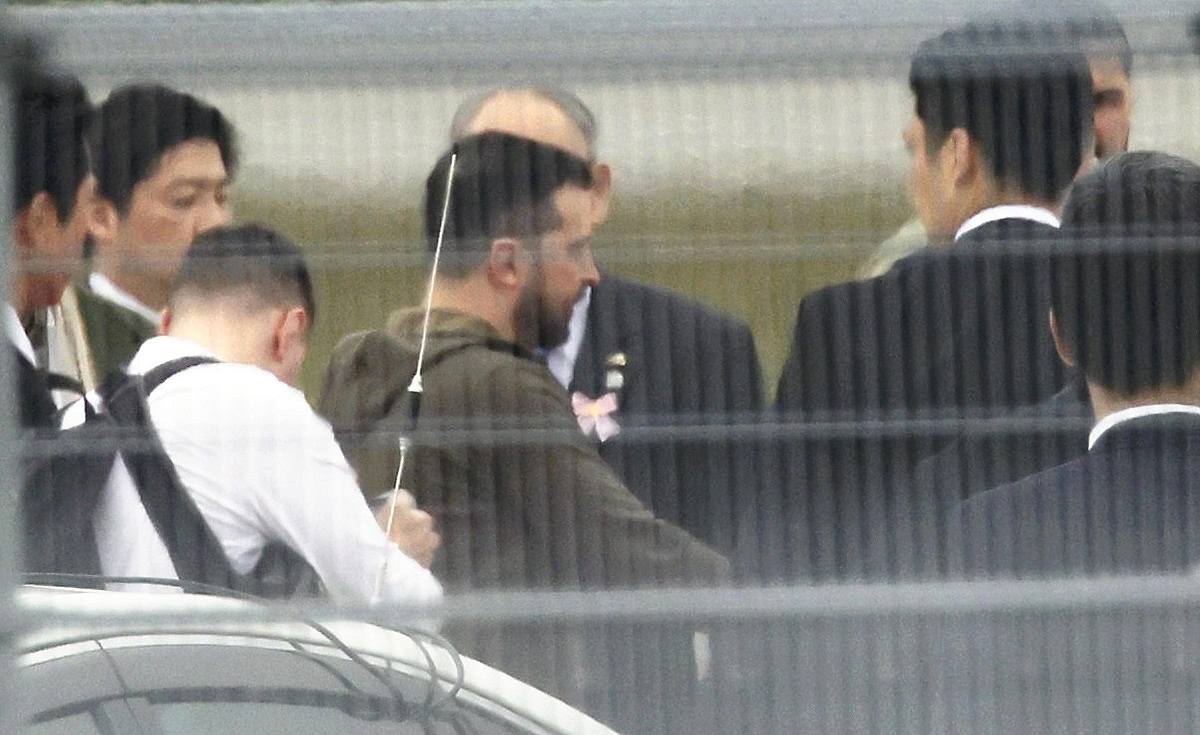 18:51 JST, May 20, 2023
HIROSHIMA — Ukrainian President Volodymyr Zelenskyy on Saturday arrived at Hiroshima Airport on a French government aircraft ahead of a Ukraine-focused Group of Seven summit session scheduled for Sunday in Hiroshima.
Amid intensifying Russian military aggression in Ukraine, Zelenskyy will attend the gathering in person to underscore the urgent need for sustained support directly to the G7 leaders during Sunday's session. He will also likely encourage ties with the emerging and developing countries collectively known as the Global South.
As soon as he emerged from the plane, the Ukrainian president walked briskly down the ramp and got into a car that was waiting for him. Shortly after that, he posted a message about his arrival in Japan on Twitter. He described the G7 summit as "Important meetings with partners and friends of Ukraine," saying in the post: "Security and enhanced cooperation for our victory. Peace will become closer today."
Zelenskyy is scheduled to hold talks with Prime Minister Fumio Kishida, and arrangements are underway for him to meet with other leaders, including U.S. President Joe Biden. He is expected to make strong appeals for more support and an escalation of pressure on Russia.
He also plans to visit the Peace Memorial Park, and arrangements are being made for him to deliver a speech in the city. In the speech, he is expected to call for stronger pressure on Moscow in light of Russian President Vladimir Putin's frequent threats suggesting the use of nuclear weapons.
Japan, which is hosting the G7 meeting, hopes to demonstrate the strong unity of the G7 in its policy toward Russia with Zelenskyy in attendance, according to sources.
Zelenskyy had initially been scheduled to participate in Friday's session remotely. The change of plan was prompted by his ardent wish to attend in person. Ukraine informed Japan a week ago of his wish, according to Japanese government officials, and the summit schedule was subsequently adjusted to accommodate his request.
The Japanese government, which already announced Thursday evening that Zelenskyy would participate in Sunday's summit meeting online, had been exploring the possibility of a Japan visit with the Ukrainian government.
Zelenskyy attended an Arab League summit in Saudi Arabia on Friday, calling on Arab leaders for cooperation in a Ukraine-drafted peace plan.
In an online speech on Thursday evening, the Ukrainian president said, "Our priorities for the near future are additional air defense systems, missiles, training and aircraft, long-range weapons."
Zelenskyy might ask Biden to allow the re-export of U.S.-made F-16 fighter jets to Ukraine, which Kyiv is eager to receive, observers said.
Some observers in the United States and Europe argue that peace between Ukraine and Russia should be sought after a major Ukrainian military offensive.
Add TheJapanNews to your Google News feed.