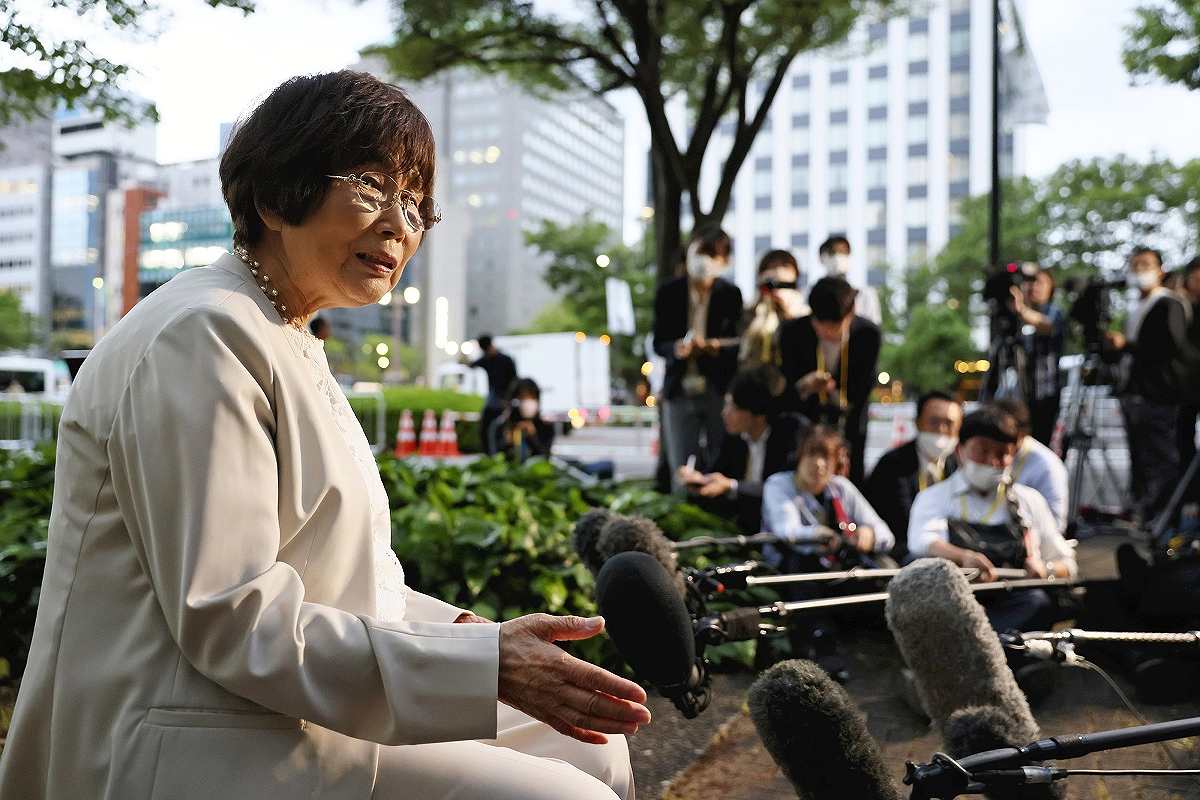 17:11 JST, May 20, 2023
HIROSHIMA — Given the chance to tell her tragic story to an audience of some of the most powerful people in the world, Keiko Ogura wanted to convey the pain of the emotional turmoil and scars that can't be seen in a photo in a museum.
The 85-year-old Ogura, an A-bomb survivor living in Hiroshima, met privately with the leaders of the G7 nations during their visit Friday to the Hiroshima Peace Memorial Museum to talk about her life in the wake of the calamity.
Ogura told reporters later that as she spoke about her experience in English for about 10 minutes, the leaders expressed deep sympathy as they listened with serious looks on their faces.
"I think I was able to convey the fact that once a nuclear weapon is used, people will be suffering for a long time after," she said.
Ogura was 8 years old when the atomic bomb exploded, 2.4 kilometers to the southwest of her home. She was blown to the ground in a sudden flash of light. As she came around, she found the ceiling and roof tiles of her house had been blown off. She suffered only minor abrasions herself, but saw lines of people walking with burnt hair and skin hanging off.
After the war, she refrained from talking about her experience due to fear of discrimination against those exposed to the radiation, who are known as hibakusha. But she had a change of heart following the sudden death in 1979 at age 58 of her husband Kaoru, who served as director of the museum in 1970-71.
As she was in mourning, a foreign journalist with whom she was acquainted said to her, "If you don't tell your story, who will?" She decided she would do it.
She studied English and in 1984, established a civic group that would give personal accounts of the hibakusha to foreigners and others. Thus far, she has told her story at the museum and elsewhere to people from more than 60 countries.
Recently, Russian President Vladimir Putin's repeated hints of using nuclear weapons following his invasion of neighboring Ukraine in February last year have filled Ogura with a strong sense of dread.
But when she learned of the decision to hold the G7 summit in Hiroshima, it boosted her resolve to spread the word. "Beneath the Peace Memorial Park is the resting place of A-bomb victims who regretfully died with vexation," she thought at the time. "I want those who will stand above them to gain a sense of what happened."
She opened her talk with the leaders on Friday by saying, "Welcome to Hiroshima." She said she chose such cordial words because she wanted to convey that even nuclear weapon-possessing nations, including the United States that had actually dropped bombs on Japan, could be comrades in the pursuit of a "world without nuclear weapons."
Ogura said she told the leaders that she hoped that with deep feelings from seeing the bomb site for themselves, they would take a further step forward.
After her talk, Ogura shook hands with each leader, who offered words of encouragement. As they were leaving, Ogura said one spouse expressed regret that she couldn't have talked longer, and asked whether she had written a book of her experiences.
Regarding Ukrainian President Volodymyr Zelenskyy's joining of the G7 summit in person, Ogura said with hope: "Children are crying now because of the war. I hope the countries will unite at the summit and come up with solutions so that no one has to suffer as I did."
---
Add TheJapanNews to your Google News feed.