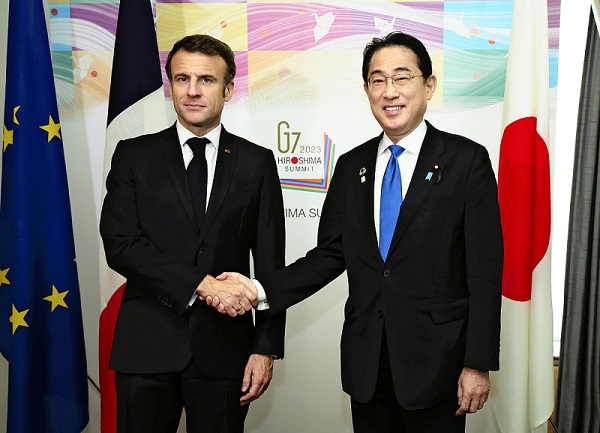 18:33 JST, May 19, 2023
HIROSHIMA — Prime Minister Fumio Kishida met with French President Emmanuel Macron, German Chancellor Olaf Scholz and Canadian Prime Minister Justin Trudeau individually on Friday morning to confirm their close cooperation on sanctioning Russia and supporting Ukraine, among other topics to be discussed at the Group of Seven summit in Hiroshima.
At the beginning of his meeting with Macron, Kishida said, "I'm glad that we can discuss the summit, our bilateral ties and other topics."
Macron praised Japan for supporting Ukraine and recognized the importance of showing the world a united G7.
During Kishida's meeting with Scholz, they agreed the G7 should convey its determination to uphold free and open international order based on the rule of law, as well as its unwavering solidarity with Ukraine.
In his meeting with Trudeau, the premiers agreed to continue working toward realizing a free and open Indo-Pacific with China in mind, as the country is increasing its hegemonic actions.
Kishida also met with U.S. President Joe Biden, British Prime Minister Rishi Sunak and Italian Prime Minister Giorgia Meloni individually on Thursday evening and agreed to strengthen international order based on the rule of law.
During their dinner meeting, Sunak and Kishida signed the Hiroshima Accord, which calls for enhanced bilateral cooperation in defense and trade. They also agreed that Britain will deploy an aircraft carrier strike group to the Indo-Pacific region in 2025 based on the Reciprocal Access Agreement, which makes it easier for the Self-Defense Forces and British forces to conduct joint drills.
According to the accord, Britain and Japan "share serious concerns" regarding China's aggressive maritime expansion in the East and South China Seas.
The accord states: "We … strongly oppose unilateral attempts to change the status quo by force or coercion anywhere in the world. We emphasise that our basic positions on Taiwan remain unchanged, reaffirm the importance of peace and stability across the Taiwan Strait."
During Kishida's meeting with Meloni, the two leaders agreed to deepen their cooperation based on the relationship between the two countries being upgraded to a "strategic partnership" in January this year.
Add TheJapanNews to your Google News feed.