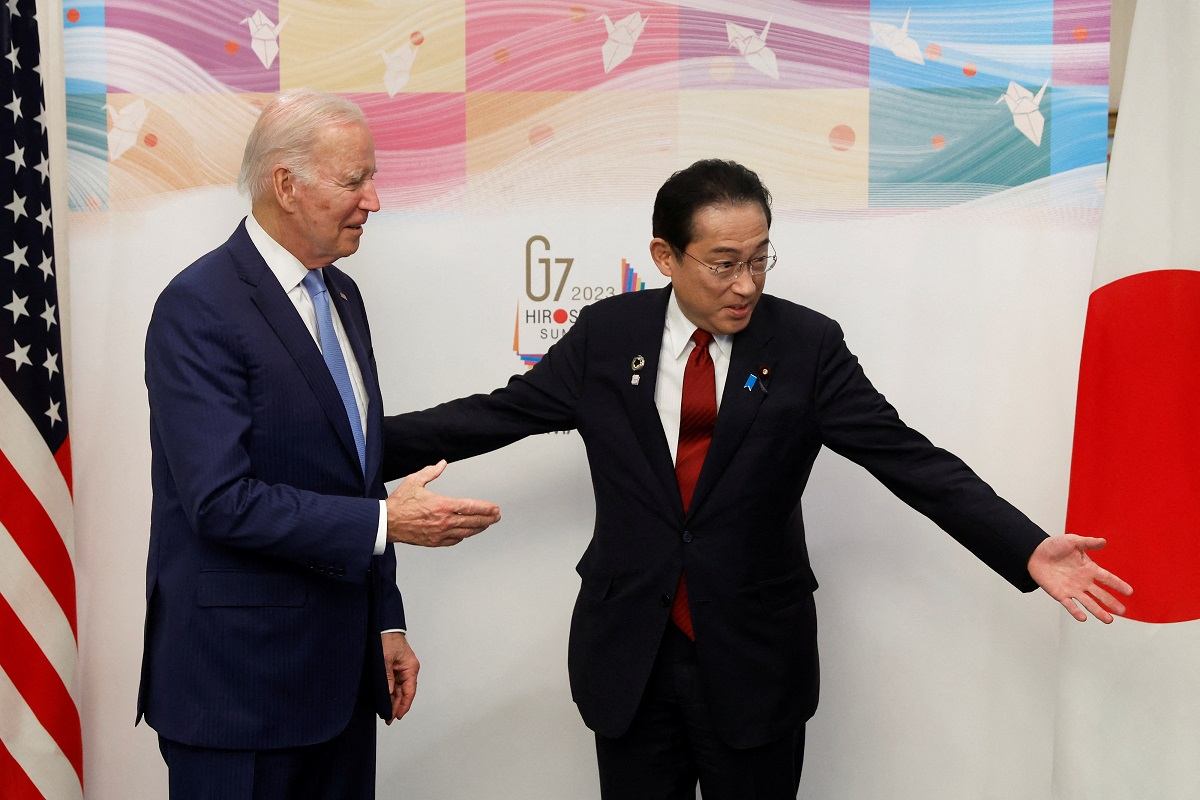 18:09 JST, May 19, 2023
Prime Minister Fumio Kishida and U.S. President Joe Biden reaffirmed Thursday their intention to deepen cooperation in the fields of quantum technology, artificial intelligence and biotechnology from an economic security perspective.
The two leaders, meeting on the sidelines of the G7 summit in Hiroshima, renewed their commitment to establish the Global Startup Campus, a Tokyo-based, joint Japan-U.S. research and development center for cutting-edge technology as early as 2028.
With China focusing on advanced technologies, Japan and the United States are keen to intensify their collaborative ties.
Asia at the core
Speaking at the start of the Japan-U.S. summit meeting, Kishida told Biden: "Here in Hiroshima, the U.S. company Micron is engaged in leading semiconductor research, development and manufacturing. And this is a great case of Japan-U.S. semiconductor cooperation."
In response, Biden said, "We're deepening our cooperation on emerging technologies, including new partnerships between the United States and Japanese companies and, as you mentioned, universities as well, in areas like quantum computing and semiconductors."
The leaders' goal is to strengthen global competitiveness in a number of cutting-edge realms as quantum, AI and semiconductor technologies, all of which are becoming increasingly important for economic security.
The Global Startup Campus will launch in cooperation with the Massachusetts Institute of Technology, which has a track record of advanced research in the United States.
Tokyo and Washington intend to make the new research center an Asian hub for advanced technologies. The official language of the campus will be English. Domestic and overseas research institutions and companies will be invited to the center. "We'll make [the campus] a place that attracts the best young brains in Asia," a Japanese government official said.
Economic coercion
The joint development project is being undertaken with a wary eye on China, which is focusing on the development of cutting-edge tech. Beijing holds many patents in such areas as 5G technology — a high-speed, high-capacity communications standard.
In the area of next-generation technologies, China has already outstripped the United States in a number of areas, including AI, according to an analysis of papers by an Australian research institute.
AI and other advanced technologies have a high potential for military use, posing a threat to both Japan and the United States.
China also boasts a large slice of the global market in key manufacturing stages for solar panels and other renewable energy-related fields, as well as such next-generation technologies as storage batteries, which are essential for electric vehicles.
Beijing is increasingly carrying out economically coercive activities to restrict trade with hostile countries.
The U.S.-led Indo-Pacific Economic Framework (IPEF) aims to strengthen supply networks for semiconductors and critical minerals in allied and like-minded countries.
Attention will now be focused on whether Kishida and Biden can effectively convey their deep concerns at the Group of Seven meeting and persuade more countries to align with their thinking.
Add TheJapanNews to your Google News feed.