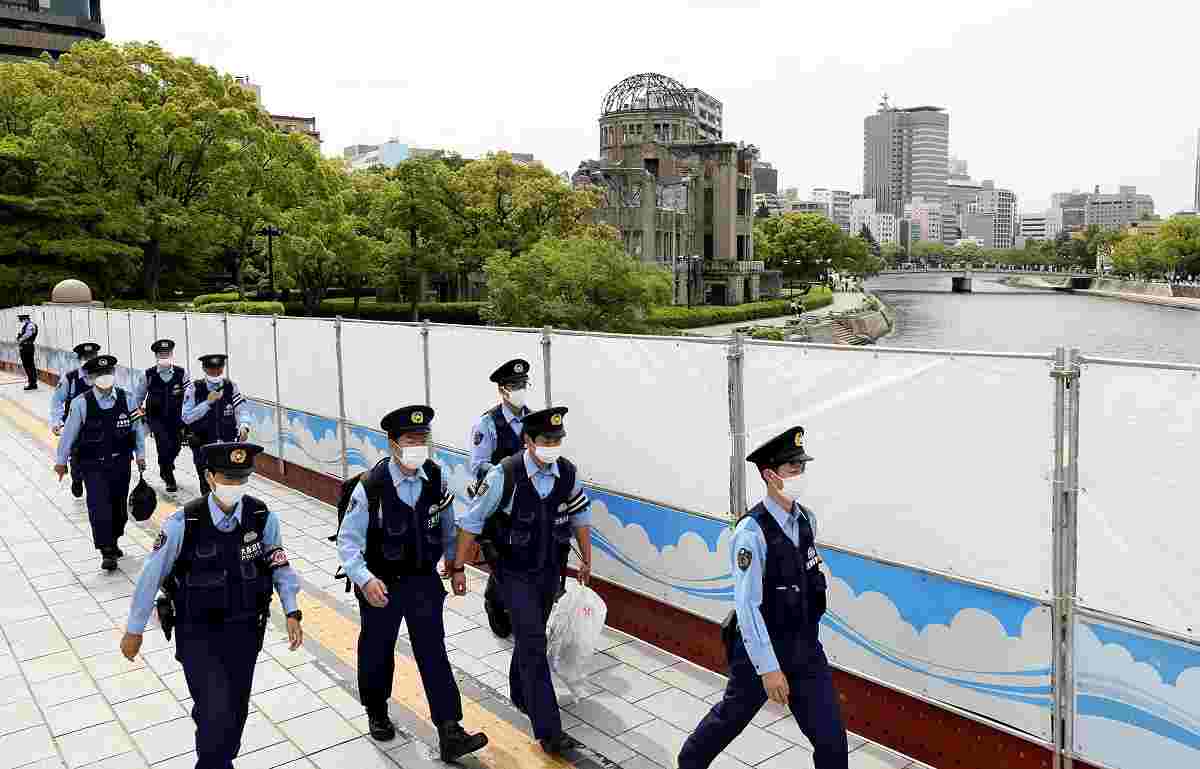 20:00 JST, May 18, 2023
G7 leaders are scheduled to visit the Hiroshima Peace Memorial Museum on the first day of the summit. As part of security measures, windows on the first floor of the facility were covered with white sheets on Tuesday, blocking the view of certain areas from outside.
A 1.8-meter-high fence has been erected around the Peace Memorial Park, where the museum is located, and entry to the park has been restricted since Thursday afternoon.
Police officers patrolled around the clock on Wednesday, including boat patrols in a waterway beside the park.
"I hope the summit ends safely, and the voices of atomic bomb survivors are conveyed to the world," a 54-year-old Hiroshima resident at the park said.
A total of 24,000 police officers will be in the area during the event, representing the largest police presence at a summit held outside of a major city.
The National Police Agency has stepped up security checks following a recent incident in which an explosive device was thrown toward Prime Minister Fumio Kishida before a scheduled campaign speech.
Another location the G7 leaders are scheduled to visit on the first day of the summit is Miyajima Island, where there is a concentrated police presence, including at the ferry terminal and the approach to the UNESCO World Heritage site of Itsukushima Shrine. Japan Coast Guard officials will man ferries to and from the island, access to which has been restricted since Thursday afternoon.
The local municipal government has prepared temporary lodging facilities in case tourists unaware of the restrictions visit the island.
A total of 300 personnel from the Hokkaido, Shizuoka and Aichi prefectural police who are supporting security operations on the island are staying at Hotel Miyarikyu.
"I was overwhelmed by the large number of officers at first, but now their presence is assuring," said the manager of the hotel. "I hope there won't be any incidents or accidents."
The main summit venue is Grand Prince Hotel Hiroshima on Ujina Island.
JCG aerial drones will surveil the area 24 hours a day and coast guard vessels from all over Japan will be patrolling the Seto Inland Sea.
Police are also on heightened alert for cyberattacks during the summit.
Major international events have been targeted in the past, including the 2018 Winter Pyeongchang Olympics, where a system failure temporarily prevented tickets from being issued.
The NPA has dispatched specialist cyber investigators and technicians to support the Hiroshima prefectural police at the summit, and personnel have been cooperating with power companies to prepare for possible system failures at the main venue and other locations.
Add TheJapanNews to your Google News feed.