Teruko Yahata, Hiroshima A-bomb Survivor, 85, Shares Experiences in English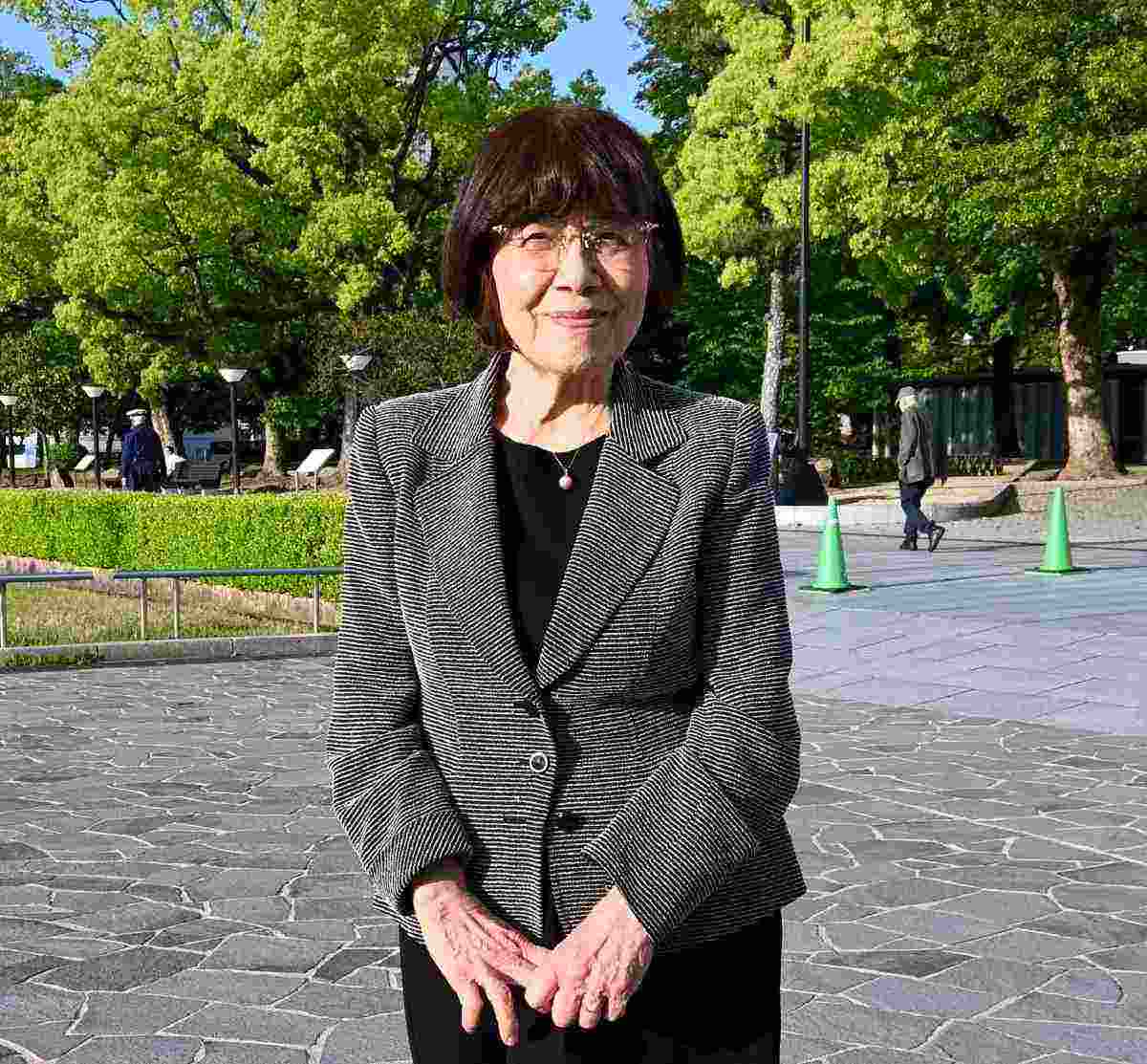 16:59 JST, May 18, 2023
Hiroshima A-bomb survivor Teruko Yahata was 83 when she began learning English. Now 85, she uses her English skills to share her experiences of the city's 1945 atomic bombing with overseas visitors.
Referring to Group of Seven advanced nation heads and other leaders gathering in Hiroshima for the G7 Hiroshima Summit on May 19-21, Yahata said: "I hope their discussions don't just end with mere words like 'nuclear abolition' and 'disarmament.' I want them to feel something that touches their heartstrings here in Hiroshima, as humans born here on Earth."
Aug. 6, 1945, began with a clear morning and a rapidly rising temperature. Yahata — then an 8-year-old second-grader in elementary school — was at home in Hiroshima City, about 2.5 kilometers from the hypocenter of the atomic bomb that would shortly be dropped by the United States.
At 7:09 a.m., a U.S. military aircraft flew over the city, and a warning siren sounded. The alert was lifted shortly after, but Yahata was unsure if it had ended or not. At 8:15 a.m., she ventured out to the backyard to check with her neighbor if the alert had been lifted.
"The sky instantly lit up in blue and white," she said. "I quickly covered my eyes, nose and ears with the fingers of both hands, as I had learned to do so, and tried to get down on the ground, but I was immediately blown away by the tremendous blast and lost consciousness." Yahata's body was blown 5 to 6 meters from the backyard straight through the house, across a corridor and an eight-tatami-mat room to the front entrance, where the glass doors and shoji sliding screens were open due to the summer heat.
When Yahata came to, she was bleeding from the head and in terrible pain. Just then, her normally calm mother cried out in a strained voice: "Gather here, everyone! We'll all die together; we're all together." The mother pulled futon blankets from the collapsed closet, realizing that if a second or third bomb were to fall, no one would survive.
The mother wrapped her parents, grandmother, Yahata and her sister and two younger brothers in futon blankets. Yahata was wrapped together with her siblings in her mother's futon. "When we die, we'll die together," Yahata's mother said.
"I thought we were all going to die together there," Yahata recalled. "But I felt the warmth of my family and the strong bond between us, so I wasn't afraid." Even now, when she hears the word "A-bomb," she thinks of the warmth of her family ties at that time. "Because of that experience, cherishing my beloved and irreplaceable family has been my life," she said.
Yahata and her family initially took temporary refuge in the nearby mountains to escape the fires caused by the atomic bombing. But when they descended, they were met with an unimaginable sight.
Many people were fleeing the city center near the hypocenter in fear of further bombs. "My house was near the bridge, and I passed lots of people coming from the other side of the bridge," Yahata recalls. "They were all burned, with brownish skin hanging from their arms and legs like rags. Their hair was sticking up, they were covered in dust and their clothes were torn and charred. Many were limping, saying 'help, help,' and 'water, water.'"
Yahata's family had been inside the family home when the bomb exploded and they were not directly exposed to the bomb's heat, thus escaping burns. However, while evacuating to the mountains, they were exposed to large amounts of radioactive black rain, and Yahata's family suffered from acute disorders such as high fever, nausea and severe diarrhea.
An even more shocking experience occurred three days later, on Aug. 9.
Yahata's father had taken her to receive treatment for a head injury at her elementary school, where a first-aid station had been set up to treat injuries and house the injured. Upon peeking fearfully into her classroom, she saw people with severe burns and injuries lying tightly together, groaning and crying.
The deceased were carried to the playground on hastily constructed stretchers. Logs were set up in the playground upon which bodies were piled up and cremated. Yahata later learned that seven pits had been dug into the large playground, where about 2,000 people were cremated.
"When I see the devastation in Ukraine today, the heat and the smell of people burning come back to my senses, along with the sound of groans," Yahata said.
Yahata recalls seeing people in the corner of the schoolyard receiving white envelopes that were lined up on desks. At the time, she was hungry and had nothing to eat and thought candy was being handed out. But when she got closer, she realized the envelopes contained bone fragments of people who had been cremated. Those unable to locate their relatives received envelopes, though they did not know whose bones were inside.
A-bomb witnesses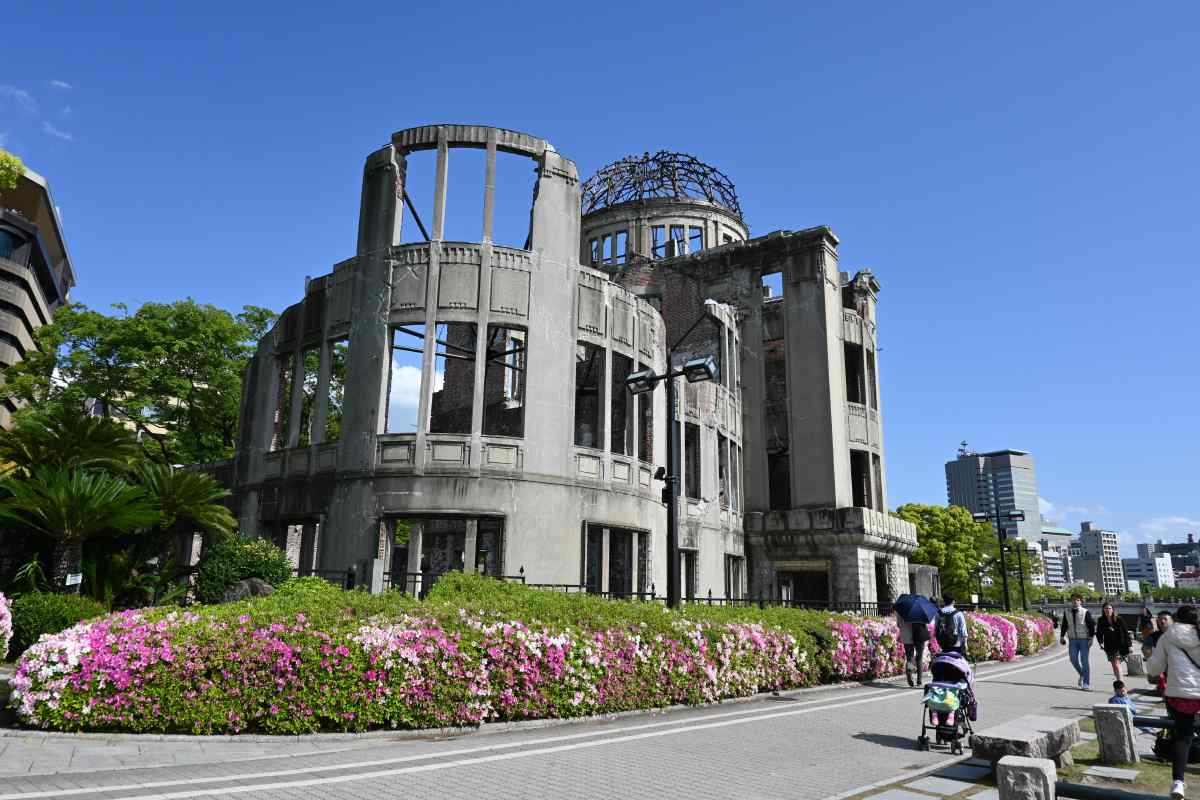 Yahata is one of 33 A-bomb witnesses commissioned by the Hiroshima Peace Culture Foundation, which operates the Hiroshima Peace Memorial Museum. However, she only started her witness-related activities four years ago, when she was 81, and did not begin sharing her experiences in English until August last year.
When the war ended, Yahata strongly cherished her family members and devoted herself to supporting them. Though she had spoken privately about her A-bomb experiences at neighborhood meetings and gatherings of relatives, she had never shared her history in front of a large audience. Moreover, she had never dreamed of speaking in English.
A major turning point came in 2013, when she participated in a global voyage of testimony, organized by a nongovernmental organization that invites A-bomb survivors to sail to various parts of the world and share their experiences of the World War II atomic bombings.
Nine A-bomb survivors, including Yahata, took part in the trip, speaking in 14 cities in 12 countries. "I want to convey the destructive power of the atomic bomb, the horrific site of the bombing, and the grief of the people with my own voice and words," Yahata recalls thinking strongly at the time.
Yahata became an A-bomb experience witness in 2019 and began sharing her story in Japanese. When she later expressed a desire to share her experiences in English, it was agreed that she could attend an English-language school. However, as she was a complete novice, Yahata's teacher translated her Japanese manuscript into English in 2021, and Yahata repeatedly listened to a recording of it, trying her best to commit it to memory. Her efforts paid off, and she became able to recite the text. And, in August last year, she started speaking about her experiences in English.
Now that the worst effects of the coronavirus pandemic have waned, an increasing number of foreigners are visiting Hiroshima, and Yahata has been giving lectures to groups of overseas tourists.
By speaking in English, Yahata says she can tell which parts of her speech resonate most strongly with the audience. "Who is important to you? What do you want to protect?" She always asks these questions at the end of her speech, which usually lasts about 20 minutes, followed by a question-and-answer session.
During these sessions, Yahata is often asked such questions as "Do you hate America?" and "What do you think about nuclear weapons?" However, her English is not yet at a level where she can understand and answer in real time, so she relies on an interpreter. These days, Yahata attends an English conversation school at her own expense and hopes to one day be able to answer English-language questions herself. "Even at my age, I'm still discovering new things, and every day is fulfilling and it is what I live for," she said with a smile.
"I really want to meet the leaders of the G7 in person," Yahata said, expressing her wish to deliver her message to the world heads attending the summit. "People only live for 100 years. We may live in different countries and speak different languages, but we were all born together on this great Earth. We're all alive at the same time and we each have our own daily lives with our loved ones. If nuclear weapons were to be used, people will lose those that they hold dear, and the Earth could be wiped out.
"Please don't only think about territories or political regimes, but rather imagine [the world] as a single human being. As long as I live, I'll pass on my experiences and continue to warn the world about nuclear weapons," Yahata added.
Aging issue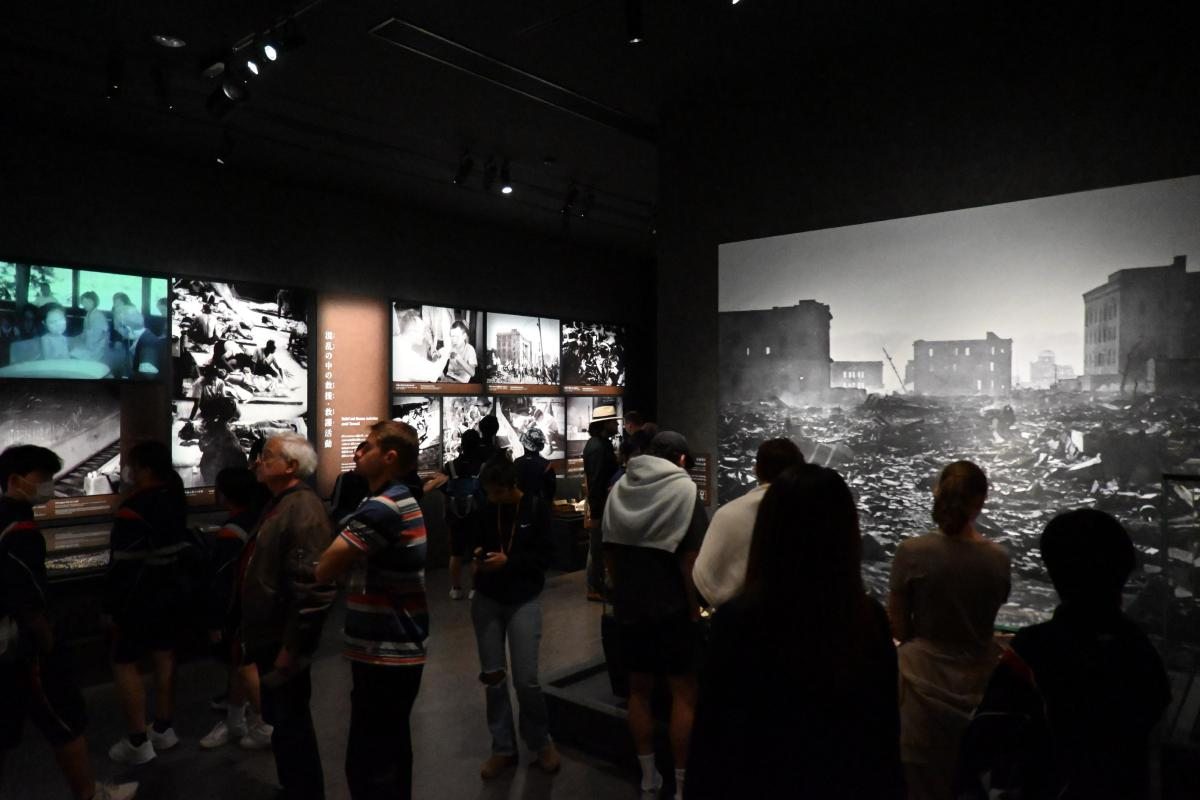 The witnesses commissioned by the Hiroshima Peace Culture Foundation have an average age of 86.2. Because of deaths and some people ceasing their activities, witness numbers have decreased from 49 in fiscal 2015 to 33 as of fiscal 2023.
In response to this situation, Hiroshima City began to train "A-bomb Legacy Successors" to pass on the A-bomb survivors' experiences in fiscal 2012.
In fiscal 2015, 50 successors were commissioned after completing about three years of training. Their number has increased each year since and this fiscal year, some 196 people have been invited to serve. The successors range in age from teens to those in their 80s and hail from various regions, including Tokyo and Osaka. Additionally, family members of hibakusha, or A-bomb survivors, also have begun to undertake A-bomb Legacy Successor activities, with the first group of seven individuals commissioned this fiscal year.
Witnesses and successors deliver regular lectures four times each day in the basement of the Hiroshima Peace Memorial Museum. They also speak with students on school excursions visiting the museum and visit schools around the country to give their testimonies.
Shin Enosaki, an official at the Hiroshima City International Peace Promotion Department, which oversees the training of witnesses and successors, said, "We'd like to firmly carry out our measures to pass on the A-bomb survivors' experiences to future generations."
Add TheJapanNews to your Google News feed.