Rapidly Improving Private-sector Tech Fueling China's Space Strategy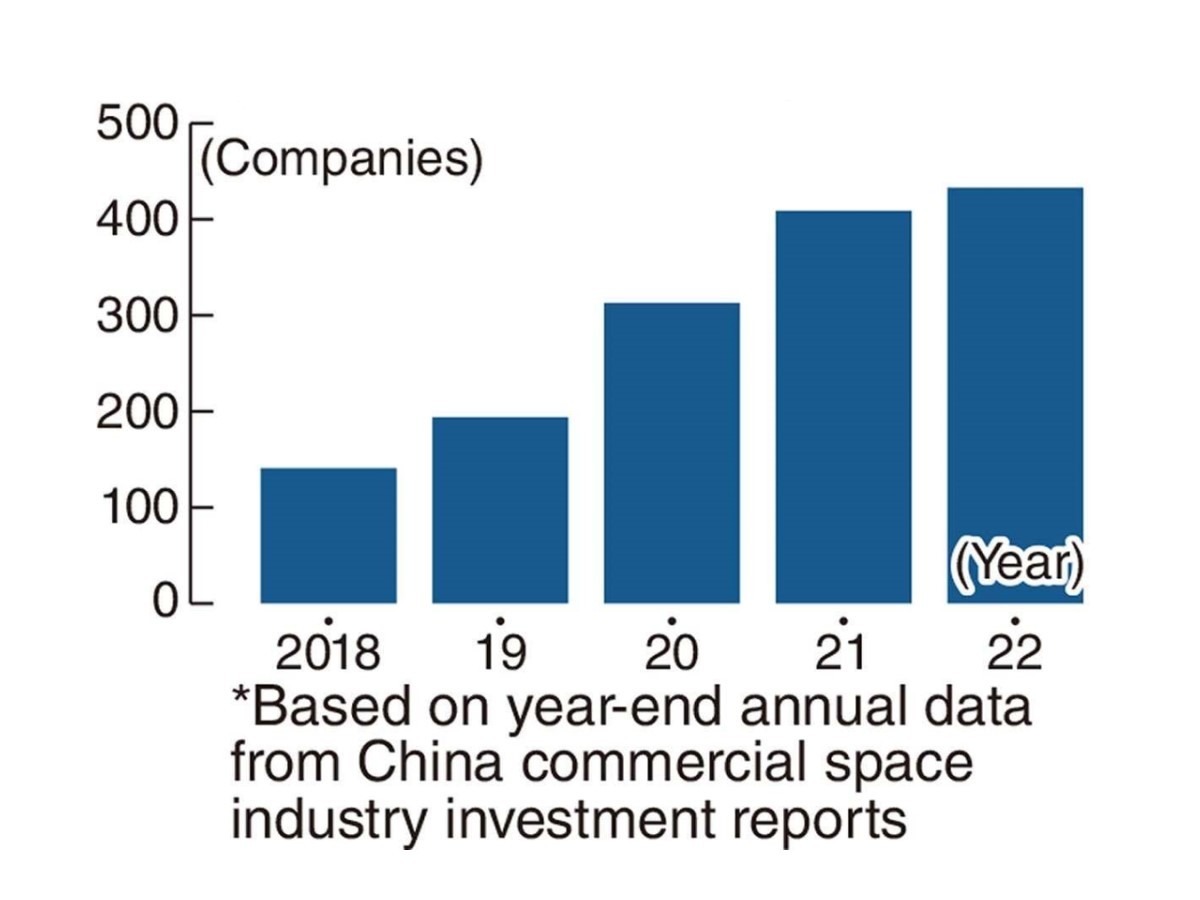 12:23 JST, September 4, 2023
BEIJING — China is seeing a surge in envelope-pushing, space-focused companies.
Reflecting the nation's rapidly improving technology, a Chinese firm in July marked a world-first by successfully launching a methane-fueled rocket into orbit.
The recent trend is underpinned by the "military-civil fusion" strategy formulated by Chinese President Xi Jinping's administration. However, there are international concerns regarding the nation's possible military expansion into space.
According to China's state-run Xinhua News Agency, LandSpace — a private company established in 2015 — deployed its independently developed Zhuque-2 rocket on July 12, marking the first successful orbit entry by a rocket fueled by liquid methane and liquid oxygen.
According to the Japan Aerospace Exploration Agency (JAXA) and diplomatic sources, liquid methane is safer than liquid hydrogen — a present-day mainstay propellant — costs less, and has excellent combustion efficiency. Companies and space agencies around the world have been pouring time and money into researching and developing liquid methane as a fuel.
Previously, a liquid methane-fueled rocket developed by the Elon Musk-owned U.S. company SpaceX failed to reach orbit. Chinese media have widely and repeatedly lauded LandSpace's achievement.
Traditionally, rockets and satellites in China had been developed and manufactured by two state-owned companies derived from a research institute under the Chinese defense ministry. With the goal of becoming a "space power," however, Beijing in 2014 began allowing private investment in the space sector.
In 2017, Xi proclaimed that space would be a key factor in his "military-civil fusion" strategy, which aims to leverage private-sector tech to strengthen the Chinese military.
Since then, China's commercial space sector has seen space-related firms jump in number from 141 as of the end of 2018, to 433 as of the end of 2022.
In addition to LandSpace, there has been a steady rise in companies boasting advanced technologies that are supported by the Chinese military and state-owned companies.
Some observers say China's use of space technology for military purposes could gather further pace as other fledgling companies make new developments.
In January, the U.S. Treasury Department added a Chinese company that operates commercial satellites to its sanctions list over satellite images the firm captured above Ukraine and passed to Russian private military company Wagner through a Russian company. The Chinese firm denies any involvement with Wagner or the Russian company.
Satellite-based communications, ground observation, and positioning are indispensable for security, as exemplified by SpaceX's Starlink satellite communications network, which is supporting Ukraine's military counteroffensive against Russia.
"We must carefully monitor the extent to which the Chinese military utilizes private-sector space technology and services," said Yasuhito Fukushima, a senior research fellow specializing in space security at the Defense Ministry's National Institute for Defense Studies. "Looking ahead, it's vital to recognize that more and more countries and organizations will draw upon China's commercial space services for military purposes, as Wagner did."
Add TheJapanNews to your Google News feed.