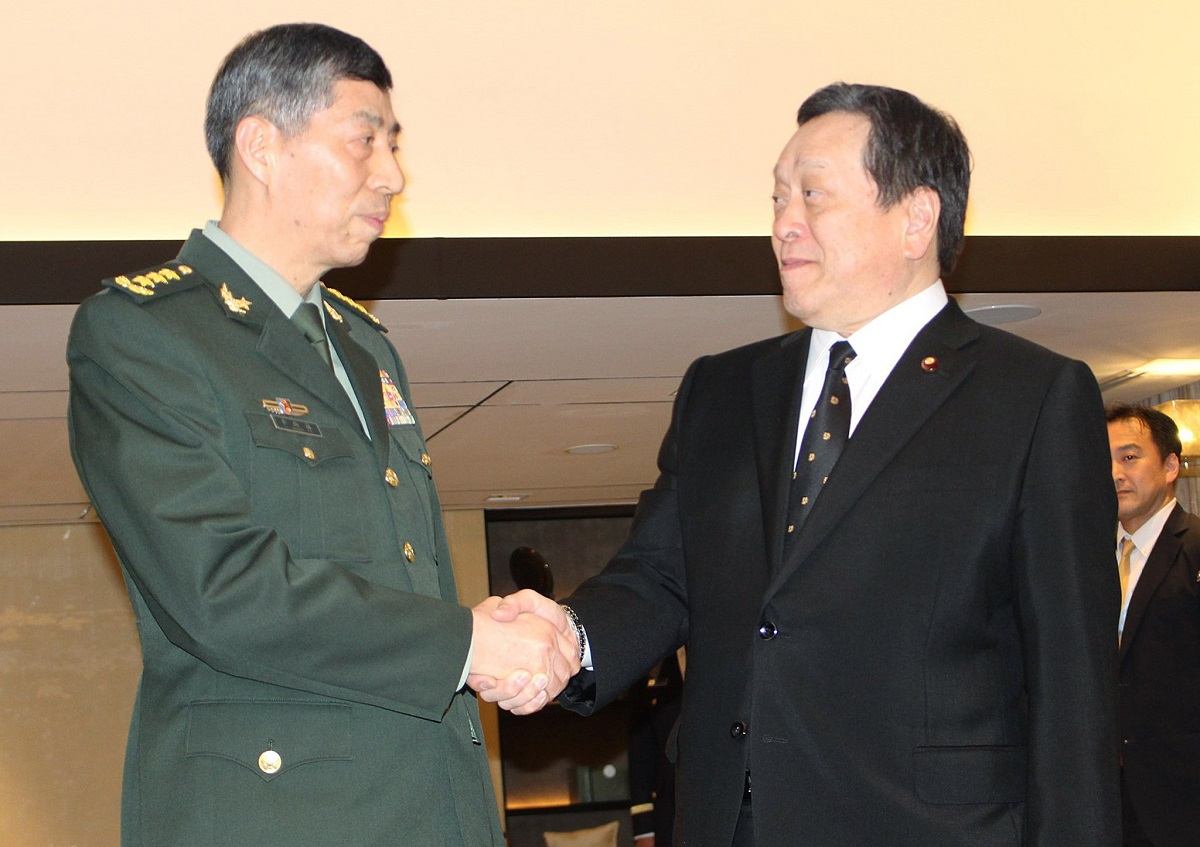 13:25 JST, June 4, 2023
SINGAPORE (Jiji Press) — Defense Minister Yasukazu Hamada, meeting with his Chinese counterpart, Li Shangfu, in person for the first time Saturday, said that there are a lot of concerns on the security front.
Hamada specifically cited China's increasing military activities in the East China Sea, including around the Japanese-administered Senkaku Islands.
Such security concerns are making it necessary for defense authorities of Japan and China to hold discussions, he added. The Hamada-Li meeting took place in Singapore on the sidelines of the Asia Security Summit, better known as Shangri-La Dialogue, in the Southeast Asian nation.
Hamada expressed grave concern over China and Russia continuing joint military activities around Japan, while reiterating the importance of peace and stability across the Taiwan Strait.
In response, Li said he hopes that Japan will try to understand China's stance to prevent a friction and clash from happening, noting that the issue of the Senkaku Islands, called Diaoyu in China, is not everything in the China-Japan relationship. The islands are claimed by China.
The Taiwan issue is completely an internal affair of China, Li said.
Meanwhile, Hamada and Li agreed to promote dialogue and exchanges between Japan and China.
Hamada said that it is important to make efforts to build a constructive and stable Japan-China relationship, which has been agreed by the leaders of the two countries.
Li said that China plans to work for stable and long-term development of the bilateral relations.
The defense chiefs reaffirmed that the hotline between Japanese and Chinese defense authorities will be fully utilized to prevent an accidental clash between the Self-Defense Forces and the Chinese military. Hamada and Li held talks using the hotline on May 16.
4 Defense Chiefs Meet
Meanwhile, defense chiefs from Japan, the United States, Australia and the Philippines on Saturday agreed to boost the four countries' security cooperation toward realizing a free and open Indo-Pacific region.
Hamada, U.S. Defense Secretary Lloyd Austin, Australian Defense Minister Richard Marles and Carlito Galvez, senior undersecretary and officer for the Philippines' Department of National Defense, reached the agreement at their meeting in Singapore, apparently keeping in mind China, which is increasing its maritime activities.
It was the first time for the four countries' defense chiefs to hold a meeting. The latest talks were held on the fringe of the Asia Security Summit.
Earlier in the day, a tripartite meeting took place among Hamada, Austin and Marles for discussions on China's military trends.
After the meeting, Hamada told reporters that the three ministers reaffirmed their opposition to unilateral attempts to change the status quo that heighten regional tensions.
Add TheJapanNews to your Google News feed.